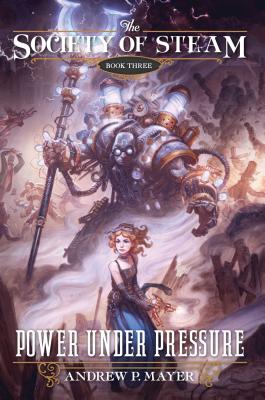 Power Under Pressure (The Society of Steam #3)
Paperback

* Individual store prices may vary.
Description
Steampunk superheros in Victorian-era New York! The Society of Paragons is gone--destroyed from within by traitors and enemies. With the death of The Industrialist and the rebirth the Iron-Clad as a monstrous half-human creature known as "The Shell," Lord Eschaton now has almost everything he needs to cover the world in fortified smoke and rebuild it in his image--everything except for the mechanical heart of the Automaton. The device is nearer than he knows. Just across the East River, hiding in a Brooklyn junkyard, Sarah Stanton is trying to come to restore the mechanical man to life. But before she can rebuild her friend, she must first discover the indomitable power of her own heart and save herself. Only then will she be able to forge a ragtag group of repentant villains, damaged Paragons, and love-mad geniuses into the team of heroes known as "The Society of Steam."
Praise For Power Under Pressure (The Society of Steam #3)…
Praise for The Society of Steam:

"Written with the sort of breathless, excited narration you'd expect from a Victorian adventure novel. . . . A damn fun read."
- io9

"The Falling Machine is quite simply the coolest steampunk superhero book I've ever read. . . . Imagine if Gangs of New York had been directed by Jules Verne, instead of Martin Scorsese, [and] you're probably not too far off."
- Portland Book Review

"If Stan Lee had lived in the 1880s, this is the book he would have written-steampunk superheroes."
- Clay and Susan Griffith, authors of the Vampire Empire trilogy

"After the breathless beginning, the book keeps moving fast and furious, and it delivers. . . . Highly recommended for any steampunk lover."
- Fantasy Book Critic
Pyr, 9781616146962, 390pp.
Publication Date: January 8, 2013
About the Author
Andrew P. Mayer is the author of The Falling Machine and Hearts of Smoke and Steam, books 1 and 2 of the The Society of Steam trilogy. He is also the author of a short comic story titled "Creepy: Om Nom Nom" published by Dark Horse Comics that was anthologized in Myspace Dark Horse Presents, vol. 3, and in New Creepy Anthology. He is the chief creative officer for Mob Science games, where he creates social games for Facebook. Previously he worked as a game designer and creative director for Sony Psygnosis, the Cartoon Network, and PlayFirst. Visit him online at www.andrewpmayer.com
or
Not Currently Available for Direct Purchase