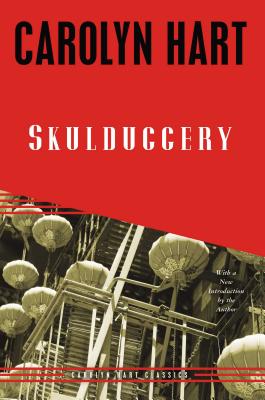 Skulduggery (Carolyn Hart Classics #1)
Paperback

* Individual store prices may vary.
Description
INTRODUCING A NEW LINE OF CAROLYN HART CLASSICS, each with a new introduction by the author! BEIJING, 1941: The ancient bones of the famed "Peking Man" are placed in two wooden crates for shipment to the United States to escape the invading Japanese army. The bones are never seen again. San Francisco, 1980s: The greatest treasure in the history of paleontology remains missing--until a frantic stranger named Jimmy calls on noted anthropologist Ellen Christie and shares a scintillating secret with her: he may have the famous bones in his possession. After allowing Dr. Christie to examine an intriguing skull in a dank Chinatown basement, Jimmy is forced to flee with the evidence, a couple of violent thugs in hot pursuit. As Ellen navigates the treachery of the city's elite criminals along with Jimmy's brother, Dan, her dreams of academic stardom draw closer. Unfortunately, so does danger.
Praise For Skulduggery (Carolyn Hart Classics #1)…
"Fans of Carolyn Hart are in for a new sort of treat with Skulduggery, an evocative and suspenseful stand-alone novel set in San Francisco. New readers will go on to her other books and discover why this mistress of mystery is, indeed, a national treasure."
-Katherine Hall Page, author of the Faith Fairchild Mystery series

"A perfect combination of taut drama, constant action, and a protagonist worth rooting for. A Carolyn Hart classic, filled with razor-sharp suspense on every page."
-Mary Kennedy, author of the Talk Radio Mystery series

"Readers who only know Carolyn Hart's sunlit and cheerful books will be intrigued to learn that she does dark and suspenseful ones just as well. Skulduggery combines a priceless archeological treasure with an evocative rendering of San Francisco's Chinatown in this surprising stand-alone."
-Margaret Maron, author of the Judge Deborah Knott series

"An entertaining dash through San Francisco's Chinatown with attractive detectives and a fascinating look at a real historical mystery. The authentic background-of both Peking Man and modern-day Chinatown-makes it hard to put down."
-JoAnna Carl, author of The Chocolate Moose Mystery, the twelfth installment in the Chocoholic Mystery series
Seventh Street Books, 9781616147068, 176pp.
Publication Date: November 13, 2012
About the Author
CAROLYN HART (Oklahoma City, OK) is the winner of multiple Agatha, Anthony, and Macavity Awards. She is a cofounder of Sisters in Crime. Her prolific career has included the enduring Death on Demand series as well as the Henrie O and Bailey Ruth books. In 2007, she received the Lifetime Achievement Award at Malice Domestic. She has published fifty mystery novels, including Dead, White and Blue(Berkeley Prime Crime, May 2013), the latest installment of the Death on Demand series. Visit her online at www.carolynhart.com and www.facebook.com/AuthorCarolynHart.
or
Not Currently Available for Direct Purchase