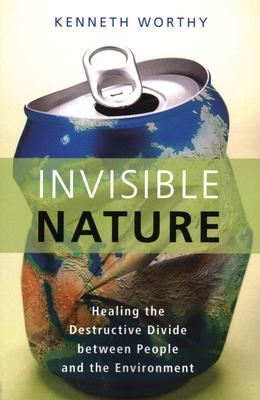 Invisible Nature
Healing the Destructive Divide Between People and the Environment
Paperback

* Individual store prices may vary.
Description
A revolutionary new understanding of the precarious modern human-nature relationship and a path to a healthier, more sustainable world.

Amidst all the wondrous luxuries of the modern world—smartphones, fast intercontinental travel, Internet movies, fully stocked refrigerators—lies an unnerving fact that may be even more disturbing than all the environmental and social costs of our lifestyles. The fragmentations of our modern lives, our disconnections from nature and from the consequences of our actions, make it difficult to follow our own values and ethics, so we can no longer be truly ethical beings. When we buy a computer or a hamburger, our impacts ripple across the globe, and, dissociated from them, we can't quite respond. Our personal and professional choices result in damages ranging from radioactive landscapes to disappearing rainforests, but we can't quite see how.

Environmental scholar Kenneth Worthy traces the broken pathways between consumers and clean-room worker illnesses, superfund sites in Silicon Valley, and massively contaminated landscapes in rural Asian villages. His groundbreaking, psychologically based explanation confirms that our disconnections make us more destructive and that we must bear witness to nature and our consequences. Invisible Nature shows the way forward: how we can create more involvement in our own food production, more education about how goods are produced and waste is disposed, more direct and deliberative democracy, and greater contact with the nature that sustains us.
Praise For Invisible Nature: Healing the Destructive Divide Between People and the Environment…
"Required reading for all who want a path to a new future."
—Carolyn Merchant, author of The Death of Nature

"Indispensible.... I've read few books that make such a thoroughgoing case for ecological awakening.... I have seldom come across the whole story of how we came to be so hopelessly severed from the sources of life... told with such detail and eloquence.... A necessary book."  
—Times Higher Education

"A superbly written clarion call to reformat our lifestyles and embrace a deeper connection with the living world."
—Booklist

"Finally there is a book that connects the dots between environmental degradation and all the disconnectedness in modern lives. Invisible Nature offers a coherent way to understand how the breaking of our bonds with nature and each other leads to environmental ruin. This volume gives me hope that in its decoding of our precarious predicament, we will find a way to weave back together all the right pieces."
—David Evan Harris, research director at the Institute for the Future, and founder of the Global Lives Project
 
"The broadest inquiry yet into the origins of our global environmental crisis. By turning his lens on how Western ideas have resulted in the fragmentation of human experience and understanding, Worthy reveals a world in which ethics have become unseated as people have trouble responding to their own environmental values. His examination of how dissociated lives lead to environmental destruction is innovative and eye-opening. A must-read for a fuller understanding of the human predicament and the future of life on earth."
—Richard B. Norgaard, University of California, Berkeley, author of Development Betrayed

"Worthy shows how fragmentation and disassociation are at the heart of the ecological crisis. He also reveals how association and connection can help heal the planet and transcend eco-apartheid—the separation of humans from nature—by making us aware of how our everyday life choices impact the fragile web of life and how we can take small steps to make big shifts."
—Dr. Vandana Shiva, Navdanya/Research Foundation for Science, Technology & Ecology

"A tour de force, Invisible Nature is the most sustained and multifaceted deconstruction of the deepest and most destructive flaw of the modern  worldview...."
— J. Baird Callicott, University Distinguished Research Professor, Department of Philosophy and Religion Studies, University of North Texas
Prometheus Books, 9781616147631, 396pp.
Publication Date: August 6, 2013
About the Author
Kenneth Worthy (Berkeley, CA) is a lecturer and research associate at the University of California, Santa Cruz, and a lecturer at St. Mary's College of California. He received his PhD in environmental humanities at the University of California, Berkeley.