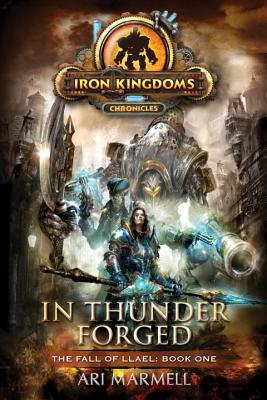 In Thunder Forged
Iron Kingdoms Chronicles (The Fall of Llael #1)
Paperback

* Individual store prices may vary.
Description
The first novel based upon the award-winning WARMACHINE® steam-powered fantasy wargame and the world of the Iron Kingdoms® Role Playing Game is an action-packed steam-tech fantasy that combines elements of epic wartime adventure with thrilling cloak-and-dagger espionage.

The Iron Kingdoms are at war--a war fought with machine guns and magic, knights of valor, and earth shaking titans of steam and steel. And now that war may hinge entirely on nothing more than a sheaf of papers.

An alchemical formula, stolen by an ally they thought they could trust, could cost the brave soldiers of Cygnar everything. Their only hope: a cunning spy, a knight out of her element, and a frighteningly small unit of the best that Cygnar has to offer.

Arrayed against them is not only a single, devious enemy, but the combined intelligence apparatus--and possibly the full military might--of the most brutal martial power Cygnar has ever known.



© 2001 - 2013 Privateer Press, Inc. All Rights Reserved. Privateer Press, Iron Kingdoms, WARMACHINE, and their logos are registered trademarks of Privateer Press, Inc. Used under license.
Praise For In Thunder Forged: Iron Kingdoms Chronicles (The Fall of Llael #1)…
"If you're a fan of dark, gritty military fantasy, [this] is the book for you. Ari Marmell is a superb writer, and he's at the top of his game in this first volume of The Iron Kingdoms Chronicles.... Fresh and different. And highly addictive." 
- Adventures Fantastic

"Marmell's characters are memorable and compelling, and his creativity and originality within the steampunk fantasy genre makes him a remarkable storyteller. This one is a keeper."
- Library Journal 

"Fans of the game will not be disappointed…those unfamiliar with the gaming realm, (such as ourselves) we found the plot easy to engage into as the story pulls no punches in the ideals of steampunk fare... Marmell pulls off a fine tale that juxtaposes the action that fans of the Iron Kingdoms Chronicles have come to expect with a high-paced level of storytelling that make for an engaging read… Read In Thunder Forged to gain insight and a crucial edge into your next late-night journey into the realm of the Iron Kingdoms, or check it out if you're just in the market for a good summer fantasy adventure!"
- Astro Guyz
Pyr, 9781616147730, 320pp.
Publication Date: June 4, 2013
About the Author
Ari Marmell (Austin, TX) is a fantasy and horror writer and the author of several original novels including The Goblin Corps and three Widdershins adventures, Thief's Covenant, False Covenant, and Lost Covenant. He has also written gaming tie-in novels such as In Thunder Forged: Iron Kingdoms Chronicles (The Fall of Llael Book One) and worked as an author of role-playing game materials for games such as Dungeons & Dragons and the World of Darkness line. Although born in New York, Ari has lived the vast majority of his life in Texas—first Houston (where he earned a BA in creative writing at the University of Houston) and then Austin. He lives with his wife, George; their cat; and a variety of neuroses. Visit the Widdershins page at facebook.com/Madeleine.Valois, and visit Ari at mouseferatu.com, at facebook.com/pages/Ari-Mouseferatu-Marmell/181576062390, or on Twitter @mouseferatu.
or
Not Currently Available for Direct Purchase