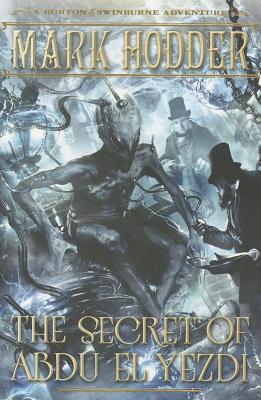 The Secret of Abdu El Yezdi (Paperback)
A Burton & Swinburne Adventure (Burton & Swinburne Adventures #1)
Pyr, 9781616147778, 395pp.
Publication Date: July 9, 2013
Description
Burton & Swinburne return in a new series
The Beast is coming. History will be remade. Since the assassination of Queen Victoria in 1840, a cabal of prominent men-including King George V, HRH Prince Albert, Benjamin Disraeli, and Isambard Kingdom Brunel-has received guidance from the Afterlife. The spirit of a dead mystic, Abdu El Yezdi, has helped them to steer the empire into a period of unprecedented peace and creativity.
But on the eve of a groundbreaking alliance with the newly formed Greater German Confederation, scientists, surgeons, and engineers are being abducted-including Brunel
The government, in search of answers, turns to the Afterlife, only to find that Abdu El Yezdi is now refusing to speak with the living.
Enter the newly-knighted Sir Richard Francis Burton, fresh from his discovery of the source of the Nile. Appointed the king's agent, he must trace the missing luminaries and solve the mystery of Abdu El Yezdi's silence.
But the Beast has been summoned. How can the famous explorer fulfill his mission when his friends and loved ones are being picked off, one by one, by what appears to be a supernatural entity-by, perhaps, Abdu El Yezdi himself?
About the Author
Mark Hodder is the author of A Red Sun Also Rises and the Burton & Swinburne novels The Strange Affair of Spring Heeled Jack, The Curious Case of the Clockwork Man, and Expedition to the Mountains of the Moon. A former BBC writer, editor, journalist, and web producer, Mark left London, England, for Valencia, Spain, to de-stress and write novels. He has a degree in cultural studies and loves British history, good food, cutting-edge gadgets, Tom Waits, and a vast assortment of oddities. He's the creator and caretaker of the Blakiana website celebrating Sexton Blake, the most written-about fictional detective in English publishing history. Visit him at markhodder.blogspot.com, www.facebook.com/ burtonandswinburne, and on Twitter @TheDissuader.
Praise For The Secret of Abdu El Yezdi: A Burton & Swinburne Adventure (Burton & Swinburne Adventures #1)…
"Serious literary fun as Mark Hodder vaults to the front of the new steampunk writers pack. Elaborately researched and name-checked, The Secret of Abdu El Yezdi races Victorian explorer Sir Richard Burton through a diabolically baffling maze of historical possibilities - plus there's corsets and airships. Hard to imagine any lover of alternate British empires not being thoroughly amazed and entertained."
—K. W. Jeter, author of Infernal Devices and Fiendish Schemes
 
"Set in a universe that parallels the one depicted in the previous [Burton & Swinburne] trilogy, this outing leaves the door open for exploring a new dimension as Hodder develops more adventures. Steampunk aficionados and series fans should enjoy this."
—Library Journal 
Advertisement