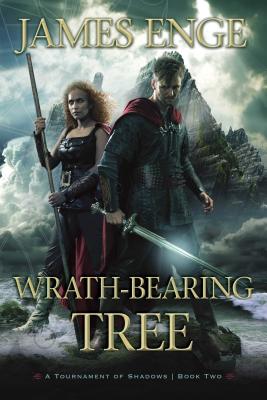 Wrath-Bearing Tree (A Tournament of Shadows #2) (Paperback)
Pyr, 9781616147815, 377pp.
Publication Date: August 20, 2013
* Individual store prices may vary.
Description
Gods Clash with Gods, and the powers beyond gods, as the origin story of Morlock Ambrosius continues! The masked powers of Fate and Chaos are killing gods in the land of Kaen, facing the Wardlands across the Narrow Sea. Vocates Aloê Oaij and Morlock Ambrosius cross into the unguarded lands, seeking to uncover the reasons for the godslaying, and to avert any threat to the lands the Graith of Guardians has sworn to protect. After crash-landing on the hostile coast of Kaen, the two Guardians confront vengeful frightened gods, a calmly murderous dragon, a demon called Andhrakar, and a bitter old necromancer named Merlin Ambrosius. Amid these dangers they find that they can trust no one but themselves—and each other.
About the Author
James Enge is the author of Blood of Ambrose (nominated for a World Fantasy Award), This Crooked Way, The Wolf Age, Travellers' Rest, A Guile of Dragons (A Tournament of Shadows Book One), Wrath-Bearing Tree (A Tournament of Shadows Book Two), and The Wide World's End (A Tournament of Shadows Book Three) . His fiction has appeared in Black Gate, Flashing Swords, and Every Day Fiction. He is an instructor of classical languages at a Midwestern university.
Praise For Wrath-Bearing Tree (A Tournament of Shadows #2)…
"A brilliant, inventive, arresting piece of work from a master craftsman. This novel captivated me from the very opening pages, and I suspect the same will be true for you. I dare you to prove me wrong."
—Bradley P. Beaulieu, author of The Winds of Khalakovo and The Straits of Galahesh

"Enge's swift-moving story offers both depth and classic sword-and-sorcery questing to create a solid addition to the series."
—Publishers Weekly

"Enge is in fine form again.... What could be a wild storm of confetti and mayhem is anchored beautifully by Morlock's pragmatic idealism, and everything comes together in a satisfying conclusion."
—Locus

Praise for A Guile of Dragons (A Tournament of Shadows Book One):

"Efficiently excellent epic fantasy…. Enge's engaging portrait of Morlock…will have readers hunting down earlier books to learn more about the adventurer and his history."
-Publishers Weekly starred review

"Enge is not only a writer of fantasy, he's a devoted fan educated in its history and evolution. That's no more apparent than in his adventures of Morlock Ambrosius, a swordsman wandering a world rife with various magical disciplines. In A Guile of Dragons, Enge takes us back to show us the origins of his hero, as the Longest War-the war between dwarves and dragons presumed to have been over and done with-reignites with the return of the dragons."
-Kirkus Reviews feature "11 'Not-to-miss Science Fiction and Fantasy Books for August"

"Providing a back door into the Arthur/Merlin mythos, Enge creates a fascinating counterpoint to the familiar legends."
-Library Journal
or
Not Currently Available for Direct Purchase