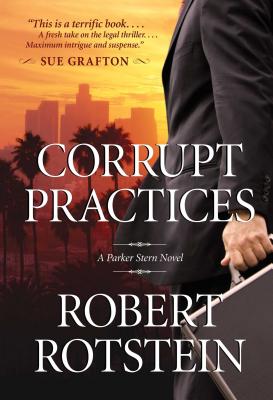 Corrupt Practices (Paperback)
A Parker Stern Novel
Seventh Street Books, 9781616147914, 359pp.
Publication Date: June 4, 2013
* Individual store prices may vary.
Description
A Los Angeles church, considered by some to be a powerful cult, charges Rich Baxter with embezzling millions. Rich reaches out to former colleague and star trial attorney Parker Stern to come to his defense. Parker despises the cult, but he hasn't entered a courtroom since developing severe stage fright after his mentor, Harmon Cherry, committed suicide. Rich claims that Cherry did not kill himself—he was murdered by someone connected to the church. At first, Parker doesn't believe it . . . until disturbing events force him to question what's really happening. As the case takes an unexpected turn, Parker surprises himself and agrees to take on the church. But to represent his client and uncover the truth he must overcome his own long-buried secrets.
About the Author
Robert Rotstein (Los Angeles, CA) is an entertainment attorney with over thirty years experience as an attorney and law professor. He's represented all of the major motion picture studios and many celebrities including Michael Jackson, Quincy Jones, Lionel Richie, and writer-director John Sayles, among others.
Praise For Corrupt Practices: A Parker Stern Novel…
"This is a terrific book. Just terrific. Robert Rotstein has come up with a fresh take on the legal thriller and he does a first-rate job. Parker Stern is a complex and well-developed protagonist and the story is beautifully structured for maximum intrigue and suspense."
—SUE GRAFTON, #1 New York Times–bestselling author
 
"An intelligent, fast-paced, exciting thriller with an intricate plot that kept me on the edge of my seat. The ending had my heart pounding. I stayed up late, finished it in two sittings, and wished there had been more."
—ROBERT DUGONI, New York Times–bestselling author of Murder One     
 
"A tautly constructed, fast-moving narrative with an appealing protagonist. . . . This promises to be a compelling series for legal-thriller fans. Get in at the start."
—BOOKLIST, starred review

"Be prepared to put everything down and read through the night. Rotstein is a master of lightning-fast plot shifts and startling characterizations. Sexy, riveting, and keenly crafted, Corrupt Practices is well worth the insomnia."
—TERRI CHENEY, New York Times–bestselling author of Manic
 
"Corrupt Practices gives you all the pleasures of a legal thriller . . . but it is also just a beautiful novel. The characters are weird, interesting, flawed, and psychologically complex, and the portrayal of various Los Angeles subcultures . . . is authoritative and insightful. [It's] both a wild ride and a profoundly satisfying literary experience."
—MATTHEW SHARPE, author of Jamestown
 
"An intriguing, deftly paced legal thriller. The scenes ring with authenticity and the story peels back layer after layer of surprises."
—PAUL GOLDSTEIN, author of Havana Requiem
 
"The kind of rich and entertaining read that will please a wide range of legal thriller fans. . . . It is that rare sort of book—one that leaves you feeling entertained and a better person for having read it."
—LES STANDIFORD, author of Bringing Adam Home

"A steady stream of intriguing revelations delivered in a lively, precise style will keep readers turning the pages."
—PUBLISHERS WEEKLY
or
Not Currently Available for Direct Purchase