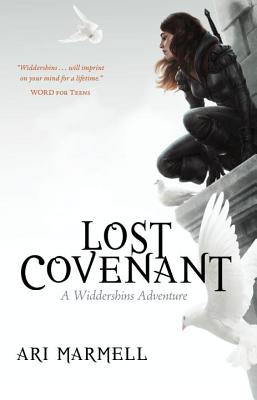 Lost Covenant
A Widdershins Adventure (Widdershins Adventures)
Hardcover

* Individual store prices may vary.
Description
This third YA novel starring the young thief Widdershins combines the angst and vulnerability of any teenage girl with the high action of the best fantasy adventures.
 
It's been six months since Widdershins and her own "personal god" Olgun fled the city of Davillon. During their travels, Widdershins unwittingly discovers that a noble house is preparing to move against the last surviving bastion of the Delacroix family. Determined to help the distant relatives of her deceased adopted father, Alexandre Delacroix, she travels to a small town at the edge of the nation. There, she works at unraveling a plot involving this rival house and a local criminal organization, all while under intense suspicion from the very people she's trying to rescue. Along the way she'll have to deal with a traitor inside the Delacroix family, a mad alchemist, and an infatuated young nobleman who won't take no for an answer.
Praise For Lost Covenant: A Widdershins Adventure (Widdershins Adventures)…
Praise for Lost Covenant:

"Marmell's writing has tightened considerably but stayed colorful, giving fans everything they want in a Shins story.... Two unfinished threads leave plenty of room for more more more. Start with Book 1 and just keep going."
--Kirkus Reviews

Praise for the Widdershins Adventures:

"One of the freshest, darkest, funniest, and best sword and sorcery series being written today and should appeal to readers of all ages." --Adventures Fantastic

"Readers seeking out a strong heroine in a well-crafted fantasy world will enjoy this title and look forward to the second." --School Library Journal
Pyr, 9781616148119, 279pp.
Publication Date: December 3, 2013
About the Author
Ari Marmell (Austin, TX) is a fantasy and horror writer and the author of several original novels including The Goblin Corps and two previous Widdershins adventures, Thief's Covenant and False Covenant. He has also written gaming tie-in novels such as In Thunder Forged: Iron Kingdoms Chronicles (The Fall of Llael Book One) and worked as an author of role-playing game materials for games such as Dungeons & Dragons and the World of Darkness line. Although born in New York, Ari has lived the vast majority of his life in Texas—first Houston (where he earned a BA in creative writing at the University of Houston) and then Austin. He lives with his wife, George; their cat; and a variety of neuroses. Visit the Widdershins page at facebook.com/Madeleine.Valois, and visit Ari at mouseferatu.com, at facebook.com/pages/Ari-Mouseferatu-Marmell/181576062390, or on Twitter @mouseferatu.
or
Not Currently Available for Direct Purchase