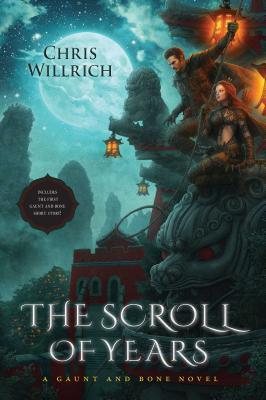 The Scroll of Years (Paperback)
A Gaunt and Bone Novel
Pyr, 9781616148133, 288pp.
Publication Date: September 24, 2013
* Individual store prices may vary.
Description
It's Brent Weeks meets China Mieville in this wildly imaginative fantasy debut featuring high action, elegant writing, and sword and sorcery with a Chinese flare. Persimmon Gaunt and Imago Bone are a romantic couple and partners in crime. Persimmon is a poet from a well-to-do family, who found herself looking for adventure, while Imago is a thief in his ninth decade who is double-cursed, and his body has not aged in nearly seventy years. Together, their services and wanderlust have taken them into places better left unseen, and against odds best not spoken about. Now, they find themselves looking to get away, to the edge of the world, with Persimmon pregnant with their child, and the most feared duo of assassins hot on their trail. However, all is never what it seems, and a sordid adventure--complete with magic scrolls, gangs of thieves, and dragons both eastern and western--is at hand.
About the Author
Chris Willrich (Mountain View, CA) is a science fiction and fantasy writer best known for his sword-and-sorcery tales of Persimmon Gaunt and Imago Bone. Until recently he was a children's librarian for the Santa Clara County Library System, in the San Francisco Bay Area. His work has appeared in Asimov's, Beneath Ceaseless Skies, Black Gate, Fantasy and Science Fiction, Flashing Swords, The Mythic Circle, and Strange Horizons.
Praise For The Scroll of Years: A Gaunt and Bone Novel…
"I cannot remember the last time I came across a book like this. Highly recommended for readers of fantasy who love a good action-adventure tale, especially those who might be on the lookout for something a bit different with an elegant and subtle touch."
—BiblioSanctum

"Reading Chris Willrich feels a bit like playing Dungeons and Dragons® with a drunken Will Shakespeare. Great fun, and beautifully written."
—Saladin Ahmed, Hugo award-nominated author of Throne of the Crescent Moon

"Willrich puts the mystery back in magic and the majesty back in dragons. Gaunt and Bone are the Han and Leia of heroic fantasy." 
—Howard Tayler, creator of the Hugo award-nominated Schlock Mercenary

"Willrich's beautifully written debut paints a vivid, richly imagined world populated by delightfully memorable characters. . . . This fantastical quest story contains witty narration, well-drawn characters, and a fast-moving plot."
—Publishers Weekly 

"A literary take on classic swords and sorcery, combining the droll tone and the adventure of Fritz Leiber with the lushness and profoundness of Catherynne M. Valente. Persimmon Gaunt and Imago Bone are just as delightful when pondering poetry or philosophy as when stealing a magic sword." 
—Scott H. Andrews, editor of the acclaimed magazine Beneath Ceaseless Skies

"I loved it. A polished blend of action, compelling characters, fantastic world building, and masterful prose."
—Howard Andrew Jones, author of The Desert of Souls