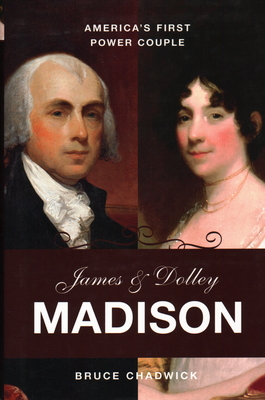 James and Dolley Madison (Hardcover)
America's First Power Couple
Prometheus Books, 9781616148355, 450pp.
Publication Date: February 4, 2014
* Individual store prices may vary.
Description
This revealing new portrait of James and Dolley Madison introduces the reader to America's first power couple. Using recently uncovered troves of letters at the University of Virginia, among other sources, historian Bruce Chadwick has been able to reconstruct the details of the Madisons' personal and political lives.

Chadwick argues that Madison was not a boring, average president, as other historians have characterized him, but a vibrant, tough leader—and a very successful commander in chief in the War of 1812.

He contends that Madison, the architect of the Constitution, owed much of his success to the political savvy of his charismatic, much younger wife, whose parties and backdoor politicking make for remarkable stories. And Dolley, through her many social skills, created the dynamic role of First Lady that we know today.

Despite their glamorous lifestyle, behind the scenes, the Madisons struggled with family drama: James and Dolley's constant funding of their charming but sociopathic son's misadventures ultimately led to their own financial ruin.

Blending the personal and the political, this is a fascinating profile of a couple whose life together contributed so much to the future course of our nation.
About the Author
Bruce Chadwick (Jersey City, NJ) is the author of twenty-eight books, most recently Lincoln for President and I Am Murdered. He is professor of history and journalism at New Jersey City University and a part-time lecturer in American Studies at Rutgers University.
Praise For James and Dolley Madison: America's First Power Couple…
"Another entry in the always-fascinating stories of Dolley and James Madison, showing the broad influence they had on American history. . . . An enjoyable, gossipy book exploring the birth and the rebirth of the nation."
—Kirkus Reviews
 
"We Americans thrive on the lessons of our past, and Chadwick brilliantly breathes life into two of our greatest icons, James and Dolley Madison. [This] is vital reading for anyone interested in the social and political landscapes of America's first power couple."
—Kat Imhoff, president and chief executive officer, James Madison's Montpelier  
 
"This book is the liveliest account we have of the shared life of James and Dolley Madison. . . . Chadwick's sharp eye for the telling detail, and the emotions that might go along with the tumultuous events they lived through, provide an intimate and exciting joint biography. . . . A highly readable account of the public life of the early republic."
—Ralph Ketcham, Maxwell Professor Emeritus of Citizenship and Public Affairs, Syracuse University 
 
"Chadwick is one of those rare historians who remember that good history is good storytelling. His James and Dolley Madison makes these figures come alive on the page—the gallant and resourceful Dolley fully as much as the distinguished president. This is a great read."
—Michael Aaron Rockland, professor of American studies, Rutgers University, author of Navy Crazy
or
Not Currently Available for Direct Purchase