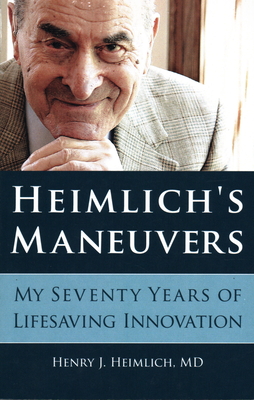 Heimlich's Maneuvers (Paperback)
My Seventy Years of Lifesaving Innovation
Prometheus Books, 9781616148492, 253pp.
Publication Date: February 11, 2014
* Individual store prices may vary.
Description
Here, in his own words, is the story of one of the twentieth century's most creative medical innovators, Dr. Henry Heimlich.

The thoracic surgeon is best known for having developed the Heimlich Maneuver, the world's easiest-to-learn and most universally known method to save people from choking to death on food or foreign objects. But many don't know about Dr. Heimlich's other life-saving inventions. He is the inventor of the Heimlich Chest Drain Valve, which saved thousands of lives during the Vietnam War, and the Heimlich MicroTrach, which provides a remarkably efficient way for people to take oxygen.

In the present decade, Dr. Heimlich has turned his attention to two devastating illnesses for which medicine has not yet found a cure--cancer and HIV. He describes his research and its promise, as well as the controversy and resistance his new ideas have generated from the medical establishment.

Interweaving the author's personal life with riveting stories of his numerous medical breakthroughs, this rich memoir provides insights into the workings of a creative mind and the machinations of the American medical system.
About the Author
Henry J. Heimlich, MD, may have saved more lives over the course of his seventy-year medical career than any other living physician. A renowned thoracic surgeon, now retired, Dr. Heimlich is the president of the Heimlich Institute in Cincinnati. His many honors and awards include the Albert Lasker Award, the American Academy of Achievement Award, and induction into the Engineering and Science Hall of Fame and the Safety and Health Hall of Fame International.
Praise For Heimlich's Maneuvers: My Seventy Years of Lifesaving Innovation…
"As White House physician, I performed the Heimlich Maneuver on a choking guest in the State Dining Room at a holiday reception during the final year of President George H. W. Bush's term in office. Years later, at the Mayo Clinic, I performed the maneuver on a choking staff member. Thank you, Dr. Heimlich, for inventing this lifesaving method that has allowed me to save two lives. This memoir is a must-read for all who want to know about your amazing life and many contributions to medicine."
—Connie Mariano, MD, former White House physician (1992–2001), author of The White House Doctor: My Patients Were Presidents

"With compassion and an amazing ability for getting to the essence of problems, Dr. Henry J. Heimlich has saved countless lives. And, as we learn in the pages of this remarkable book, no one has ever lived a life remotely like the inspiring journey that has been Dr. Heimlich's. I recommend that every medical student, every doctor, and everyone who needs to see the potential of the human spirit read this wonderful book and take its lessons to heart."
—Neal Barnard, MD, founder and president of the Physicians Committee for Responsible Medicine 

"From northern China in World War II to the laboratory, to the operating room, and to medical conferences around the world, surgery has been the life of Dr. Henry J. Heimlich. In Heimlich's Maneuvers, Hank recounts the challenges, controversies, and successes of his more than half a century working at the edge of medical knowledge."
—Neil Armstrong

"[Heimlich's] ability to find innovative and surprisingly simple solutions to seemingly insurmountable problems has saved countless lives."
—Physicians Committee for Responsible Medicine 2010 Award for Innovative Medicine