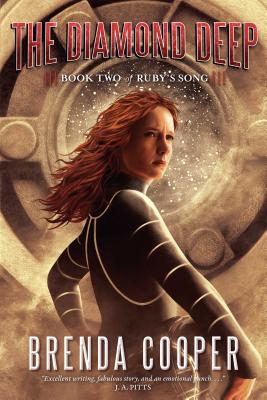 The Diamond Deep (Ruby's Song #2) (Paperback)
Pyr, 9781616148553, 441pp.
Publication Date: October 8, 2013
* Individual store prices may vary.
Description
What if a woman as strong and as complex as Eva Perón began her life as a robot repair assistant threatened by a powerful peacekeeping force that wants to take all she has from her? The discovery ship, Creative Fire, is on its way home from a multi-generational journey. But home is nothing like the crew expected. They have been gone for generations, and the system they return to is home to technologies and riches beyond their wildest dreams. But they are immediately oppressed and relegated to the lowest status imaginable, barely able to interact with the technologies and people of the star station where they dock, the Diamond Deep. Ruby Martin and her partner, Joel North, must find a way to learn what they need to know and to become more than they have ever been if they are to find a way to save their people.
About the Author
Brenda Cooper (Bellevue, WA) is the author of The Creative Fire, Book One of Ruby's Song, and the The Silver Ship series. Though not intended as a Young Adult novel, book 1, The Silver Ship and the Sea, was selected by Library Journal as one of the year's 100 Best Books for YA and by Booklist as one of the top ten 2007 adult books for youth to read. The other books in the series are Reading the Wind and Wings of Creation. She is the author of Mayan December and has collaborated with Larry Niven (Building Harlequin's Moon).
Praise For The Diamond Deep (Ruby's Song #2)…
"I loved The Diamond Deep. Excellent writing, fabulous story, and an emotional punch that leaves you wishing that Cooper wrote faster. Damned fine storytelling." 
—J. A. Pitts, author of Forged in Fire

"Cooper makes her real-life model, Argentina's Evita Perón, a clear presence while declining to be mindlessly constrained by her inspiration. Interestingly for a genre that often glorifies "lifeboat rules" and contrived hard choices, Cooper's protagonists err on the side of mercy; violence has its place but they do their best to bring change through law. Similarly the studied indifference of the rich and powerful to the weak and poor is condemned, not praised. A sequel to 2012's The Creative Fire, this is a worthy conclusion to Ruby's story."
—RT Book Reviews, Four stars

Praise for The Creative Fire (Book One of Ruby's Song):

"What [it] does, and does well, is marry the character-driven focus of Cooper's writing with an intriguing protagonist, a well thought out setting and spins a fascinating story. I most definitely want to read the second volume of Ruby's Song." 
- SF Signal

"Cooper puts a science fiction spin on the life of Eva Perón in this fast-paced, teen-friendly series starter." - Publisher's Weekly

"[A] wonderful work of social science fiction." - Kirkus Reviews

"Readers will admire Ruby's resolve and ability in this dystopian thriller." - VOYA
 
"An intriguing protagonist, a well thought out setting, and…a fascinating story. I most definitely want to read the second volume of Ruby's Song." - SF Signal
 
or
Not Currently Available for Direct Purchase