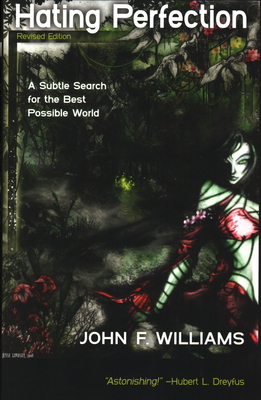 Hating Perfection: A Subtle Search for the Best Possible World (Paperback)
A Subtle Search for the Best Possible World
Humanity Books, 9781616148751, 373pp.
Publication Date: May 14, 2013
* Individual store prices may vary.
or
Not Currently Available for Direct Purchase
Description
The best heaven and the worst hell are the same place. Travel with author John F. Williams into the jungles of Laos and into a new understanding of existence. 

In lively short stories, Hating Perfection shows the everyday world as uncanny, equally strange as the imaginary worlds of Borges or Kafka. This engrossing, strikingly original book invites you to experience your life in a new way.

Hating Perfection weaves its stories together with an elegant logic. Our hateful world—painful, unjust, ruthless, fatal—stands revealed as the best of all possible worlds, flooded everywhere by a perfection both alien and addicting. What we want is different from what we get. But the reason why has a divine splendor. 

In this revised edition, Mr. Williams has added a postscript that addresses the well-known philosopher's paradox of the Chinese room. The author explains for the first time how we know that such a room as usually described would not have consciousness.    

Stand beside Mr. Williams for a time, and look in the direction he is looking. Your troubles may still be your troubles, but the world will be more than it was.
About the Author
John F. Williams, now retired, is a successful, independent venture capitalist. He has traveled widely and lived for ten years in the Far East.
Praise For Hating Perfection: A Subtle Search for the Best Possible World…
"Astonishing!...Lively, highly original, tightly argued, and a joy to read....An electrifying achievement." -- Hubert Dreyfus, professor of philosophy, University of California, Berkeley

"Illustrates Leonardo's idea that details make perfection, but perfection is not a detail."
-- Dagfinn Føllesdal, Stanford University

"Original, fascinating, highly ingenious, ... and inspiring." -- Gualtiero Piccinini, University of Missouri, St. Louis

"You have added an argument to those used by Leibniz for the claim that this is the best of all possible worlds and one that is more persuasive than his." -- Nelson Pole, Cleveland State University
Advertisement