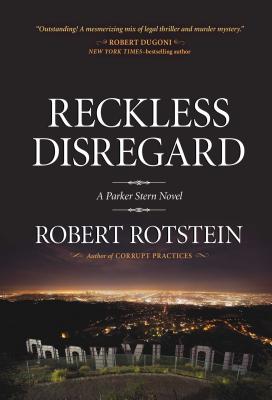 Reckless Disregard (Paperback)
A Parker Stern Novel
Seventh Street Books, 9781616148812, 352pp.
Publication Date: June 3, 2014
* Individual store prices may vary.
Description
Former topnotch attorney Parker Stern, still crippled by courtroom stage fright, takes on a dicey case for an elusive video game designer known to the world only by the name of "Poniard." In Poniard's blockbuster online video game, Abduction!, a real-life movie mogul is charged with kidnapping and murdering a beautiful actress who disappeared in the 1980s. Predictably, the mogul--William "the Conqueror" Bishop--has responded with a libel lawsuit. Now it's up to Parker to defend the game designer in the suit. In defending Poniard, Parker discovers that people aren't who they claim to be and that nothing is as it seems. At one point, his client resorts to blackmail, threatening to expose a dark secret about Parker. Then, many of the potential witnesses who could have helped the case die prematurely, and the survivors are too frightened to talk. Parker begins to feel as if he's merely a character in a video game, fighting malevolent Level Bosses who appear out of nowhere and threaten to destroy him.
About the Author
ROBERT ROTSTEIN, an entertainment attorney with over thirty years' experience in the industry, is the author of Corrupt Practices, the first Parker Stern novel. He's represented all of the major motion picture studios and many well-known writers, producers, directors, and musicians. He lives with his family in Los Angeles, California.
Praise For Reckless Disregard: A Parker Stern Novel…
"Endless novelties, endless twists, endless complications, endless surprises in and out of the courtroom. Whatever you read legal drama for, it's here, along with a whole lot of other stuff you never thought to ask for."
—Kirkus Reviews STARRED review
 
"Rotstein gives his hero, L.A. courtroom attorney Parker Stern, a refreshingly new and entirely credible hero's impediment—stage fright. . . . An intriguing aspect of this legal thriller is the way that the action tends to mimic a video game, with Stern getting more and more enmeshed with false leads and bad guys. . . . Stern is a wonderfully complex hero in an occupation that forces him to combat his limitations. And this novel's action really puts the 'thriller' in legal thriller."
 —Booklist STARRED review

"Outstanding! A mesmerizing mix of legal thriller and murder mystery. . . . The plot is crisp with twists and turns I didn't see coming. Fans of Michael Connelly will love Rotstein's intimate knowledge of Los Angeles, and Brad Meltzer fans will appreciate the driven pace and witty dialogue. Put Reckless Disregard at the top of your reading list." 
—ROBERT DUGONI, New York Times–bestselling author of Murder One

"Scintillating and twist-filled, this offers an original and wholly satisfying take on the legal thriller. Robert Rotstein's Parker Stern character is a bold and vibrant presence in an overcrowded genre, and Stern's personal struggles place him on par with Michael Connelly's Mickey Haller as the best courtroom hero going today. Reckless Disregard is Grisham or Turow on steroids, never failing to enthrall and entertain even as it illuminates the often-misbalanced scales of justice. It would be a crime to miss it!"
—JON LAND, bestselling author of The Tenth Circle and Strong Rain Falling

"Who murdered troubled Hollywood starlet Felicity McGrath? Who, indeed. The answer to that question is sure to keep readers guessing and glued to the edges of their seats until the final page. . . . The plot is ingenious; the writing, top-shelf. If you like your mysteries smart and provocative, this book's for you."
—DAVID FREED, author of the Cordell Logan series

"Once again, Robert Rotstein has delivered the goods. Reckless Disregard is fast-paced, rich in character, and provocative, first to last—it has everything you could hope for in a legal thriller."
—LES STANDIFORD, author of Water to the Angels
or
Not Currently Available for Direct Purchase