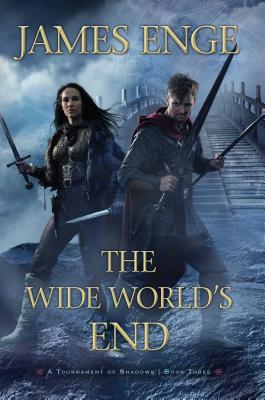 The Wide World's End (A Tournament of Shadows #3)
Paperback

* Individual store prices may vary.
Description
The tale of the early days of Morlock Ambrosius--master of all magical makers, wandering swordsman, and son of Merlin--concludes! From beyond the northern edge of the world, the Sunkillers (undying enemies of everything that lives and breathes and is an individual) are reaching into the sky of Laent to drain out its light and warmth. Their hope is to scrape sky, land, and sea clean of mortal life and return to where they once dwelled, before the first rising of the sun. Against them stand only the Graith of Guardians, defenders of the peaceful anarchy of the Wardlands. But the agents of the Sunkillers are abroad even in the Wardlands: plotting, betraying, murdering among the Graith. Married now for a century, Morlock Ambrosius and Aloê Oaij will take different paths to counter the threat. As Aloê ferrets out the enemy within the Graith, Morlock joins forces with his sister, the formidable Ambrosia Viviana, and crosses the monster-haunted plains of the deep north to confront the Sunkillers in their own realm. Morlock and Aloê think their parting is temporary, but it is final. They may or may not save the world, but they will not save each other, or themselves.
Praise For The Wide World's End (A Tournament of Shadows #3)…
Praise for A Tournament of Shadows:

"Morlock is a wonderful character--powerful and noble, tragic and comic--with more than a small nod to Don Quixote."  
- New York Times-bestselling author Rick Riordan

"Efficiently excellent epic fantasy.... Enge's engaging portrait of Morlock...will have readers hunting down earlier books to learn more about the adventurer and his history."
- Publishers Weekly starred review 

"Providing a back door into the Arthur/Merlin mythos, Enge creates a fascinating counterpoint to the familiar legends."
- Library Journal
Pyr, 9781616149079, 395pp.
Publication Date: February 17, 2015
About the Author
James Enge is the author of Blood of Ambrose (nominated for a World Fantasy Award), This Crooked Way, The Wolf Age, Travellers' Rest, A Guile of Dragons (A Tournament of Shadows Book One), and Wrath-Bearing Tree (A Tournament of Shadows Book Two). His fiction has appeared in Black Gate, Flashing Swords, and Every Day Fiction. He is an instructor of classical languages at a Midwestern university.
or
Not Currently Available for Direct Purchase