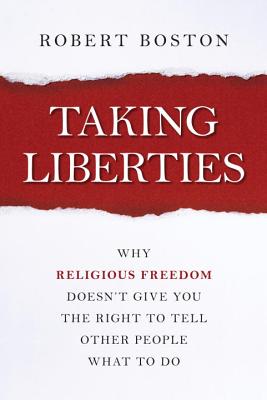 Taking Liberties (Paperback)
Why Religious Freedom Doesn't Give You the Right to Tell Other People What to Do
Prometheus Books, 9781616149116, 198pp.
Publication Date: March 4, 2014
* Individual store prices may vary.
Description
A concise and lucid explanation of what religious freedom is and isn't.


Increasingly, conservative religious groups are using religious liberty as a sword to lash out at others. In this forcefully argued defense of the separation of church and state, Robert Boston makes it clear that the religious freedom guaranteed in the First Amendment is an individual right, the right of personal conscience, not a license allowing religious organizations to discriminate against and control others. The book examines the controversy over birth control, same-sex marriage, religion in public schools, the intersection of faith and politics, and the "war on Christmas," among other topics.

Boston concludes with a series of recommendations for resolving clashes between religious liberty claims and individual rights.
About the Author
Robert Boston is the director of communications for Americans United for Separation of Church and State and the editor of Church & State magazine. He is the author of Why the Religious Right Is Wrong about Separation of Church and State, Close Encounters with the Religious Right, and The Most Dangerous Man in America? Pat Robertson and the Rise of the Christian Coalition. He is also a frequent contributor to The Humanist, and his articles have appeared in Free Inquiry, The Skeptical Inquirer, Conscience, and other publications.
Praise For Taking Liberties: Why Religious Freedom Doesn't Give You the Right to Tell Other People What to Do…
"As a respected authority on church-state separation and culture-war issues, Rob Boston demonstrates an understanding of religious liberty that is sadly lacking among the God-fearing preachers and politicians of today's religious Right. Taking Liberties is both entertaining and enlightening, a valuable resource for those who strive for sanity and reason in public policy."   
 —David Niose, author of Nonbeliever Nation: The Rise of Secular Americans

"A valuable reminder of the importance of religious freedom in America's past and present, and an eviscerating critique of attempts by the religious Right to use a false language of 'religious liberty' to undermine the very rights they pretend to support."
—Katherine Stewart, author of The Good News Club: The Christian Right's Stealth Assault on America's Children

"Robert Boston eloquently makes the case for what religious freedom is and what it is not. It is the right for you to promote and try to convince others that what you believe is correct, but it is not the right to have the government do it for you. He backs up his case with many alarming examples of threats to religious liberty in political, cultural, and educational areas, among others. People of all faiths and of none can read and benefit from this thoughtful, well-documented book that shows why 'live and let live' on matters of religion can benefit us all."  
—Herb Silverman, founder and president emeritus of the Secular Coalition for America; author of Candidate without a Prayer: An Autobiography of a Jewish 
or
Not Currently Available for Direct Purchase