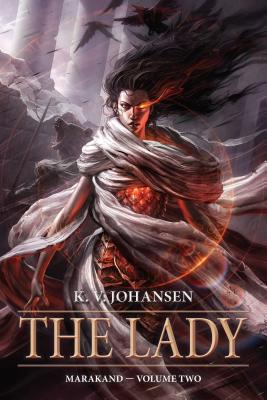 The Lady (Gods of the Caravan Road #3) (Paperback)
Pyr, 9781616149802, 443pp.
Publication Date: December 9, 2014
* Individual store prices may vary.
Description
Possessed by a ghost who feeds on death, the undying assassin Ahjvar the Leopard has been captured by the Lady of Marakand, enslaved by necromancy to be captain of her Red Masks. His shield-bearer Ghu, a former slave with an uncanny ability to free the captive dead, follows Ahjvar into the war-torn lands of the Duina Catairna to release him, even if that means destroying what is left of Ahj's tormented soul. Deyandara, the last surviving heir of the Catairnan queen, rides into a land ravaged by disease and war, seeking the allies she abandoned months before, though they have no hope of standing against the army led by the invulnerable Red Masks of Marakand and the divine terror of the Lady. In the city of Marakand, former enemies ally and old friends seek one another's deaths as loyalists of the entombed gods Gurhan and Ilbialla raise a revolt, spearheaded by the Grasslander wizard Ivah, the shapeshifting Blackdog, and the bear-demon Mikki. The Lady's defenses are not easily breached, though, and the one enemy who might withstand her, the Northron wanderer Moth, bearer of the sword Lakkariss, has vanished.
About the Author
K. V. Johansen is the author of The Leopard (Marakand, Volume One) and Blackdog and numerous works for children, teens, and adults. She predominantly writes secondary-world fantasy but is also the author of some science fiction and literary criticism, and of a collection retelling medieval Danish ballads. With an artist friend, she is also working on a manga-style adaptation of a short story set in the Blackdog world. Johansen has an MA from the Centre for Medieval Studies at the University of Toronto. Her lifelong interest in ancient and medieval history and the history of languages has had a great influence on her writing and world building. Occasionally, she masquerades as an editor, freelance journalist, or book reviewer, and dabbles (infrequently) in illustration. She lives in New Brunswick with a moderately wicked dog.
Praise For The Lady (Gods of the Caravan Road #3)…
Praise for The Leopard (Marakand, Volume One):

"An involving and deftly written novel of escape and capture, love and loss, and battles both mental and physical.... Fans of C. J. Cherryh, Elizabeth Bear, and George R. R. Martin will find the same intelligence, wit, and mastery of language.... Johansen has written a winner."

―ForeWord Reviews

"The Leopard [draws] on a legacy of pulpy, swords and sandals-style tales...with a classic edge....."

―Starburst Magazine

Praise for K.V. Johansen:
 
"Johansen's characters project believability, and her world is full of rich and vivid detail. High fantasy for lovers of mythology and of powerful beings in human form...."

—Library Journal