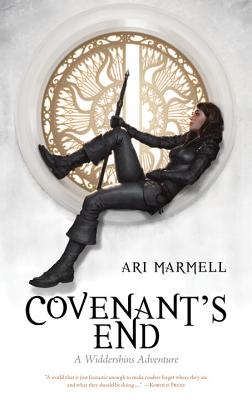 Covenant's End
A Widdershins Adventure (Widdershins Adventures)
Hardcover

* Individual store prices may vary.
Description
The thief Widdershins and her own "personal god," Olgun, return to their home city of Davillon after almost a year away. While Shins expects only to face the difficulty of making up with her friends, what she actually finds is far, far worse. Her nemesis, Lisette, has returned, and she is not alone. Lisette has made a dark pact with supernatural powers that have granted her abilities far greater than anything Widdershins and Olgun can match.

Together, Widdershins and Olgun will face enemies on both sides of the law, for Lisette's schemes have given her power in both Davillon's government and its underworld. For even a slim chance, Shins must call on both old friends--some of whom haven't yet forgiven her--and new allies. 

Even with their help, Widdershins may be required to make the hardest sacrifice of her life, if she is to rid Davillon--and herself--of Lisette once and for all.
Praise For Covenant's End: A Widdershins Adventure (Widdershins Adventures)…
Praise for the Widdershins Adventures:

"Widdershins is one of the best heroines in fantasy today. She is funny, confident, guilt-ridden, and determined.... If you aren't reading this series, you should be!"
—Night Owl Reviews
 
"For teens already reading adult fantasy but wanting something a bit more on their level, this hits the spot perfectly."
—Kirkus Reviews
 
"Widdershins is one of those characters...that will imprint on your mind for a lifetime." —WORD for Teens
 
"Readers seeking out a strong heroine in a well-crafted fantasy world will enjoy this."
—School Library Journal
Pyr, 9781616149864, 271pp.
Publication Date: February 3, 2015
About the Author
Ari Marmell is a fantasy and horror writer and the author of several original novels including The Goblin Corps and three previous Widdershins adventures. He has also written gaming tie-in novels such as In Thunder Forged: Iron Kingdoms Chronicles (The Fall of Llael Book One) and worked as an author of role-playing game materials for games such as Dungeons & Dragons and the World of Darkness line. Although born in New York, Ari has lived the vast majority of his life in Texas—first Houston (where he earned a BA in creative writing at the University of Houston) and then Austin. He lives with his wife, George; their cat; and a variety of neuroses.

Visit the Widdershins page at facebook.com/Madeleine.Valois, and visit Ari at mouseferatu.com, at facebook.com/pages/Ari-Mouseferatu-Marmell/181576062390, or on Twitter @mouseferatu.
or
Not Currently Available for Direct Purchase