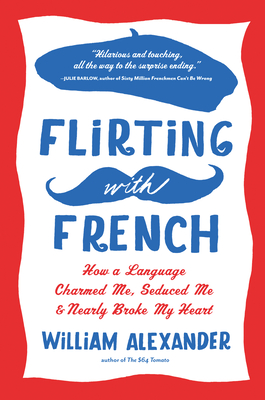 Flirting with French (Paperback)
How a Language Charmed Me, Seduced Me, and Nearly Broke My Heart
Algonquin Books, 9781616200206, 288pp.
Publication Date: September 16, 2014
Description
"A delightful and courageous tale and a romping good read. Voila " --Mark Greenside, author of I'll Never Be French (No Matter What I Do)
William Alexander is more than a Francophile. He wants to
be
French. There's one small obstacle though: he doesn't speak
la langue fran aise.
In
Flirting with French,
Alexander sets out to conquer the language he loves. But will it love him back? Alexander eats, breathes, and sleeps French (even conjugating in his dreams). He travels to France, where mistranslations send him bicycling off in all sorts of wrong directions, and he nearly drowns in an immersion class in Provence, where, faced with the riddle of masculine breasts, feminine beards, and a turkey cutlet of uncertain gender, he starts to wonder whether he should've taken up golf instead of French. While playing hooky from grammar lessons and memory techniques, Alexander reports on the riotous workings of the Acad mie fran aise, the four-hundred-year-old institution charged with keeping the language pure; explores the science of human communication, learning why it's harder for fifty-year-olds to learn a second language than it is for five-year-olds; and, frustrated with his progress, explores an IBM research lab, where he trades barbs with a futuristic hand-held translator. Does he succeed in becoming fluent? Readers will be as surprised as Alexander is to discover that, in a fascinating twist, studying French may have had a far greater impact on his life than actually learning to speak it ever would. "A blend of passion and neuroscience, this literary love affair offers surprise insights into the human brain and the benefits of learning a second language. Reading William Alexander's book is akin to having an MRI of the soul." --Laura Shaine Cunningham, author of
Sleeping Arrangements
"Alexander proves that learning a new language is an adventure of its own--with all the unexpected obstacles, surprising breakthroughs and moments of sublime pleasure traveling brings." --Julie Barlow, author of
Sixty Million Frenchmen Can't Be Wrong
Advertisement