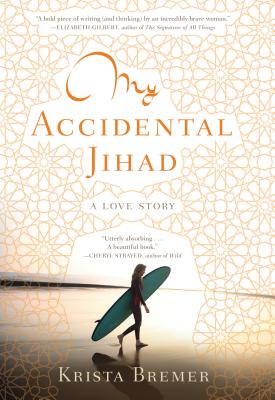 My Accidental Jihad (Hardcover)
Algonquin Books, 9781616200688, 304pp.
Publication Date: April 22, 2014
Other Editions of This Title:
Digital Audiobook (4/21/2014)
Paperback (3/31/2015)
CD-Audio (4/22/2014)
Pre-Recorded Audio Player (3/1/2014)
Hardcover, Large Print (6/25/2014)
* Individual store prices may vary.
Description
"Utterly absorbing . . . A beautiful book." —Cheryl Strayed, author of Wild

"A bold piece of writing (and thinking) by an incredibly brave woman." —Elizabeth Gilbert, author of Eat, Pray, Love

Fifteen years ago, Krista Bremer was a surfer and an aspiring journalist who dreamed of a comfortable American life of adventure, romance, and opportunity. Then, on a running trail in North Carolina, she met Ismail, sincere, passionate, kind, yet from a very different world. Raised a Muslim--one of eight siblings born in an impoverished fishing village in Libya--his faith informed his life. When she and Ismail made the decision to become a family, Krista embarked on a journey she never could have imagined, an accidental jihad: a quest for spiritual and intellectual growth that would open her mind, and more important, her heart.

"A moving, lyrical memoir . . . A sweet and rewarding journey of a book." —Kirkus Reviews

"Readers of memoir will welcome this love story about patience and kindness and learning the importance of putting culture first." —Library Journal

"Lucid, heartfelt, and profoundly humane, My Accidental Jihad navigates the boundaries of religion and politics to arrive at the universal experience of love." —G. Willow Wilson, author of Alif the Unseen

"Bremer's particular story strikingly highlights the (usually more mundane) cultural clashes and compromises inherent to every marriage or long-term relationship." —Publishers Weekly


About the Author
Krista Bremer is the associate publisher of The Sun magazine and the recipient of a Rona Jaffe Foundation award. Her essay on which this book is based, "My Accidental Jihad," received a Pushcart Prize. Her essays have been published in O: The Oprah Magazine,More magazine, and The Sun, and she's been featured on NPR and in the PBS series Arab American Stories. Her website is www.kristabremer.com.
Praise For My Accidental Jihad…
"My Accidental Jihad is a bold piece of writing (and thinking) by an incredibly brave woman." —Elizabeth Gilbert, author of The Signature of All Things and Eat, Pray, Love

"Utterly absorbing . . . A beautiful book." —Cheryl Strayed, author of Wild

"Candid and rich." —Good Housekeeping

"Lucid, heartfelt and profoundly humane, My Accidental Jihad navigates the boundaries of religion and politics to arrive at the universal experience of love." —G. Willow Wilson, author of Alif the Unseen

"A beautiful account of [Bremer's] jihad, or struggle, to find peace within herself and within her marriage." —The Kansas City Star

"Readers of memoir will welcome this love story about patience and kindness and learning the importance of putting culture first." —Library Journal

"A moving, lyrical memoir . . . A sweet and rewarding journey of a book." —Kirkus Reviews

"Told with rare honesty, My Accidental Jihad is the story of Krista Bremer's lifelong quest for insight and understanding, a search that leads her out of the Pacific surf to journalism school in North Carolina and through the complex challenges and unexpected joys of a cross-cultural marriage and family. This book is a powerfully personal account of the courage and hard work necessary to open one's heart and keep it that way." —Maggie Shipstead, author of Seating Arrangements

"My Accidental Jihad is one of the most captivating and moving memoirs I've read in years. The story Krista Bremer tells--one of radical foreignness between a married couple--could be a metaphor for all committed relationships." —Haven Kimmel, author of A Girl Named Zippy

or
Not Currently Available for Direct Purchase