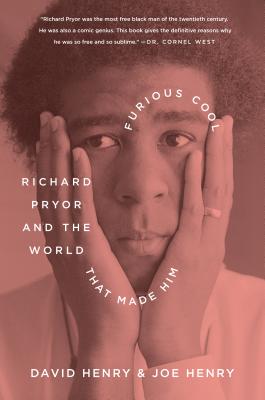 Furious Cool (Hardcover)
Richard Pryor and the World That Made Him
Algonquin Books, 9781616200787, 400pp.
Publication Date: November 5, 2013
Other Editions of This Title:
Digital Audiobook (11/4/2013)
Paperback (10/21/2014)
Compact Disc (11/5/2013)
MP3 CD (11/5/2013)
Compact Disc (11/5/2013)
Pre-Recorded Audio Player (12/1/2013)
* Individual store prices may vary.
Description
"Addictively readable . . . Someday, when fewer people know Richard Pryor's name, Furious Cool will be the best defense against the worst sort of forgetting--the kind that involves who we are now, who we loved once, and why." —Esquire

Richard Pryor was arguably the single most influential performer of the second half of the twentieth century, and certainly he was the most successful black actor/comedian ever. Controversial and somewhat enigmatic during his life, Pryor's performances opened up a whole new world of possibilities, merging fantasy with angry reality in a way that wasn't just new--it was theretofore unthinkable. Now, this groundbreaking and revelatory work brings him to life again both as a man and as an artist, providing an in-depth appreciation of his talent and his lasting influence, as well as an insightful examination of the world he lived in and the myriad influences that shaped both his persona and his art.

"A testament to [Pryor's] stature not only as an African-American entertainment idol but also as an American icon . . . The Henrys' exuberant tribute may well evoke renewed interest in a performance genius who remade the face of American stand-up comedy." —The New York Times Book Review

"A sleek, highly literate biography that places the comic in the pop-cultural context of his times." —Bloomberg News

"Richard Pryor was the most free black man of the twentieth century. He also was a comic genius. This book gives the definitive reasons why he was so free and so sublime." —Dr. Cornel West

"David Henry and Joe Henry have brought Richard Pryor back to pulsating life, affirming both his humanity and his immortality as a comic--and tragic--genius . . . Furious Cool is a fabulous history, alive with fascinating characters."
—The Huffington Post


About the Author
David Henry is a screenwriter, and his brother Joe Henry is a songwriter/singer as well as a music producer. Furious Cool is their first book. They are also at work on a screenplay based on Pryor's life and career. 
Praise For Furious Cool: Richard Pryor and the World That Made Him…
"Richard Pryor was chain lightning to everything around him. He shocked the world through with human electricity. He blew all our comfortable balance to hell. And Furious Cool captures it brilliantly. Dave and Joe Henry have done an incredible job allowing us to experience 'the only Richard you could possibly be talking about.' Part memoir, part biography, part poem, part history, part ballad, it manages to sing a wake song for an incredible American. If Richard's comedy was theft-proof, his genius was always shared. This is a book worth savoring." —Colum McCann, author of Let the Great World Spin

"An addictively readable study of the path of this outsized talent . . . [A] blazing entertainment history to authoritative meditation on culture." —Esquire

"The brothers David and Joe Henry--a screenwriter and songwriter--note early in this book, 'At times, both of us have wondered whether Richard Pryor was truly ours to approach.' After deciding they felt 'not a racial but a human kinship' to Pryor, they forged ahead, and we should be glad they did . . . Loving but clear-eyed, the book conveys how brilliant and maddening Pryor could be." —The New York Times

"The flames of genius burn bright and all too often too briefly. Incendiary, foulmouthed comic icon Richard Pryor changed the face of comedy and possessed, as biographers David and Joe Henry put it, a Furious Cool." —Vanity Fair

"A sleek, highly literate biography that places the comic in the pop-cultural context of his times." —Bloomberg News

"Furious Cool is a fabulous history, alive with fascinating characters both reacting to and creating world-changing events; it is a study of the seismic cultural shifts of the second half of the twentieth century, when everything we knew about music, literature, television, theater, and yes, comedy, was turned upside down and sideways, blowing our minds and resetting all expectations; it is a documentary of epic proportions, based as it is upon mountains of research (all of it refined, sifted, and clarified); it is a love song and a dirge and silly ditty and a symphony of every emotion . . . Every person on the planet has to find his or her way to the truth of life's unfairness, beauty, sadness, opportunities and limits. That I could get myself part way there riding on waves of laughter was a wonderful gift, and it was Pryor's gift. Furious Cool reminds me of his present, and his presence, and for this, I give thanks to the Henry brothers." —The Huffington Post

"It would be enough if Furious Cool was a profile of Pryor's uncanny talents, psychic turmoil, and ungovernable behavior, but it's also a fascinating history of black comedy . . . Furious Cool captures Pryor's frenetic routines and stage presence on the page . . . The inextricable legacy of Richard Pryor—his boldness, inventiveness, candor, and empathy—lives on." —Los Angeles Magazine

"A beautifully written account of the troubled life of a manic genius." —Booklist, starred review

"Richard Pryor was the most free black man of the 20th century. He also was a comic genius. This book gives the definitive reasons why he was so free and so sublime." —Dr. Cornel West

"Richard Pryor lives again in the pages of Furious Cool by David and Joe Henry. With heart and grace and witnessing, they show us how and why this comic and tragic genius changed the culture of this country when he could not change himself. You may be meeting or rediscovering Pryor, but he's likely to change you, too." —Gloria Steinem

or
Not Currently Available for Direct Purchase