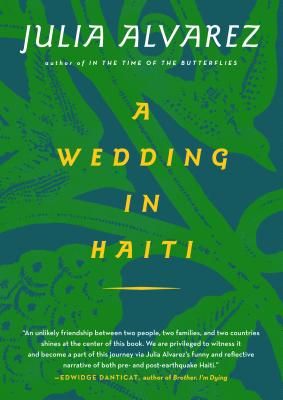 A Wedding in Haiti (Hardcover)
Algonquin Books, 9781616201302, 304pp.
Publication Date: April 24, 2012
* Individual store prices may vary.
About the Author
Julia Alvarez left the Dominican Republic for the United States in 1960 at the age of ten. A novelist, poet, and essayist, she is the author of nineteen books, including How the García Girls Lost Their Accents,In the Time of the Butterflies (a National Endowment for the Arts Big Read Selection), Yo!, Something to Declare, In the Name of Salome, Saving theWorld, A Wedding in Haiti, and The Woman I Kept to Myself. Her work has garnered wide recognition, including the 2013 National Medal of Arts, a Latina Leader Award in Literature in 2007 from the Congressional Hispanic Caucus Institute, the 2002 Hispanic Heritage Award in Literature, the 2000 Woman of the Year by Latina magazine, and inclusion in the New York Public Library's 1996 program "The Hand of the Poet: Original Manuscripts by 100 Masters, from John Donne to Julia Alvarez." A writer-in-residence at Middlebury College, Alvarez and her husband, Bill Eichner, established Alta Gracia, an organic coffee farm–literacy arts center, in her homeland, the Dominican Republic.
Praise For A Wedding in Haiti…
AARP.com's Best Books of 2012
Named one of the Top 10 Best Latino Authors for 2012 by TheLatinoAuthor.com
"She is the ideal travel companion—witty and observant and, as in all of Julia Alvarez's writing, compassionate and full of heart. A Wedding In Haiti is a great experience and its unaffected prose is as true a portrait of complex Haiti as you will find."
—Mark Kurlansky
"[A] beguiling memoir of family and culture."—O, The Oprah Magazine
"A sudden promise leads an acclaimed author on the journey—and to the wedding—of a lifetime . . . [An] extraordinary story."—Marie Claire
"An open-eyed view of Haiti before and after the earthquake . . . A Wedding in Haiti is Alvarez's view into the rural Haitian family life that never makes the news."—The Associated Press
"Award-winning Dominican writer Julia Alvarez finally, sweetly, gets to know her sister country as she travels to a friend's fete."—Ebony
"Alvarez's devotion, her admiration and hope, and most clearly, the love for her extended family, is palpable throughout."—The Christian Science Monitor
"Heartbreaking and humorous, simple and elusive." —Ms. Magazine blog
"A moving message about the nature of poverty, human love, and their opposites."
—Examiner.com
"A glimpse into the heart of a complex country during a tumultuous time."—National Geographic Traveler
"This beautiful memoir from Alvarez is a look at Haiti through an unlikely friendship . . . Wonderfully told."—New York Post
"A memoir with the structure and impact of a novel . . . It is hopeful, folksy, sobering and graceful with good story-telling."—Asheville Citizen-Times
"Touching, funny, eye-opening and uplifting." —The Seattle Times
"A compelling account of friendship, loyalty and perseverance."—Philadelphia Citypaper
"A deeply personal story of family and connection that casts a light on larger issues of global community and the need for unity, compassion, and understanding."—Shelf Awareness, starred review
"Beautifully told and moving, Alvarez's memoir serves to introduce readers to all Haiti once was — and what it could be again."—SheKnows.com
"Warm, funny and compassionate."—Kirkus Reviews
"A moving homage to the Haitian people." —Publishers Weekly
"[Alvarez's] unaffected prose and her warm and caring voice make this intimate introduction to a troubled country one many readers will savor."—Booklist
or
Not Currently Available for Direct Purchase