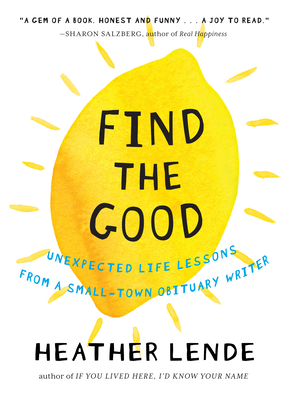 Find the Good
Unexpected Life Lessons from a Small-Town Obituary Writer
Hardcover

* Individual store prices may vary.
Other Editions of This Title:
Digital Audiobook (4/27/2015)
Compact Disc (4/28/2015)
MP3 CD (4/28/2015)
Description
As the obituary writer in a spectacularly beautiful but often dangerous spit of land in Alaska, Heather Lende knows something about last words and lives well lived. Now she's distilled what she's learned about how to live a more exhilarating and meaningful life into three words: find the good. It's that simple--and that hard.

Quirky and profound, individual and universal, Find the Good offers up short chapters that help us unlearn the habit--and it is a habit--of seeing only the negatives. Lende reminds us that we can choose to see any event--starting a new job or being laid off from an old one, getting married or getting divorced--as an opportunity to find the good. As she says, "We are all writing our own obituary every day by how we live. The best news is that there's still time for additions and revisions before it goes to press."

Ever since Algonquin published her first book, the New York Times bestseller If You Lived Here, I'd Know Your Name, Heather Lende has been praised for her storytelling talent and her plainspoken wisdom. The Los Angeles Times called her "part Annie Dillard, part Anne Lamott," and that comparison has never been more apt as she gives us a fresh, positive perspective from which to view our relationships, our obligations, our priorities, our community, and our world.

An antidote to the cynicism and self-centeredness that we are bombarded with every day in the news, in our politics, and even at times in ourselves, Find the Good helps us rediscover what's right with the world.

"Heather Lende's small town is populated with big hearts--she finds them  on the beach, walking her granddaughters, in the stories of ordinary peoples' lives, and knits them into unforgettable tales. Find the Good is a treasure." —Jo-Ann Mapson, author of Owen's Daughter

"Find the Good is excellent company in unsteady times . . . Heather Lende is the kind of person you want to sit across the kitchen table from on a rainy afternoon with a bottomless cup of tea. When things go wrong, when things go right, her quiet, commonsense wisdom, self-examining frankness, and good-natured humor offer a chance to reset, renew, rebalance."  —Pam Houston, author of Contents May Have Shifted

"With gentle humor and empathy [Lende] introduces a number of people who provide examples of how to live well . . . [Find the Good] is simple yet profound."  —Booklist

"In this cynical world, Find the Good is a tonic, a literary wellspring, which will continue to run, and nurture, even in times of drought. What a brave and beautiful thing Heather Lende has made with this book." —John Straley, Shamus Award winner and former writer laureate of Alaska

"Heather Lende is a terrific writer and terrific company: intimate, authentic, and as quirky as any of her subjects." —Marilyn Johnson, author of The Dead Beat
Praise For Find the Good: Unexpected Life Lessons from a Small-Town Obituary Writer…
"Working as an obituary writer could get you down, if you were the kind of person who let it. Lende isn't…she teases wisdom from the lives her obits celebrate as well as from her own experiences as a mother and grandmother…each conveys the unsentimental conviction that the good in our lives shouldn't be overshadowed by their inevitable end." —New York Times Book Review "A wise, witty memoir that combines anecdotes about Lende's work and family with plainspoken wisdom gleaned from her years of living in a small community." —Shelf Awareness for Readers, starred review"Find the Good is the perfect nightstand accompaniment: short, breezy and chock-full of life lessons." —New York Daily News

"Find the Good is wonderful to its core . . . page after page of this delicious book is filled with truisms you'll want framed to hang on your wall." —The Oklahoman "Simple yet profound… [Lende's] homespun stories will speak meaningfully to readers. The overarching message is that the life we get is precious, as obituary writer Lende knows so well, and should be lived in such a way as to create much good to be remembered by." —Booklist "Honest and simple yet full of lasting strength, the author's prose demonstrates what makes a life better rather than worse—including something as simple as picking up heart-shaped stones on the beach with a grandchild. Optimistic, slightly humorous reflections on living a fully engaged, meaningful life."—Kirkus Reviews"It seems so easy to write something that makes the world a better place, but as most writers know, it isn't. Heather Lende has a rare gift and is a writer to be treasured and appreciated for all the tough times in your life, whether you are from a small town in Southeast Alaska or a city on the other side of the world."—The Seattle Review of Books"At times heart-achingly poignant, at others heart-meltingly sweet, Find the Good reminds us those last words will come soon enough, far too soon for some, and charges us with the responsibility to not only live a life worth writing about but to recognize and honor those people who matter to us while they're here to appreciate it."—South Bergenite/NorthJersey.com "Lende's short chapters resonate, reminding us that it's worth looking at our relationships, our obligations, our priorities, our community, and our world from a fresh, positive perspective. A gift to share with friends and family, Find the Good offers a way out of the negativity and cynicism that can overwhelm our daily routines."—Utne Reader"A feel-good volume that is sure to please many a mom and maybe even earn you some extra brownie points." —Bookbrowse

Algonquin Books, 9781616201678, 176pp.
Publication Date: April 28, 2015
About the Author
Heather Lende has contributed essays and commentary to NPR, the New York Times, and National Geographic Traveler, among other newspapers and magazines, and is a former contributing editor at Woman's Day. A columnist for the Alaska Dispatch News, she is the obituary writer for the Chilkat Valley News in Haines and the recipient of the Suzan Nightingale McKay Best Columnist Award from the Alaska Press Club. Her previous bestselling books are Find the Good, Take Good Care of the Garden and the Dogs, and If You Lived Here, I'd Know Your Name. Lende was voted Citizen of the Year, Haines Chamber of Commerce, in 2004. Her website is heatherlende.com.