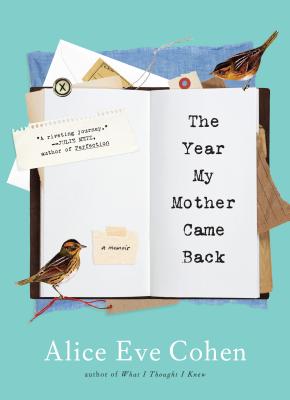 The Year My Mother Came Back (Hardcover)
Algonquin Books, 9781616203191, 288pp.
Publication Date: March 31, 2015
Other Editions of This Title:
Digital Audiobook (3/30/2015)
CD-Audio (3/31/2015)
Paperback (5/3/2016)
* Individual store prices may vary.
Description
"A riveting journey." —Julie Metz, author of Perfection

"A perfect book. I want to tell everyone, every mother, every daughter, to read it." —Abigail Thomas, bestselling author of A Three Dog Life

For the first time in decades I'm remembering Mom, all of her--the wonderful and terrible things about her that I've cast out of my thoughts for so long. I'm still struggling to prevent these memories from erupting from their subterranean depths. Trying to hold back the flood. I can't, not today. The levees break.

Thirty years after her death, Alice Eve Cohen's mother appears to her, seemingly in the flesh, and continues to do so during the hardest year Alice has had to face: the year her youngest daughter needs a harrowing surgery, her eldest daughter decides to reunite with her birth mother, and Alice herself receives a daunting diagnosis. As it turns out, it's entirely possible for the people we've lost to come back to us when we need them the most.

Although letting her mother back into her life is not an easy thing, Alice approaches it with humor, intelligence, and honesty. What she learns is that she must revisit her childhood and allow herself to be a daughter once more in order to take care of her own girls. Understanding and forgiving her mother's parenting transgressions leads her to accept her own and to realize that she doesn't have to be perfect to be a good mother.

"Alice Eve Cohen's warm, witty, wise memoir is an elixir of love. It captures the struggles of every woman who ever wanted to be a better mother or daughter. Read it and weep, and laugh, and love." —Nancy Bachrach, author of The Center of the Universe

"Funny, painful, absurd, and heartwarming . . . Alice's struggle to accept her imperfect self is a loving message tomothers who struggle to live life with grace. A beautiful book." —Julie Metz, New York Times bestselling author of Perfection

"Cohen navigates what was a perfect storm of a year . . . What she made of this year is a book so honest, so moving, and ultimately so wise that it is a privilege to take the journey with her." —Abigail Thomas, bestselling author of A Three Dog Life

"I love, love, love this book. It's so rich, so real, and so moving . . . An astonishingly wonderful book—I was enthralled." —Caroline Leavitt, bestselling author of Pictures of You

"Compassionate, compelling, and told in luscious prose that practically begs you to sink in and linger, Cohen's imaginative story and its fascinating characters will stay with you long after you've turned the last page." —Jessie Sholl, author of Dirty Secret
About the Author
Alice Eve Cohen's first memoir, What I Thought I Knew, received the Elle Magazine Literary Grand Prix for Nonfiction, was one of O: The Oprah Magazine's 25 Best Books of Summer, and was one of Salon's Best Books of the Year. A solo theater artist and playwright, she has toured her plays nationally and internationally. She teaches at the New School and lives with her family in New York City. Her website is www.aliceevecohen.com.
Praise For The Year My Mother Came Back…
"A wry, magical memoir about the transcendent power of mother-daughter love." —Elle

"Fiercely brave and unflinchingly honest, Alice Eve Cohen's fearless new memoir, The Year My Mother Came Back, pushes away all boundaries, telling a deeply true story, even while imagining conversations with her dead mother. In doing so, she has written an important memoir that takes the reader on an astonishing journey." —The Brooklyn Rail

"Evolving into a sort of magical realism that wouldn't be out of place in a Gabriel Garcia Marquez novel . . . [The Year My Mother Came Back] is a heartwarming story, perfect for Mother's Day, for both mothers and daughters." —The Oklahoman

"[The Year My Mother Came Back] explores mother-daughter relationships with humor, warmth, and a great deal of clever insight . . . A multigenerational story with Cohen's remarkable, ahead-of-her-time mother--remembered and imagined--at the center of it all." —Birmingham Magazine

"The Year My Mother Came Back is full of moments of wisdom, deep candor, and humor, and it's beautifully written." —Jewish Woman

"[A] finely wrought memoir . . . Cohen ultimately gets closer with her mother, who gives her advice beyond the grave about how to be a better mother, how to face cancer, and how, ultimately, to be a daughter who finally finds peace with the complex woman who had more of an impact on her life than she ever realized." —Publishers Weekly 

"[A] powerful, poetic new memoir. " —Tablet Magazine

"A little book that packs a powerful message. This book would make the perfect Mother's Day gift. It was written with grace and great love . . . Expect to see this title on a lot of Best of 2015 lists. Cohen is a masterful storyteller." —The Winnsboro News

"A gorgeous, magical, meaningful memoir . . . Oh my God, I love this book. The story grabbed me right away. I sank into the couch with that book and just soaked it up . . . Please put it on your nightstand and share it with friends." —"Reading with Robin" radio show

"Alice Eve Cohen's warm, witty, wise memoir is an elixir of love. It captures the struggles of every woman who ever wanted to be a better mother or daughter. It's a brilliant meditation on how little we know (and how much less we control) despite our finest efforts. Read it and weep . . . and laugh . . . and love. But do read it!" —Nancy Bachrach, author of The Center of the Universe: A Memoir

"The Year My Mother Came Back is a riveting journey . . . Funny, painful, absurd, and heartwarming. Alice's mother comes fully to life in all her complexity, a woman of her times and ahead of her time. Alice's own struggle to accept her imperfect self is a loving message to mothers who struggle to live life with grace. A beautiful book." —Julie Metz, New York Times bestselling author of Perfection

"[A] memoir and love story about parenthood, loss and connection. With honesty and humor, Cohen describes a particularly challenging period of her life, when her late mother seems to reappear to help her find her way." —The Jewish Week

"[A] must-read memoir" —Parent & Child magazine

"I love, love, love this book. It's so rich, so real and so moving . . . An astonishingly wonderful book--I was enthralled." —Caroline Leavitt, author of Pictures of You

"In her new memoir, Alice Cohen navigates what was a perfect storm of a year, a year when doubt, guilt, dread, illness, and sorrow descended all at once on her and on her family. What she made of this year is a book so honest, so moving, and ultimately so wise that it is a privilege to take the journey with her. The Year My Mother Came Back is a perfect book." —Abigail Thomas, New York Times bestselling author of A Three Dog Life

"Compassionate, compelling, and told in luscious prose that practically begs you to sink in and linger, Cohen's imaginative story and its fascinating characters will stay with you long after you've turned the last page." —Jessie Sholl, author of Dirty Secret
or
Not Currently Available for Direct Purchase