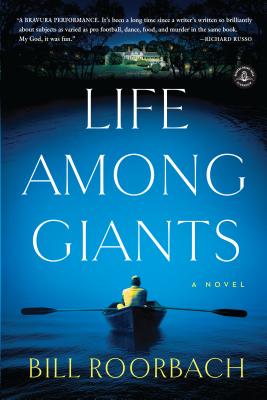 Life Among Giants
A Novel
Paperback

* Individual store prices may vary.
Other Editions of This Title:
Digital Audiobook (11/12/2012)
MP3 CD (11/13/2012)
Compact Disc (11/13/2012)
CD-Audio (11/13/2012)
Hardcover (11/13/2012)
December 2012 Indie Next List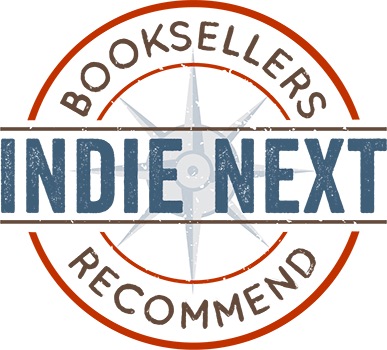 "Roorbach has given readers a totally unique family saga that is infused with love, sex, and murder. This is the kind of story that takes you on a journey from the very first page and races right along to the unforgettable conclusion. I was drawn in by the characters, both sympathetic and despicable. This is a great book to recommend to everyone."
— Barbara Kelly, Portland Bookstore, University of Southern Maine, Portland, ME
View the List
Description
This funny, exuberant novel captures the reader with the grand sweep of seven-foot-tall David "Lizard" Hochmeyer's larger-than-life quest to unravel the mystery surrounding his parents' deaths. It's a journey laden with pro football stars, a master chef and his beautiful transvestite lover, a world-famous ballerina and her English rocker husband, and a sister who's as brilliant as she is unstable. A wildly entertaining, plot-twisting novel of murder, seduction, and revenge--rich in incident, expansive in character, and lavish in setting--Life Among Giants is an exhilarating adventure.

Editors' pick for Amazon's Best of 2012 

Shelf Awareness Top Ten Best Fiction of 2012 

Columbus Dispatch's Top Books of 2012 
Praise For Life Among Giants: A Novel…
"Hilarious and heartbreaking, wild and wise, Bill Roorbach's Life Among Giants, which is earning comparisons to The World According to Garp, is a vivid chronicle of a life lived large." —Parade

"An enchanting, darkly mysterious ballerina. A dead rock star. An unsolved double homicide, decades old. A father felled by a shadowy past. An older sister as beautiful as she is mad. A gay vegetarian chef covered in tattoos. His transvestite lover. Secret passageways, nighttime trysts, affairs, embezzling, illicit recordings--all of it revolving around one 6-foot-8, humble, sincere, Ivy League-educated orphaned professional football player. Really, what more could you want? As you might guess from its title if not from the list above, Bill Roorbach's second novel, Life Among Giants, is a larger-than-life production. Yet all of its wild characters feel genuine, their aches and flaws and desires wholly organic; and the plot they're tangled in moves forward at a breakneck pace. It's a dizzy romp. There's murder and intrigue and sex and terror, and Roorbach is generous with it all . . . Which isn't to say there isn't real meat here. Roorbach doesn't let the novel's rich entertainment stand in the way of emotional subtlety . . . [He] seems to relish creating lushly bold biographies for his characters, then getting the shading right--carefully applying depth and warmth." —The New York Times Book Review

"A bighearted, big-boned story . . . Life Among Giants reads like something written by a kinder, gentler John Irving . . . Roorbach is a humane and entertaining storyteller with a smooth, graceful style." —The Washington Post

"Consistently surprising and truly entertaining . . . Part thriller, part family drama, Life Among Giants is deliciously strange and deeply affecting." —The Boston Globe

"[A] thrilling indulgence, a tale of opulence, love triangles, and madness, set against a sumptuous landscape of lust and feasts . . . This is a purely Gatsbyesque portrayal of celebrity." —Publishers Weekly, starred review

"A compelling mystery . . . [Roorbach] knows how--in the best way--to manipulate and misdirect a reader." —The Columbus Dispatch (a Top Ten Book of 2012)

"A few novels every year . . . achieve greatness . . . Life Among Giants is one of those blessed occurrences." —The Atlanta Journal-Constitution

"A bravura performance. It's been a long time since a writer's written so brilliantly about subjects as varied as pro football, dance, food, and murder in the same book. My God, it was fun." —Richard Russo

"A sprawling, exuberant novel filled with murder and lust and, mostly, love. Bill Roorbach is a writer with enormous vision and an even more enormous heart." —Ann Hood, author of The Red Thread

"No one writes pleasure quite like Bill Roorbach." —Debra Spark, author of Good for the Jews

"A book that's big in the best of ways . . . Bill Roorbach has delivered his award-winning writing talents in one big bunch." —Clyde Edgerton
Algonquin Books, 9781616203245, 352pp.
Publication Date: August 20, 2013
About the Author
Bill Roorbach is the author of eleven books of fiction and nonfiction, including the Flannery O'Connor Prize and O. Henry Prize winner Big Bend; Temple Stream; the bestselling Life Among Giants and Kirkus Prize finalist The Remedy for Love. The 10th anniversary edition of his craft book, Writing Life Stories, is used in writing programs around the world. His work has been published in The New York Times, Harper's, the Atlantic Monthly, the New York Times Magazine, Granta, New York, and dozens of other magazines and journals. He lives in western Maine with his wife, Juliet.
Who are the giants of the title? Is Lizard one of them, or is he merely an observer and chronicler? What is life among these giants like for Lizard? How have they steered his life? And how has he resisted them?
Why do you think Sylphide is so attracted to Lizard, and why, throughout their lives, does she keep him at arm's length? In what ways does he differ from the men she chooses to marry?
What is the draw of the High Side for each of the members of the ?Hochmeyer family? Is it something different for each one? Is there an equal repulsion for each? Who pays the highest price?
Where would you place the root cause of the Hochmeyer family's problems? Is it Dad's insecurity and posing? Kate's troubled questing? Mom's chilly withholding? Or does it lie with Lizard himself? The Hochmeyer family has a lot of secrets, and a lot of alliances among its members. What are the secrets, and who knows what? And who shares what with whom?
How did your opinions of the characters in Life Among Gi-ants shift as you read? Were there any characters you started out mistrusting but ending up liking? Any characters you started out liking and ended up mistrusting? Any you held a steady regard or dislike for?
Is Lizard's father truly bad? Or is he an insecure person trying to build himself up? Is he being manipulated by stronger forces, or is he an operator, looking out for himself?
Lizard connects with a number of women in the book, yet he seems to pick loves who aren't truly available. What's that all about?
Emily is very important to Lizard, yet she doesn't offer herself to him very fully. Why does he hold her in such high regard? What role does she play in his development and in the devel-opment of the story?
How would you describe Lizard's relationship with Linsey? What about Sylphide's relationship with him, and Kate's? What is Linsey's role in the story?
Lizard takes warmly to Etienne and RuAngela. Why do you think this odd couple appeals to him?
From the first paragraph to the last climactic moments, food plays a big part in Life Among Giants. What is the role of food in the narrative?
Why does Sylphide choose death in the end? Hasn't she every reason to live?
What do you think Kate and Dabney's relationship was really like? Was it one based on love or was it based on something else?
Life Among Giants is not a traditional mystery, nor is it a traditional bildungsroman. How does it depart from the con-ventions of each genre? How does the story of this young man's growth interconnect with his quest to find the killers?