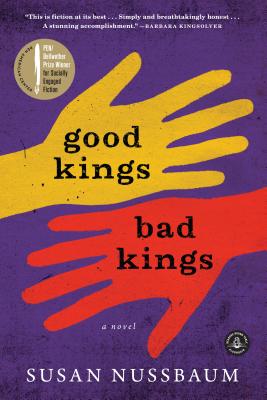 Good Kings Bad Kings
A Novel
Paperback

* Individual store prices may vary.
Other Editions of This Title:
Digital Audiobook (5/27/2013)
CD-Audio (5/28/2013)
Hardcover (5/28/2013)
June 2013 Indie Next List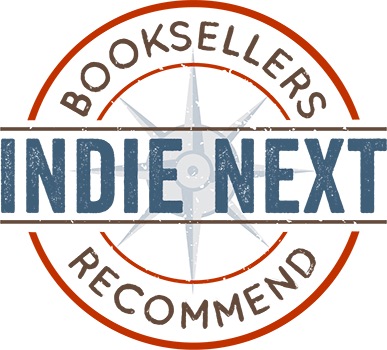 "Set in an institution for kids with disabilities, this story unfolds in first-person narratives by the kids themselves as well as some of the adults who work there. Instances of indignity, injustice, and lack of care abound in this important story, but what comes across most powerfully is the complexity and uniqueness of each character. What they have in common on the surface is some form of disability, but what they share more deeply with each other and with the reader is the universal desire for respect, understanding, and the freedom to make their own decisions and manage their own lives. Nussbaum minces no words in exposing harsh realities, but her language for those who struggle, survive, and advocate on behalf of themselves and others is triumphant. In a word - terrific!"
— Ann Christophersen, Women & Children First, Chicago, IL
View the List
Description
Bellwether Award winner Susan Nussbaum's powerful novel invites us into the lives of a group of typical teenagers—alienated, funny, yearning for autonomy—except that they live in an institution for juveniles with disabilities. This unfamiliar, isolated landscape is much the same as the world outside: friendships are forged, trust is built, love affairs are kindled, and rules are broken. But those who call it home have little or no control over their fate. Good Kings Bad Kings challenges our definitions of what it means to be disabled in a story told with remarkable authenticity and in voices that resound with humor and spirit.
Praise For Good Kings Bad Kings: A Novel…
"Nussbaum wonderfully sweetens a stark subject with doses of idiosyncratic humor and hard-earned pathos . . . [she] upholds the individuality and integrity of her characters, never stooping to saccharine cliches or Hollywood manipulation . . . [a] moving story." —The Wall Street Journal
"This is a world as foreign to most as another planet. That Nussbaum is able to make it as real and as painful and joyful and alive as she does is a spectacular accomplishment . . . a joy for readers." —Chicago Tribune
"Each character tells his or her own story in alternating chapters with lively, diverse, authentic voices . . . Nussbaum will have readers rooting for these brave, vulnerable teens to fight for better lives." —School Library Journal 
"Saucy, brutally funny, gritty, profane, poignant and real." —The Kansas City Star
"A knockout . . . Nussbaum possesses an astonishing ear for idiosyncratic voices, and a talent for creating characters who appear in full bloom within a few sentences. This is an easy book to love and admire--but more than that, it's a book that has the potential to change forever the conversation we are (or are not) having about what it means to be 'disabled' . . . In Good Kings Bad Kings, we have the rare opportunity to be awakened by hearing the truth delivered with beauty alongside agony, despair interwoven with possibility." —Los Angeles Review of Books
"Nussbaum's dramatist skills translate powerfully into fiction as she gives voices to an infatuating cast of characters . . . This is unquestionably an authentic, galvanizing, and righteous novel." —Booklist (starred review)
"Well-meaning, well-written and well-plotted, with qualified justice for some of the bad guys and hope for a few of the oppressed: A most appropriate winner of the 2012 PEN/Bellwether Prize for Socially Engaged Fiction." —Kirkus Reviews
"A stirring debut from a determined writer and activist." —Publishers Weekly
Algonquin Books, 9781616203252, 320pp.
Publication Date: November 12, 2013
About the Author
Susan Nussbaum's plays have been widely produced. Her play Mishuganismo is included in the anthology Staring Back: The Disability Experience from the Inside Out. In 2008 she was cited by the Utne Reader as one of "50 Visionaries Who Are Changing Your World" for her work with girls with disabilities. This is her first novel.
Discuss the title of the book, and the passage that it comes from (page 135). How does this title relate to various characters in the novel?
Discuss the relationship of Jimmie and Yessie. What does Jimmie derive from their relationship? What does Yessie get from Jimmie?
How do the disabled characters in this book compare with disabled characters in other books you've read?
Why do you think the author used a first-person narrator approach to telling the story?
Is it unusual to hear disabled characters tell their own stories? Why or why not? How might this impact the way you view disabled people in real life?
How does Joanne's perspective on things change over the course of the novel, and why? Does she think differently about love? About her disability? About her ability to change things?
The book makes the argument that institutionalization is cruel and inhuman. Why does our society continue to rely so heavily on institutionalization as a resource for disabled children?
The book makes the argument that abuse and neglect are a natural outcome of the institutional structure. Do you think institutions such as the Illinois Learning and Life Skills Center are still reasonable living alternatives for disabled people? What are some other possible alternatives to institutionalization?
What role does paternalism play in the lives of disabled people? Can you give some examples?
The book talks a lot about jobs: job discrimination, jobs with low pay, overwork, relationships with coworkers, past jobs, and even possible future jobs. How important is your job in your life? Since more than 70 percent of disabled people experience chronic unemployment, how might this affect their adult lives?
If you could predict what some of the characters' lives would be like ten years from now, what might they be doing and where would they be? Yessenia? Jimmie? Louie? Pierre? Mia?
There is frequent debate concerning whether white writers can authentically represent characters of other races in their work. Disabled people often complain that books written by nondisabled writers can't authentically represent disabled characters. Considering this book and others, what's your opinion on this issue?
or
Not Currently Available for Direct Purchase