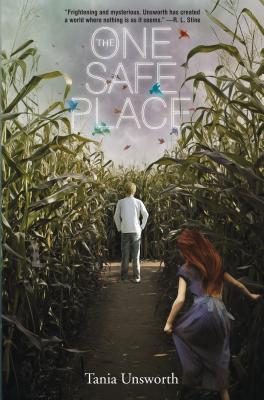 The One Safe Place (Hardcover)
Algonquin Young Readers, 9781616203290, 304pp.
Publication Date: April 29, 2014
Other Editions of This Title:
Digital Audiobook (4/28/2014)
CD-Audio (4/29/2014)
Paperback (5/12/2015)
Pre-Recorded Audio Player (5/2/2014)
* Individual store prices may vary.
Description
In this near-future dystopia with echoes of The Giver and Among the Hidden, Tania Unsworth has created an unsettling page-turner—fast-paced, smooth, filled with dread—that's wholly satisfying and startlingly original.

Devin doesn't remember life before the world got hot; he has grown up farming the scorched earth with his grandfather in their remote valley. When his grandfather dies, Devin heads for the city. Once there, among the stark glass buildings, he finds scores of children, just like him, living alone on the streets. They tell him rumors of a place for abandoned children, with unlimited food and toys and the hope of finding a new family. But only the luckiest get there.

An act of kindness earns Devin an invitation to the home, but it's soon clear that it's no paradise. As Devin investigates the intimidating administrator and the zombie-like sickness that afflicts some children, he discovers the home's horrific true mission. The only real hope is escape, but the place is as secure as a fortress.

Fans of dystopian fiction and spine-chilling adventure will devour The One Safe Place; its haunting themes will resonate long after readers have turned the final page.
About the Author
The daughter of the late novelist Barry Unsworth, Tania Unsworth spent her childhood in Cambridge, UK, before moving to America in her early twenties. She currently lives in Boston, Massachusetts, with her husband and two sons. She's the author of The One Safe Place. Her website is www.taniaunsworth.com.
 
Praise For The One Safe Place…
"This frightening and mysterious book surprised me again and again. Unsworth has created a world where nothing is as it seems and horrors lurk around every corner. When you read it, you will quickly discover one terrifying fact--there IS no safe place!" —R. L. Stine

"A standout in the genre's crowded landscape." —Kirkus Reviews, starred review

"Here's a literary post-apocalyptic thriller with something new and interesting to say about friendship, home, love, and community . . . This is a timeless story that deserves to become a children's classic for decades to come." —The Christian Science Monitor

"[A] marvelous dystopian thriller . . . The novel is beautifully paced, the setting vivid, the plot disturbing, the finale thrilling." —The Buffalo News

"Reminiscent of Clive Barker's The Thief of Always . . . Fast-paced and gripping. An original dystopian story for middle-grade readers." —School Library Journal

"Unsworth unravels the story with skilled deliberation, creating a page-turning mix of suspense, intrigue, and anxiety. The kids are genuine and quirky, just the right kind of mismatched misfits to snag readers' hearts. This is a wholly enjoyable journey, and a dystopian vision with some great new twists." —Publishers Weekly

"Tania Unsworth has written a lightning-fast and spine-chilling novel . . . Readers will root for Devin with white knuckles and pounding hearts." —Michael Grant, New York Times best selling author of Gone, BZRK, and The Magnificent 12
"This frightening and mysterious book surprised me again and again. Unsworth has created a world where nothing is as it seems and horrors lurk around every corner. When you read it, you will quickly discover one terrifying fact--there IS no safe place!" —R. L. Stine

"Tania Unsworth has written a lightning-fast and spine-chilling novel . . . Readers will root for Devin with white knuckles and pounding hearts." —Michael Grant, New York Times best selling author of Gone, BZRK, and The Magnificent 12

"[A] chilling and engrossing tale filled with detailed, sharply drawn characters . . . A standout." —Kirkus Reviews, starred review

"[A] marvelous dystopian thriller . . . The novel is beautifully paced, the setting vivid, the plot disturbing, the finale thrilling." —The Buffalo News

"Reminiscent of Clive Barker's The Thief of Always . . . Fast-paced and gripping. An original dystopian story for middle-grade readers." —School Library Journal

"Unsworth unravels the story with skilled deliberation, creating a page-turning mix of suspense, intrigue, and anxiety. The kids are genuine and quirky, just the right kind of mismatched misfits to snag readers' hearts. This is a wholly enjoyable journey, and a dystopian vision with some great new twists." —Publishers Weekly

"This book has echoes of Cormac McCarthy's The Road and in many ways, although clearly aimed at the teenage market, is as compelling as an adult read. Written in a simple, almost matter-of-fact style which fits the subject matter very well and with a satisfying ending, it's a very believable story and an excellent debut for Tania Unsworth." —We Love This Book magazine

or
Not Currently Available for Direct Purchase