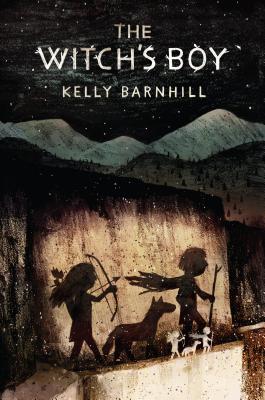 The Witch's Boy
Hardcover

* Individual store prices may vary.
Other Editions of This Title:
Digital Audiobook (9/15/2014)
Paperback (9/15/2015)
CD-Audio (9/16/2014)
Compact Disc (9/16/2014)
MP3 CD (9/16/2014)
Prebound (9/15/2015)
Description
A Washington Post Best Book of 2014
A Kirkus Reviews Best Children's Book of 2014
A Publishers Weekly Best Book of 2014
A Chicago Public Library "Best of the Best" 2014

The wrong boy will save your life, and you will save his.

When Ned and his identical twin brother tumble from their raft into a raging river, only Ned survives. Villagers are convinced the wrong boy lived. But when a Bandit King comes to steal the magic Ned's mother, a witch, is meant to protect, it's Ned who safeguards the magic and summons the strength to protect his family and community.

Meanwhile, across the enchanted forest that borders Ned's village lives Áine, the resourceful and pragmatic daughter of the Bandit King, who is haunted by her mother's last wordsto her: "The wrong boy will save your life and you will save his." When Áine's and Ned's paths cross, can they trust each other long enough to stop the war that's about to boil over between their two kingdoms?
Praise For The Witch's Boy…
"In a story of an unexpected hero, a thief's daughter, and some very tricky magic, Barnhill weaves a powerful narrative . . . Barnhill elegantly joins the story's diverse threads in a complex tale whose poignancy never turns sentimental." —Publishers Weekly, starred review

"Careful, confident Aine; whose skills, both domestic and wild, make her a formidable ally (and excellent heroine), is a studied contrast to the weaker, shy Ned. The boy's growing confidence and ability to wield and protect his mother's magic adds elements of a classic origin-quest tale to a story that's already brimming with a well-drawn, colorful supporting cast, a strong sense of place, and an enchanted forest with a personality to rival some of the best depictions of magical woods." —School Library Journal, starred review

"Barnhill skillfully interweaves the stories of Ned, Áine, Sister Witch and the stones, along with an intriguing group of secondary characters. The third-person narration switches perspective smoothly, and it's all related in a precise, flowing prose that easily places readers into the fantastic setting and catches them up in the story. The classic fantasy elements are all there, richly reimagined, with a vivid setting, a page-turning adventure of a plot, and compelling, timeless themes." —Kirkus Reviews, starred review

"Warring nations, mysterious stone figures, and the running thread that magic is alive and dangerous all add to the gripping core narrative of two children who find wells of strength and ingenuity from being pushed out of their comfort zones. The setting is exceptional: lush descriptions are flawlessly integrated, conveying a deep understanding of the natural world and the people, flawed and complex, who populate it . . . Offer this to Gaiman and Wynne-Jones fans, and to realistic fiction buffs who are open to brilliant coming-of-age stories sharing space with touches of magic." —The Bulletin of the Center for Children's Books, starred review

"Barnhill . . . is an eloquent writer who spins beautiful lines . . . This spellbinding fantasy begs for a cozy chair, a stash of Halloween candy and several hours of uninterrupted reading time." —The Washington Post

"A story with many alluring elements . . . Barnhill creates an absorbing world of kingdoms and prophecies in which transformation comes through language, and through courage and self-awareness as well . . . [The Witch's Boy] should open young readers' eyes to something that is all around them in the very world we live in: the magic of words." —NewYorkTimes.com

"Barnhill tells a complex story, one that sustains and subverts the usual fairy-tale tropes. Through the eyes of the brave and increasingly shrewd Ned and Áine, young readers consider the complications of magic, the corrupting desire for power, and the conflicting natures of good and evil in this atmospheric and elegantly told literary fairy tale." —The Horn Book Magazine

"The characters are vivid and well developed . . . The writing is beautiful and lyrical, but keeps pace with an action-packed story . . . Recommend this title to those who like retellings and strong, narrative fantasy." —VOYA

"Kelly Barnhill is deft at crafting strong characters, and this classic fairy tale is filled with otherworldly beasties and plenty of magic." —San Antonio Express-News

"In [this] gorgeously written and fast-paced adventure through forest and flood, bandits and courtiers, wolves and queens and witches, the boy and the girl must stop a war, restore magic to its rightful place, and find their own places in a world they've helped to make bigger. Barnhill is a fantasist on the order of Neil Gaiman, and this story feels fully inhabited." —Minneapolis Star Tribune

"Fiercely original and uncommonly lovely, The Witch's Boy is equal parts enchanting and haunting. Kelly Barnhill is master of truly potent and unruly magic; luckily for readers, she chooses to use her powers for good." —Anne Ursu
Algonquin Young Readers, 9781616203511, 400pp.
Publication Date: September 16, 2014
About the Author
Kelly Barnhill lives in Minnesota with her husband and three children. She is the author of four novels, most recently The Girl Who Drank the Moon, winner of the 2017 John Newbery Medal. She is also the winner of the World Fantasy Award and has been a finalist for the Minnesota Book Award, a Nebula Award, and the PEN/USA literary prize. Visit her online at kellybarnhill.com or on Twitter: @kellybarnhill.