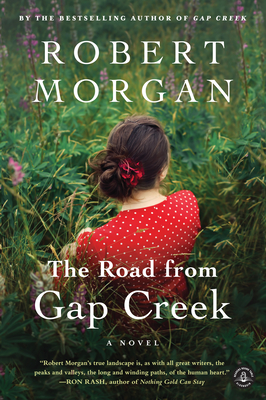 The Road from Gap Creek (Paperback)
A Novel
A Shannon Ravenel Book, 9781616203788, 352pp.
Publication Date: March 25, 2014
Other Editions of This Title:
Digital Audiobook (8/26/2013)
CD-Audio (8/27/2013)
Hardcover (8/27/2013)
* Individual store prices may vary.
Description
One of America's most acclaimed writers returns to the land on which he has staked a literary claim to paint an indelible portrait of a family in a time of unprecedented change. In a compelling weaving of fact and fiction, Robert Morgan introduces a family's captivating story, set during World War II and the Great Depression. Driven by the uncertainties of the future, the family struggles to define itself against the vivid Appalachian landscape. The Road from Gap Creek explores modern American history through the lives of an ordinary family persevering through extraordinary times.
About the Author
Robert Morgan is the bestselling author of numerous works of fiction—including the Oprah Book Club selection Gap Creek—and non-fiction, and is also an established poet with fourteen collections to his credit. Born in Hendersonville, NC, he teaches at Cornell University in Ithaca, NY, where he is Kappa Alpha Professor of English.
Praise For The Road from Gap Creek: A Novel…
"Once again, Robert Morgan's true landscape is, as with all great writers, the peaks and valleys, the long and winding paths, of the human heart. What a writer, and what a novel!" —Ron Rash, author of Nothing Gold Can Stay

"In The Road From Gap Creek [Morgan] delivers another powerhouse novel of his people, with their virtues and failings, wins and losses, loves and sorrows." —Daniel Woodrell, author of Winter's Bone and The Maid's Version

"Morgan pens an eloquent story of stoicism and pain, endurance and courage, ending as all life will, with death and birth. A moving, lyrical saga from a time so distant, yet so near." —Kirkus Reviews, starred review

"Robert Morgan returns to us with a much-awaited sequel to Gap Creek and the fate of the next generation of its unforgettable characters, now facing the tolls of World War II and the changing of their pocket of America. Oprah adored the original, and in this further telling in their distinctive voices, you will see why." —Ivan Doig, author of The Bartender's Tale

"This novel shines with a subtle brilliance . . . Morgan has produced another stellar novel."—Minneapolis Star Tribune

"Robert Morgan remains the consummate storyteller . . . This book must be read for its broad, sagacious wit as well as for its power to convince us of extraordinary courage seen in ordinary life." —Elizabeth Cox, author of The Ragged Way People Fall Out of Love
"Once again, Robert Morgan's true landscape is, as with all great writers, the peaks and valleys, the long and winding paths, of the human heart. What a writer, and what a novel!" —Ron Rash, author of Nothing Gold Can Stay

"In The Road From Gap Creek [Morgan] delivers another powerhouse novel of his people, with their virtues and failings, wins and losses, loves and sorrows." —Daniel Woodrell, author of Winter's Bone and The Maid's Version

"Morgan pens an eloquent story of stoicism and pain, endurance and courage, ending as all life will, with death and birth. A moving, lyrical saga from a time so distant, yet so near." —Kirkus Reviews, starred review

"Robert Morgan returns to us with a much-awaited sequel to Gap Creek and the fate of the next generation of its unforgettable characters, now facing the tolls of World War II and the changing of their pocket of America. Oprah adored the original, and in this further telling in their distinctive voices, you will see why." —Ivan Doig, author of The Bartender's Tale

"This novel shines with a subtle brilliance . . . Morgan has produced another stellar novel." —Minneapolis Star Tribune

"Robert Morgan remains the consummate storyteller . . . This book must be read for its broad, sagacious wit as well as for its power to convince us of extraordinary courage seen in ordinary life." —Elizabeth Cox, author of The Ragged Way People Fall Out of Love