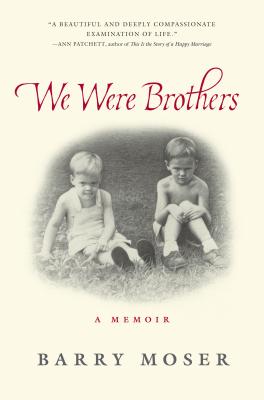 We Were Brothers (Hardcover)
Algonquin Books, 9781616204136, 192pp.
Publication Date: October 20, 2015
* Individual store prices may vary.
Description
Brothers Barry and Tommy Moser were born of the same parents in Chattanooga, Tennessee, slept in the same bedroom, went to the same school, and were both poisoned by their family's deep racism and anti-Semitism. But as they grew older, their perspectives and their paths grew further and further apart. Barry left Chattanooga for New England and a life in the arts; Tommy stayed put and became a mortgage banker. From attitudes about race, to food, politics, and money, the brothers began to think so differently that they could no longer find common ground. For nearly forty years, there was more strife between them than affection. 

After one particularly fractious conversation when Barry was in his late fifties and Tommy was in his early sixties, their fragile relationship fell apart. With the raw emotions that so often surface when we talk of our siblings, Barry recalls how they were finally able to traverse that great divide and reconcile their troubled brotherhood before it was too late.

We Were Brothers, written and illustrated by preeminent artist Barry Moser, is a powerful story of reunion told with candor and regret that captures the essence of sibling relationships, with all their complexities, contradictions, and mixed blessings.

 
About the Author
BARRY MOSER was born in Chattanooga, Tennessee. His work is represented in the National Gallery of Art, the Metropolitan Museum, the British Museum, the Victoria and Albert Museum, and other museums around the world. He has illustrated and/or designed over 350 books, including Moby-Dick, Frankenstein, The Divine Comedy, and the King James Bible. His edition of Alice's Adventures in Wonderland won a National Book Award. He is currently Irwin and Pauline Alper Glass Professor of Art and the printer to the college at Smith College.
Praise For We Were Brothers…
"Barry Moser writes about the savagery of racism and the savagery between brothers with thoughtful introspection. In his efforts to understand both what he did and what was done to him, he has given us a beautiful and deeply compassionate examination of life." —
Ann Patchett
"A powerful evocation of an era in which African-American children could play in a white person's yard but weren't allowed into the house. And it's a moving portrait of two men — loving but wary, and capable of beauty even in the presence of the ugliest flaws." —
Minneapolis Star Tribune
"Moser's book is readable in its own right but might prove especially poignant and comforting to people navigating difficult family relationships."—
Michel Martin, Host of NPR Weekend All Things Considered
"A complex meditation on how two men who grew up together came away with diametrically opposing views on so many social and civil-rights issues . . . [a] lyrical memoir . . . [Moser] writes movingly about his rapprochement with Tommy before his death in 2005.The brothers' reconciliation is deeply affecting in a memoir that Barry Moser considers an homage to Tommy 'as well as a history of our burdened brotherhood.'" —
The Boston Globe
"A poignant, achingly honest, and troubling memoir about siblings who chose different paths in racial attitudes, beliefs and personal responsibility. But it also can be seen as a metaphor of the modern South, the way two white brothers raised in the same environment turned out differently on matters of race — both victims of it, in their own ways, like sharing a bad gene." —
The Clarion Ledger
"[A] valiantly forthright, superbly illustrated family memoir . . . In both riveting language and breathtaking drawings, at once acutely realistic and powerfully expressive, Moser confronts and explicates painful memories and regrets as he tells with profound retrospective insight the story of his Jim Crow-era, Chattanooga, Tennessee, boyhood. By crisply and frankly chronicling his battles and eventual reconciliation with his brother, Moser looks to a more caring and just future world."
—Booklist
"This boyhood memoir reveals much more than it ever explicitly states, with its tight focus on boyhood, brotherhood, estrangement, and reconciliation . . . With masterful narrative control, Moser reveals the narrowness of perspective as well as the limitations of memory." —
Kirkus Reviews, starred review
"A complex and affecting account of brotherhood. [Moser] grapples with the reality that we can only see each other through our own filters and explores how the differences that cause distance and estrangement are not always what they seem . . . This memoir of sometimes harsh words and events between brothers tackles ugly truths with grace and dignity."—
The Banner
"This reflective memoir of brotherhood, the evils of racism and sibling spats is as finely illustrated as it is well told, and will please diverse readers." —
Shelf Awareness
"Barry Moser is a delightful storyteller-- his descriptions of the time and place of his childhood are as vivid as his wonderful famed drawings.
We Were Brothers
is an honest and moving account that explores how differing beliefs can tear people apart; it also explores how a shared history and memories of a particular time, can pave the way for acceptance and forgiveness." —
Jill McCorkle, author of Life After Life
"
We Were Brothers,
Barry Moser's beautiful—and beautifully illustrated--new book,tells the wrenching and redeeming story of brothers who take different paths and yet ultimately find their ways back to each other.  Barry grows to be appalled by the racism he grew up accepting in Chattanooga, while Tommy, his angry and violent brother, embraces it.  Their careful reconciliation after decades of strife and avoidance is sad, moving, and joyful all at the same time." —
Andrew Hudgins, author of The Joker  
"The words in [Moser's] memoir are as finely wrought and sensitive as his drawings."—
Birmingham Magazine
"Barry Moser's memoir about growing up in Chattanooga tackles hard questions of race and family . . . Moser packs a lot into this slim volume."
—Knoxville Sentinel
"This is a fine and moving memoir, and above all, a really good read."—
Hudson Valley News
"A memoir worth reading . . . [
We Were Brothers
is] a good story, as simple and complicated as most people's lives, and Moser inspires confidence and teaches the lessons that he has learned without assuming the podium or the stage . . . Moser has rendered a compassionate view of a passing world, mysterious and complicated as the South we know from the fiction of Welty or the photographs and constructions of William Christenberry."
—
Shenandoah Literary Review (blog)
"We Were Brothers is a thoughtful and heartening examination of how our differences, even more than our similarities, define our lives." —BookBrowse.com

"We Were Brothers is a poignant look a Twentieth Century Southern childhood, captured in all of its complexities both through words infused with a sly humor and drawings that convey their subjects' souls.  Beyond that, this is a narrative of difficult questions, as the author grapples with the experiences and ideals that drove the two Moser brothers apart.  Ultimately, it's a story of reconciliation, as well as a moving document of an inherited, inhabited world." —Beth Ann Fennelly
 
"A simple yet universally familiar telling of the strained sibling relationship. But the tensions run deep not only between the author and his bullying brother Tommy, who was three years older, but also with his Tennessee upbringing in a racist, xenophobic family and a culture of bigotry."—Greenfield Recorder (Greenfield, MA)
Coverage from NPR
or
Not Currently Available for Direct Purchase