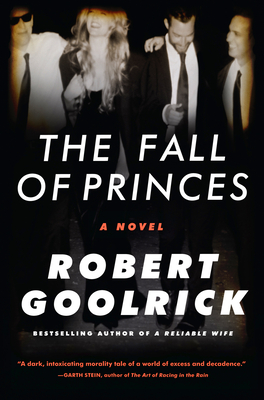 The Fall of Princes
A Novel
Hardcover

* Individual store prices may vary.
Other Editions of This Title:
Digital Audiobook (8/24/2015)
Paperback (6/28/2016)
Compact Disc (8/25/2015)
MP3 CD (8/25/2015)
CD-Audio (8/25/2015)
Hardcover, Large Print (9/2/2015)
Description
In The Fall of Princes, bestselling author Robert Goolrick brings to vivid life New York City in the 1980s, a world of excess and self-indulgence, where limousines waited for hours outside Manhattan's newest trendy club or the latest dining hot spot. Where drugs were bountiful and not refused. Where no price was too high and flesh was always on offer. Where a quick trip to Europe or a weekend on the coast or a fabulous Hamptons beach house were just part of what was expected. When the money just kept coming, and coming, and coming . . . until it didn't.

This is the story of young men, princes all. Too much money. Too much freedom. They thought it would never end. Looking back on a Wall Street career that began with great success and ended with a precipitous crash, Rooney tells the story of how he and a group of other young turks made it to the top in the financial world and then, one by one, took a fall. For some, it was tragic; for others, it was the simple but bruising act of yielding to a life of mediocrity. For Rooney, however, it became a lifelong struggle to maintain a sense of dignity and to cling to the illusion of the life he once led.

Stunning in its acute observations about great wealth and its absence, and deeply moving in its depiction of the ways in which these young men learn to cope with both extremes, The Fall of Princes takes readers on a journey that is both starkly revealing and dazzlingly entertaining, a true tour de force.
Praise For The Fall of Princes: A Novel…
"[E]ach chapter is haunting and compulsively readable, written in a bold, brash voice that aims for over-the-top and miraculously sticks the landing. Grade: A-" —Entertainment Weekly
 
"[E]legiac. . . While 'The Fall of Princes' patrols territory marked by Tom Wolfe, Jay McInerney and Michael Lewis, Goolrick writes with an immediacy and precision that make this world feel as if it is all his own. He is greatly aided in this by a finely tuned sense of bleak humor." —The Washington Post
 
"[W]hile [Goolrick] describes a way of life that may never be possible again, he also manages to convey its beautiful, tragic appeal in an unforgettable rush of prose. . .  In a raw and breathless first-person voice, he shows us a lifestyle that has been written about before by writers from Tom Wolfe to Bret Easton Ellis and Jay McInerney...Irresistible, bittersweet." —The Boston Globe

"Comparisons will inevitably be made to other novels in a similar key. Jay McInerney's 'Bright Lights, Big City' and Brett Easton Ellis's 'American Psycho' come to mind. And 'Fall of Princes' shares something with these classics. Goolrick is a vivid writer with a penchant for electric scenes. And certainly he has shown us what it's like to live with unfathomable wealth and privilege." —Minneapolis Star-Tribune

"[A]n addictive slice of semiautobiographical fiction . . . As if exorcising the demons of his past, Goolrick vividly plums the depths of fortune and regret.  The result is a compulsively readable examination of the highs and lows of life in the big city." —Publishers Weekly

"[A] compelling, wholly seductive narrative voice . . . Goolrick's stellar prose infuses this redemption story with a good deal of depth and despair, making it read like the literary version of The Wolf of Wall Street." —Booklist

"Goolrick is a superb writer . . . He's referred to his latest as both novel and autobiography; it carries both the artistic qualities of the former and the emotional truth of the latter . . . ranging from the tragicomic beats of Jay McInerney or Bret Easton Ellis to the repulsive behaviors in films like Oliver Stone's Wall Street and Martin Scorsese's The Wolf of Wall Street . . . Goolrick is focused on the idea of loss and redemption, and shows the small ways by which we become human again." — Kirkus Reviews

"In this semi-autobiographical story set in the '80s, the hero, to use that term loosely, is a Wall Street trader who lives a life beyond excess. The author "flushes with shame at the memory," but remorse only comes after the fall where he ends up a clerk at a bookstore. Sparsely told, but brilliantly well done." —NY Daily News
 "The bestselling author (2009's A Reliable Wife) examines the "greed is good" lifestyle of 1980s Wall Street in his new novel. It traces the rise and fall of Rooney and his narcissistic band of hedonists, including all the excesses that went with that era of financial privilege — sex, drugs, booze and the finest of everything. And it's true that money can't buy you love." —Fort Worth Star-Telegram
"A heart--wrenching, beautiful, darkly comic, deeply necessary tale that stuns again and again with razor-sharp prose and glittering wit. Robert Goolrick is, without question, one of the greatest storytellers of our time." —Téa Obreht, author of The Tiger's Wife

"Goolrick's novel is a gorgeous testament to Manhattan's hedonistic world where money, greed, sex, and misdirected desire proved to be poor substitutes for a sense of belonging." –CurledUp.com

"The Fall of Princes is a dark, intoxicating morality tale of a bygone generation, a world of excess and decadence and the price paid by some—but by no means all—of those who partook in the bacchanal.  Robert Goolrick deftly peels back the layers of the high life of high finance and, with his impeccable prose, focuses his unflinching eye on the grittiness beneath the sleek facade of nightclubs, fashion, and monied Manhattan extravagance.  Beautifully crafted, seductive and provocative in tone, Goolrick's novel is a powerful read: honest, true, and deeply affecting."–Garth Stein, author of A Sudden Light and The Art of Racing in the Rain
Algonquin Books, 9781616204204, 304pp.
Publication Date: August 25, 2015
About the Author
In addition to his most recent novel, The Fall of Princes, Robert Goolrick is the author of three other books: The End of the World as We Know It, a memoir; his first novel, A Reliable Wife, with sales of more than 1 million copies; and his second novel, Heading Out to Wonderful. He lives in Virginia.
or
Not Currently Available for Direct Purchase