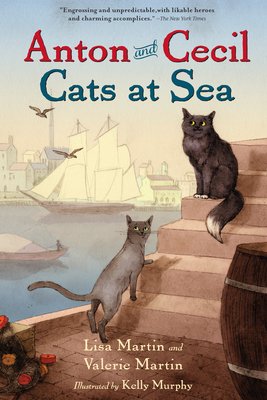 Anton and Cecil, Book 1 (Paperback)
Cats at Sea
Algonquin Young Readers, 9781616204563, 272pp.
Publication Date: February 10, 2015
Other Editions of This Title:
Digital Audiobook (10/7/2013)
Hardcover (10/8/2013)
* Individual store prices may vary.
Description
A swashbuckling story of two very different cat brothers and their adventures at sea.

Anton and Cecil are as different as port and starboard. Cecil, stocky and black with white patches, thirsts for seafaring adventure. Slim, gray Anton prefers listening to the sailors' shanties at the town saloon. One day when Anton goes to the harbor, he's taken as a ratter on a ship bound for the high seas. Cecil boards another ship in hopes of finding Anton. What begins as a rescue mission turns into a pair of high-seas adventures. Anton takes on a fierce rat, outwits hungry birds, and forges a forbidden friendship, while Cecil meets dolphins and whales and finds himself in a pirate raid.

On an ocean as vast as the one Anton and Cecil have discovered, will they ever see home--or each other--again?

Includes a sneak peek at the next adventure in the series, Anton and Cecil: Cats on Track.
About the Author
Lisa Martin has worked as an educator and children's poet and currently resides in Charlottesville, Virginia. This is her first series for young readers.
Orange Prize-winner Valerie Martin is the author of nine acclaimed adult novels, including Property and The Confessions of Edward Day. She lives in Millbrook, New York.
Praise For Anton and Cecil, Book 1: Cats at Sea…
"Remarkable for its delicate use of language and for its watertight descriptions of seafaring . . . The story is engrossing and unpredictable with likeable heroes and charming accomplices . . . It's a measure of the Martins' success with this surprising debut that the cats' triumph feels so credible and, to the formerly sparring brothers, profound." —The New York Times Book Review

"The plot is carefully woven, the vocabulary rich and distinctive, and the characters engaging." —Kirkus Reviews

"The story is well paced with descriptive language that firmly places readers in the midst of dangerous storms, sea battles, and islands full of strange animals . . . Children who like animal fantasies such as Avi's Poppy will find much to enjoy here." —School Library Journal

"Adult author Valerie Martin (Property), writing with her niece Lisa, make their children's book debut with a quaint mix of adventure and legend . . . The story is rich with seafaring vocabulary and nautical adventure." —Publishers Weekly
"Remarkable for its delicate use of language and for its watertight descriptions of seafaring . . . The story is engrossing and unpredictable with likeable heroes and charming accomplices . . . It's a measure of the Martins' success with this surprising debut that the cats' triumph feels so credible and, to the formerly sparring brothers, profound." —The New York Times Book Review

"The plot is carefully woven, the vocabulary rich and distinctive, and the characters engaging." —Kirkus Reviews

"The story is well paced with descriptive language that firmly places readers in the midst of dangerous storms, sea battles, and islands full of strange animals . . . Children who like animal fantasies such as Avi's Poppy will find much to enjoy here." —School Library Journal

"Adult author Valerie Martin (Property), writing with her niece Lisa, make their children's book debut with a quaint mix of adventure and legend . . . The story is rich with seafaring vocabulary and nautical adventure." —Publishers Weekly
— Review quotes