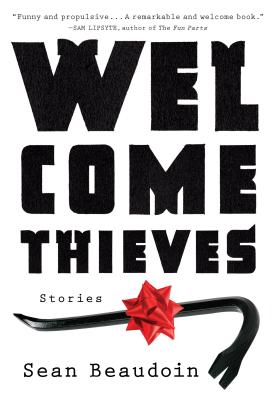 Welcome Thieves (Paperback)
Stories
Algonquin Books, 9781616204570, 304pp.
Publication Date: March 1, 2016
Other Editions of This Title:
Hardcover (3/1/2016)
CD-Audio (2/23/2016)
* Individual store prices may vary.
Description
Black humor mixed with pathos is the hallmark of the twelve stories in this adult debut collection from a master writer of comic and inventive YA novels.

A young man spends a whole day lying naked on the floor of his apartment, conversing casually with his roommates, pondering the past, considering the lives being lived around him. In the odd and funny, sad yet somehow hopeful conceit of Sean Beaudoin's story "Exposure," are all the elements that make his debut collection, Welcome Thieves, a standout. In twelve virtuosic stories, Beaudoin trains his absurdist's eye on the ridiculous perplexities of adult life. From muddling through after the apocalypse ("Base Omega Has Twelve Dictates") to the knowing smirk of  "You Too Can Graduate with a Degree in Contextual Semiotics," Beaudoin's stories are edgy and profane, bittersweet and angry, bemused and sardonic. Yet they're always tinged with heart.

 Beaudoin's novels have been praised for their playfulness and complexity, for the originality and beauty of their language. Those same qualities, and much more, are on full display in Welcome Thieves, a book that should find devout fans in readers who worship at the altar of George Saunders, Kurt Vonnegut, and Sam Lipsyte.

"A deviously spellbinding collection of short stories in which strange and beautiful worlds, creations of Sean Beaudoin's dark and sometimes brutal imagination, emerge as part of a tapestry so finely woven that we don't see the thread. In the end, we can only stand in awe of Beaudoin's immense talent." —Garth Stein, author of A Sudden Light
About the Author
Sean Beaudoin is the author of five young adult novels, including The Infects and Wise Young Fool. He is also a founding editor of the arts and culture website TheWeeklings.com, for which he has written more than fifty essays. Sean's stories and articles have appeared in numerous publications, including the Onion, the San Francisco Chronicle, and Salon. He lives in Seattle with his wife and daughter.
Praise For Welcome Thieves: Stories…
"Thrilling and mercilessly readable, the stories in Welcome Thieves go off like a string of firecrackers, sizzling and popping with a narrative velocity that is equal parts grit and polish. Beaudoin is definitely a writer to watch." —Jonathan Evison, author of This Is Your Life, Harriet Chance!
 
"Sean Beaudoin's stories are funny and propulsive. The voices of his narrators are truly live. Welcome Thieves is a remarkable and welcome book." —Sam Lipsyte, author of The Fun Parts
 
"Welcome Thieves is a deviously spellbinding collection of short stories in which strange and beautiful worlds, creations of Sean Beaudoin's dark and sometimes brutal imagination, emerge as part of a tapestry so finely woven that we don't see the thread. In the end, we can only stand in awe of Beaudoin's immense talent."  —Garth Stein, author of A Sudden Light
 
"Beaudoin's stories are hilarious and charming, also intimate, and yes they're also definitely dark, but not in a way that I needed to go take a regenerative nap in the middle of reading. No, I exited this brief avalanche of stories feeling even more awake, and full of delight in this ridiculous world we inhabit." —Peter Mountford, author of The Dismal Science
 
"Seattle's Sean Beaudoin strides past his young-adult novelist niche with Welcome Thieves, a collection of 12 deliciously dark short stories.  Get a sampling of Beaudoin's ex-rocker vibe, which permeates each strange story with profanely humorous and raw musings on modern adulthood." —Seattle Metropolitan Magazine
 
"Funny, daring, alarming, sweet-- how this book fills the mind and the senses with life.  Beaudoin's language is so original and fast that it gets very close to experience, handles it so loyally and beautifully." —Rebecca Lee, author of Bobcat and Other Stories
 
"(Beaudoin)  illuminates in his reader the unseen, casting light in corners we did not even know were there, lighting up levels of feeling we either forgot about or never knew existed. And, crucially, under Sean's hyper-alert gaze, all are beautiful." —Robert Burke Warren, The Weeklings
 
"A ragtag collection of challenging, off-the-wall, brilliant tales." —Joe Dell'Erba for the Washington Independent Review of Books
 
"A good short story collection maintains a common thread, compiling stories as one would compile an album, so that reading it from beginning to end offers a sustained exercise in meaning. It's satisfying to turn the last page and feel it intertwine with all those that came before it. Sean Beaudoin's Welcome Thieves is one of the best examples I've come across." —Samuel Sattin for Fiction Advocate 
 
"The character-driven tales are darkly comedic, filled with misfits like Primo and The Albatross, Danny and Steak, Sad Girl, Razr and Roy Boi, and Butterfly and Cher — characters so compelling that they are at once savage and powerless, redemptive and sardonic…. (They) fill the pages of Welcome Thieves, their complexities and frailties enough to recommend Beaudoin as a student and brilliant interpreter of human nature." —Kansas City Star