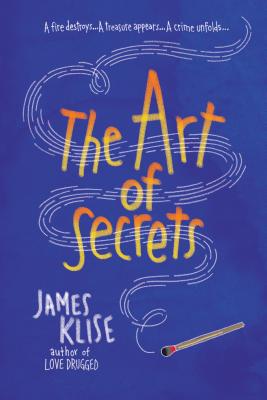 The Art of Secrets (Paperback)
Algonquin Young Readers, 9781616204822, 272pp.
Publication Date: April 21, 2015
Other Editions of This Title:
Digital Audiobook (4/21/2014)
CD-Audio (4/22/2014)
Hardcover (4/22/2014)
Prebound (4/21/2015)
Pre-Recorded Audio Player (3/1/2014)
* Individual store prices may vary.
Description
An Edgar Award Winner, Best YA Novel 2015

Where there's smoke . . .

When Saba Khan's apartment burns in a mysterious fire, possibly a hate crime, her high school rallies around her. Her family moves into a rent-free luxury apartment, her Facebook page explodes, and she begins (secretly) dating a popular boy.

Then a quirky piece of art donated to a school fund-raising effort for the Khans is revealed to be worth hundreds of thousands of dollars, and Saba's life turns upside down again. Should Saba's family get the money? Or the students who found the painting? Or the school?

Monologues, journal entries, interviews, articles, and official documents expose a tangled web of greed, jealousy, and suspicion as students and teachers alike debate, point fingers, and make shocking accusations about what's really going on.

"Relationships, secrets and lies aplenty." —Kirkus Reviews

"Will stay on readers' minds long after the last page." —Booklist, starred review

"This story . . . culminates in a shocking twist of an ending that will engrossreaders until the very last page." —The Christian Science Monitor

A Booklist Editor's Choice Book
A Booklist Top Crime Fiction Book
A Chicago Public Library Best of the Best Book
A Mystery Writers of America Edgar Award Nominee
About the Author
James Klise is the author of Love Drugged, which was an ALA Stonewall Honor Book and received glowing reviews. He lives in Chicago, where he works as a high school librarian. His short stories have appeared in many journals, including StoryQuarterly, New Orleans Review, Ascent, and Southern Humanities Review. The Art of Secrets is his second novel.
Praise For The Art of Secrets…
"Where there's smoke, there's fire . . . and apparently, valuable art! When the Khan family's home is mysteriously burned to the ground, the funds from a priceless painting come to their rescue. Through unique journal entries, articles, and interviews, a tangled web of unusual secrets unfolds." —Teen Vogue

"This quirky, mysterious read makes you feel like you're watching the investigation unfold before your eyes because the clues are revealed through so many points of view . . . journals, interviews, articles, and text messages! And the surprise twist ending took our breath away." —Justine magazine

"This art mystery is that rare book that will be passed around by teens as well as teachers in the faculty lounge, discussed and dissected and immediately reread to scour for hidden clues and motivations. The incidents at Highsmith School will stay on readers' minds long after the last page." —Booklist, starred review

"The Art of Secrets is part thoughtful novel and part edge-of-your-seat mystery. This story about a family of Pakistani immigrants whose apartment is destroyed by arson culminates in a shocking twist of an ending that will engross readers until the very last page." —The Christian Science Monitor

"A beautifully plotted mystery for teen readers tries to determine who started the fire that destroyed Saba's apartment."—Houston Chronicle

"This innovative mystery explores issues of secrecy, social class, greed, family, self-justification and the need to belong in one's community. Saba's internal and external struggles are realistically specific to her situation, but they will resonate with anyone who has ever felt like an outsider. As in life, the questions The Art of Secrets poses do not have easy answers, which is the book's greatest strength." —TeenReads.com

"Relationships, secrets and lies aplenty for caper-loving fans." —Kirkus Reviews

"This is a book about the secret motivations that drive us all. Klise develops a set of complex characters, both teen and adult, who, because of the stolen artwork, must deal with their own beliefs about fairness, belonging, and truth. This mystery is well crafted and will leave readers guessing as to the identity of the culprit to the end. This is an excellent addition to collections where mysteries are popular and will give readers much to think and talk about." —VOYA

"Through emails, texts, journal entries, interview transcripts, newspaper clips, and official documents that pull in the perspectives of students, teachers, and others, Klise simultaneously reveals details about what might have transpired while allowing characters' darker motives--prejudice, envy, greed--to emerge . . . The question of 'how far would [people] be willing to go to make [their] dreams come true' propels the book forward to its scandalous conclusion." —Publishers Weekly