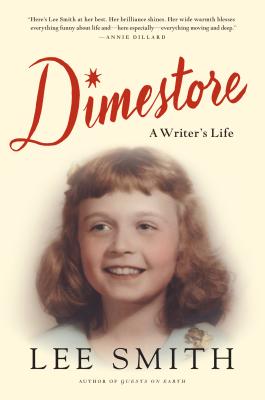 Dimestore
A Writer's Life
Hardcover

* Individual store prices may vary.
Other Editions of This Title:
Digital Audiobook (3/21/2016)
Paperback (4/4/2017)
Hardcover, Large Print (7/6/2016)
Description
For the inimitable Lee Smith, place is paramount. For forty-five years, her fiction has lived and breathed with the rhythms and people of the Appalachian South. But never before has she written her own story.

Set deep in the mountains of Virginia, the Grundy of Lee Smith's youth was a place of coal miners, tent revivals, mountain music, drive-in theaters, and her daddy's dimestore. It was in that dimestore--listening to customers and inventing adventures for the store's dolls--that she became a storyteller. Even when she was sent off to college to earn some "culture," she understood that perhaps the richest culture she might ever know was the one she was driving away from--and it's a place that she never left behind.

Dimestore's fifteen essays are crushingly honest, wise and perceptive, and superbly entertaining. Smith has created both a moving personal portrait and a testament to embracing one's heritage. It's also an inspiring story of the birth of a writer and a poignant look at a way of life that has all but vanished.
Praise For Dimestore: A Writer's Life…
"With restrained prose and charming humor, [Smith] illuminated a way of life that has all but disappeared and explores the impulse to bear witness that underpins the storyteller in all of us."
—People (Book of the Week)
 
"Smith delivers a memoir that shines with a bright spirit, a generous heart and an entertaining knack for celebrating absurdity. Although Dimestore is constructed as a series of personal essays, it presents as full a sense of a life as any traditional narrative."
—The New York Times Book Review
 
"…heartwarming… Dimestore shares the habits that may have saved Smith from her own tendency to get too "wrought up," one of which was to approach storytelling "the way other people write in their journals," in order to make it through the night. Fiction became her lifelong outlet, a means of sustaining and reaffirming the connection to her work, as well as a way to preserve the rich mountain culture she so loved as a child."
—Atlanta Journal-Constitution
 
"Dimestore may prove to be a work that connects wildly with readers. Because truth is often more powerful than fiction, and because the tale she has actually lived so far to tell is rendered keenly, irrepressibly and without self-pity. Lee Smith, the person, emerges as one of nonfiction's great protagonists."
—Raleigh News & Observer

"Now, at last, we have Dimestore: A Writer's Life, a seasoned, open-hearted memoir, taking us from her youth in the coal-mining town of Grundy, Va., through her education at private schools in Richmond and Roanoke, Va., to her life since 1974, first in Chapel Hill married to the poet James Seay, and since 1985, to columnist and literary critic Hal Crowther. Throughout, the memoir shows Smith's spunk and spirit….  Yes, Lee Smith is a writer, and without that, we probably would not have this engrossing memoir. But at heart, Lee Smith is a woman – openhearted, spirited, humble – and it is those qualities especially that inspire and make us glad as we read."
—Charlotte Observer
 
"…profoundly readable… Like her novels, Smith's memoir is intimate, as though writer and reader are sitting together on a front-porch swing. She writes in the rich vernacular of her youth. Smith's details are so piercingly remembered, so vividly set on the page, that I felt wrapped in a great blanket of familiarity. Her memoir is a warm, poignant read about a lost time and place, a love of books and a celebration of the quirks and oddities of home."
—Minneapolis Star Tribune

"Lee Smith's memoir, Dimestore, is both a gorgeous remembrance of an Appalachian girlhood and an engrossing look at the makings of a writer. Her recollections Saturday-evening bluegrass, molded pink salad, small-town community before the age of Wi-Fi and the electrifying childhood thrill of finding a good book invite us to revisit our vanishing past."
—MORE Magazine

"This memoir is Smith at her finest. There is not one false note in the book. This wonderful memoir—filled with tenderness, compassion, love, and humor—is highly recommended for fans of Smith's fiction, lovers of Southern writing, and readers who are interested in the changes in small-town America."
—Library Journal, starred
 
"Candid and unsentimental, Smith's book sheds light on her beginnings as writer while revealing her resilience and personal transformations over the course of a remarkable lifetime. A warm, poignant memoir from a reliably smooth voice."
—Kirkus Reviews
 
"Dimestore…is a testament to the power of place. The author of thirteen novels and multiple short story collections, Smith has long brought Appalachia to life for readers, and the book chronicles her own childhood in the coal-mining town of Grundy, Virginia, where she worked as a young girl in her father's five-and dime, and her path to becoming a writer."
—Garden & Gun

"Reading Dimestore: A Writer's Life is like sitting a spell on the front porch swing with novelist Lee Smith, hearing all about the kinfolk who nurtured her in the mountain "holler" town of Grundy, Virginia. In this collection of 14 essays, Smith's voice sings out like the mountain music she was raised on, skillfully weaving together nostalgic melodies with modern insight."
—BookPage

"Smith is a world-class storyteller, so it's no surprise that she packs this book with a gracious plenty. Her distinctive voice sounds out from every page. Her fans will not be disappointed. In fact, they'll be thrilled to discover how she learned to tell stories…[a] wonderful book."
—Richmond Times Dispatch

"It is fair to say Virginians and North Carolinians will want to read this book. …I am going to venture the notion – with absolute conviction – that everybody else who has grown up in America – or beyond it – will recognize something crucial of themselves here, and that tough, intense universality of spirit will touch men and women alike."
—Virginia Pilot
 
"This memoir is so rich in insights, both hard-won and instant, that it might be handy to take it along to whatever waiting rooms we might be stranded in. This little book also evokes a little fruitcake a Southern gentleman gave us a few years ago that sat in the fridge forever. When I finally tasted it, it revealed the multiple times said Southern gent had basted it with rum, making the cake an outstanding holiday accompaniment. Dimestore is on the short side, but as rich as any rum-drenched confection could be. And no hangover, either."
—Buffalo News
 
"Thoroughly enjoyable and entertaining, this short read is satisfying for the soul. It's highly recommended for adult and mature readers and all book clubs. Anyone who loves small-town America, the South and Appalachia will love this book."
—El Paso Times
 
"Trust Lee Smith to write a memoir in essays that's as entertaining, original, quirky, fun to read and wise as any of her works of fiction. For nearly 50 years now…Smith has been blessing readers with glimpses into her life, heart and soul through her stories about other people — people she created with her lively imagination. Now she gives us a fuller picture of her most fascinating character of all, Lee Smith, and she tells us some of the ways her life influenced and plays out in her fiction. With refreshing and understated honesty, she also tells us how writing has helped her make it through some rough times in her own life. In Dimestore, she gives us a delightful and insightful look at what she's learned about writing, reading and, most of all, life."
—Greensboro News & Record
 
"With a shelf of distinguished novels…Hillsborough resident Lee Smith has established herself as one of North Carolina's most talented and best-loved writers. Like her best fiction, [Dimestore] is fresh, funny, often heartbreaking, with a pitch-perfect ear for human speech."
—Wilmington Star News
 
"…a revue of memorable episodes, enlivened with sensory details, curious characters, evocative scenes and lurking insights."
—Asheville Citizen Times

"Why hadn't I heard about this incredible writer? Seventeen works of fiction make her the best kept secret of the literate South. This memoir is a masterpiece of stories and remembrances."
—Manhattan Book Review

"You know how in Lee Smith's fiction there's always something so fresh, crazy, and loving? In Dimestore is the essence of Lee."
—Roy Blount Jr., author of Alphabetter Juice: or, The Joy of Text
 
 "We have Eudora Welty's One Writer's Beginnings, and now we have Lee Smith's Dimestore. These two great American writers have in common an immense gift for characterization, a humorous sense of the absurd in daily life, and a precise, evocative prose style.  In both their memoirs, I relish their restrained and perfectly rendered stories of their own lives. Lee Smith is, of course, a national treasure, and this subtle and moving memoir enlarges my sense of the origins of her deep, wide work. Thousands have fallen in love with every word Lee Smith writes, and Dimestore will bring them new joy."
—Frances Mayes, author of the bestselling Under the Tuscan Sun and Under Magnolia
 
"Here's Lee Smith at her best.  Dimestore is personal nonfiction, where her brilliance shines.  Her wide warmth blesses everything funny about life and--here especially--everything moving and deep."
—Annie Dillard

"In her first work of nonfiction, novelist Smith explores how deep her Appalachian roots go, in this entertaining and poignant collection of Southern memories."
—Publishers Weekly
 
"In this candid, wistful, appreciative, and beguiling memoir, Smith offers a distinctive and intimate look at one writer's beginnings."
—Booklist

 "In Lee Smith's memoir, Dimestore, readers will gladly join her, finding her writing with the same lively spirit that has always informed her fiction. She never turns away from her Appalachian roots, revealing that remote region with discerning affection."
—Elizabeth Spencer, author of Starting Over

"Lee Smith is an American master. In Dimestore, she continues to grow and shapeshift, bringing her massive fictional gifts to a memoir-in-essays that reads like a novel, with a deeply realized sense of place and character development--the central character here, a deeply winning one, is Smith herself. She has her finger on the social pulse of an America uneasily transitioning from the 20th into the 21st century. Once I began, I couldn't put it down."
—David Payne, author of Barefoot to Avalon   

"Dimestore is the memoir fans of Lee Smith's fiction have been waiting decades for. It's a pitch-perfect mining of the memories, desires, and imagination fueling one of the South's — no, one of America's — master storytellers. Smith gives us a dappled reality where little girls spy the world from behind a one-way piece of glass, parents are 'kindly nervous,' and eccentric aging poets deal with wintertime rejection by shedding their clothes and rolling in the snow. Dimestore leaves you seeing the world a little bit Smith-skewed — by which I mean through a cleverer, more grounded, and ultimately more open-hearted lens."
—Beth Macy, author of the bestselling Factory Man
 
Algonquin Books, 9781616205027, 224pp.
Publication Date: March 22, 2016
About the Author
Born in the small coal-mining town of Grundy, Virginia, Lee Smith began writing stories at the age of nine and selling them for a nickel apiece. Since then, she has written seventeen works of fiction, including Fair and Tender Ladies, Oral History, and, most recently, Guests on Earth. She has received many awards, including the North Carolina Award for Literature and an Academy Award in Fiction from the American Academy of Arts and Letters; her novel The Last Girls was a New York Times bestseller as well as winner of the Southern Book Critics Circle Award. She lives in Hillsborough, North Carolina, with her husband, the writer Hal Crowther. Visit her at www.leesmith.com.
or
Not Currently Available for Direct Purchase