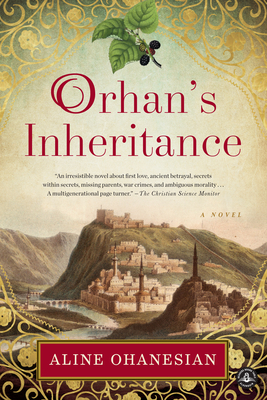 Orhan's Inheritance
Paperback

* Individual store prices may vary.
Other Editions of This Title:
Digital Audiobook (4/6/2015)
CD-Audio (4/7/2015)
Hardcover (4/7/2015)
Hardcover, Large Print (7/29/2015)
Description
When Orhan's brilliant and eccentric grandfather, Kemal Türkoglu, who built a dynasty out of making kilim rugs, is found dead, submerged in a vat of dye, Orhan inherits the decades-old business. But Kemal has left the family estate to a stranger thousands of miles away, an aging woman in a retirement home in Los Angeles. Intent on righting this injustice, Orhan unearths a story that, if told, has the power to undo the legacy upon which Orhan's family is built, a story that could unravel his own future.

"Breathtaking and expansive . . . Proof that the past can sometimes rewrite the future." —Christina Baker Kline, author of Orphan Train
 
"Stunning . . . At turns both subtle and transcendent." —Los Angeles Review of Books 
 
"To take the tumultuous history of Turks and Armenians in the early part of this century, and to tell the stories of families and lovers from the small everyday moments of life to the terrible journeys of death, to make a novel so engrossing and keep us awake—that is an accomplishment, and Aline Ohanesian's first novel is such a wonderful accomplishment." —Susan Straight, author of Highwire Moon
 
"Rich, tragic, compelling, and realized with deep care and insight." —Elle
 
"A book with a mission, giving a voice to history's silent victims." —The New York Times Book Review
 
"Orhan's Inheritance illuminates human nature while portraying a devastating time in history . . . A remarkable debut novel that exhibits an impressive grasp of history as well as narrative intensity and vivid prose." —Minneapolis Star Tribune
 
"A remarkable debut from an important new voice. It tells us things we thought we knew and shows us we had no idea. Beautiful and terrible and, finally, indelible." —Luis Alberto Urrea, author of Queen of America
Algonquin Books, 9781616205300, 368pp.
Publication Date: January 19, 2016
About the Author
Aline Ohanesian's great-grandmother was a survivor of the Armenian Genocide. Her history was the kernel for the story that Ohanesian tells in her first novel, Orhan's Inheritance. Ohanesian was a finalist for the PEN/Bellwether Prize for Fiction and Glimmer Train's Short Story Award for New Writers. Born in Northridge, California, she lives and writes in San Juan Capistrano, California, with her husband and two young sons. Her website is www.alineohanesian.com.
Setting plays such a significant role in Orhan's Inheritance.
How do the two settings, Karod village in Turkey and
the Ararat Home in Los Angeles, affect the characters?
Why do you think Kemal dies the way he does? What is
the symbolism of the vat of dye?
Orhan's early photography was so focused on abstraction that he
failed to see the world around him clearly. How does Orhan's early
photography compare with his later work, when he takes up the
camera again? In what way does he see the world differently?
Do you think words construct meaning differently than visual images
do, whether drawn or photographed?
How are Orhan and Seda similar when it comes to their relationship
with their pasts? What is Ani's perspective on the past? What do you
think these characters learn from one another?
Lucine's father, Hairig, defines strength as adaptability. How would
you describe Lucine's strength? What are the qualities that help her
survive this ordeal?
At what point does Seda stop speaking? Why do you think she makes
this choice?
Do your feelings about Fatma change in the course of the novel?
If so, how?
Why does Lucine feel that she and Kemal can never be together?
There are many instances of individual and collective guilt in the story
as exemplified in the war scenes with Kemal and his soldier friends.
Do you think there's such a thing as collective guilt? If so, is it easier to
bear and what are its effects?
Once Orhan knows about his family's and country's history, how do
you think he should respond? Do you think he's done enough by the
end of the novel?
Much of the novel grapples with the power of words as well as their
insufficiency. How important are the words we use to describe
someone or something? Why does it matter what Orhan calls Fatma
or whether we call what happened in 1915 a genocide?