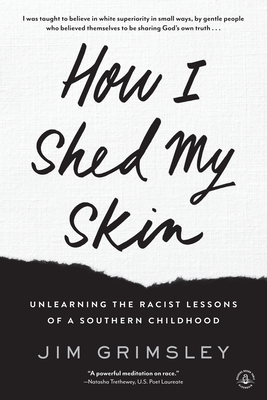 How I Shed My Skin
Unlearning the Racist Lessons of a Southern Childhood
Paperback

* Individual store prices may vary.
Other Editions of This Title:
CD-Audio (4/14/2015)
Compact Disc (4/14/2015)
Hardcover (4/14/2015)
Compact Disc (4/14/2015)
MP3 CD (4/14/2015)
Description
More than sixty years ago, the Supreme Court ruled in Brown v. Board of Education that America's schools could no longer be segregated by race. Critically acclaimed novelist Jim Grimsley was eleven years old in 1966 when federally mandated integration of schools went into effect in the state and the school in his small eastern North Carolina town was first integrated. Until then, blacks and whites didn't sit next to one another in a public space or eat in the same restaurants, and they certainly didn't go to school together.

Going to one of the private schools that almost immediately sprang up was not an option for Jim: his family was too poor to pay tuition, and while they shared the community's dismay over the mixing of the races, they had no choice but to be on the front lines of his school's desegregation.

What he did not realize until he began to meet these new students was just how deeply ingrained his own prejudices were and how those prejudices had developed in him despite the fact that prior to starting sixth grade, he had actually never known any black people.

Now, more than forty years later, Grimsley looks back at that school and those times--remembering his own first real encounters with black children and their culture. The result is a narrative both true and deeply moving. Jim takes readers into those classrooms and onto the playing fields as, ever so tentatively, alliances were forged and friendships established. And looking back from today's perspective, he examines how far we have really come.
Praise For How I Shed My Skin: Unlearning the Racist Lessons of a Southern Childhood…
"Grimsley impersonates his younger self with great skill and delicacy. His voice is finely calibrated to recreate a certain innocence and wonder at the grown-up world and its curious ways . . . He doesn't pretend that simply sitting next to black classmates suddenly changed his way of looking at the world; he acknowledges that the process occurred over many years and much searching."—New York Times Book Review

"From the protests in Ferguson to the movie about Selma, race has been at the forefront of the national conversation recently. On the news and at our dinner tables, the country is discussing how far we still have to go. How I Shed My Skin by Jim Grimsley, is a white writer's story of that journey -- where we've come from and how we move foward." —The Washington Post

"A powerful meditation on race." —Natasha Trethewey, US Poet Laureate

"The lacunae underscore the divides between blacks and whites in the civil rights–era South, a gap Grimsley has spent most of his life trying to bridge. How I Shed My Skin recalls those efforts and serves to remind us that, decades later, there is still much more work to do." —Emory Magazine

"[Grimsley's] memories of junior high and high school remain especially vivid and poignant, and he recalls them in sometimes agonizing detail in How I Shed My Skin . . . Like Randall Kenan, he catches the weird ethos of a generation caught with one foot in Gone with the Wind or To Kill a Mockingbird and another in the world of "Star Trek" and Motown . . . How I Shed My Skin reminds us how far we've come in 40 years, and how far we didn't go." —Wilmington Star News

"Grimsley has a powerful tale to tell, about change, and the fears and triumphs that go with it . . . Despite the continued crossfire, he and his classmates -- 'cool and slouched, shy and lost' -- desegregated the schools of Jones County and became instruments of its history." —Bookreporter.com

"[A] beautifully introspective memoir . . . In a world that continues to struggle with race relations, How I Shed My Skin is a stunning beacon of hope." —Shelf Awareness for Readers

"Powerful . . . Grimsley's brave self-examination of his own childhood prejudices makes this book personal; his struggle to reconcile and overcome those prejudices makes it universal and well worth reading." —Birmingham Magazine

"Beautiful and brilliant . . . How I Shed My Skin does more to explore the racially inspired shootings and hate crimes of our present time than anything I have read." —Washington Missourian

"Jim Grimsley isn't one to shy away from the pained and difficult memories of his childhood . . . haunting." —KirkusReviews.com

"Looking back some 40 years later, acclaimed writer Grimsley offers a beautifully written coming-of-age recollection from the era of racial desegregation." —Booklist, starred review

"In this sensitive memoir, Grimsley probes the past to discover what and how he learned about race, equality and democracy 'from the good white people' in his family and community." —Kirkus Reviews
Algonquin Books, 9781616205348, 288pp.
Publication Date: February 23, 2016
About the Author
Jim Grimsley is the author of four previous novels, among them Winter Birds, a finalist for the PEN/Hemingway Award; Dream Boy, winner of the GLBTF Book Award for literature; My Drowning, a Lila-Wallace-Reader's Digest Writer's Award winner; and Comfort and Joy. He lives in Atlanta and teaches at Emory University.