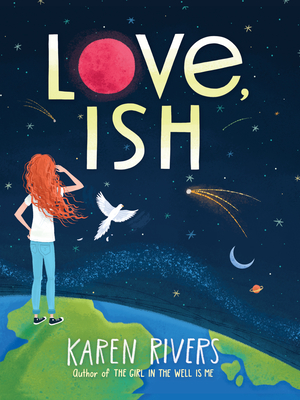 Love, Ish
Hardcover

* Individual store prices may vary.
Other Editions of This Title:
Digital Audiobook (3/13/2017)
Paperback (2/13/2018)
Description
My name is Mischa "Ish" Love, and I am twelve years old. I know quite a lot about Mars.

Mars is where I belong. Do you know how sometimes you just know a thing? My mom says that falling in love is like that, that the first time she saw Dad, she just knew. That's how I feel about Mars: I just know.

I'm smart and interesting and focused, and I'm working on getting along better with people. I'll learn some jokes. A sense of humor is going to be important. It always is. That's what my dad always says. Maybe jokes will be the things that will help us all to survive. Not just me, because there's no "me" in "team," right? This is about all of us. Together.

What makes me a survivor? Mars is going to make me a survivor.

You'll see.

*

In Karen Rivers's riveting new novel, Ish's dreams for a future on Mars go heartbreakingly awry when an unexpected diagnosis threatens to rewrite her whole future.
Praise For Love, Ish…
"A star-bright story of love, courage, and unflagging spirit."
—Booklist, starred review
 
 "A worthwhile and affecting odyssey."
—Kirkus Reviews

"The cancer story line is interspersed with many facts about Mars and space and carries universal themes of friendship, family, and school life, but make no mistake—this book packs an emotional punch. This heartbreaking and sharply wry tale about friendship, family, fate, and illness will find a broad YA audience."
—School Library Journal
 
"An affecting, hard-hitting story."
—Publishers Weekly

"The writing is vivid and the close first-person narration keeps the reader in Ish's fast-paced mind even as that mind deteriorates, making the dream scenes powerful . . . Rivers imbues Ish with a sense of humor, an emotional depth, and a complexity that keep the story from becoming a cliché."
—The Horn Book Magazine

"Immensely relatable. Rivers has nailed the middle school voice, which makes the progression of this story all the more poignant as Ish faces something even more frantically unknown than being the first girl on Mars. Love, Ish solidly puts readers into the body of a girl whose lifelong dreams, like the fluctuating distance of Mars from the Earth, are creeping farther and farther away. Between Ish's vivid dreams and her often lonesome real-life interactions, Rivers skillfully brings readers on a journey of maturity, heartbreak, and, yes, love, that they will not forget."
—Cleaver Magazine
 
"As [Ish] copes with her diagnosis, she learns how your dreams can pull you through even when the future is uncertain."
—New Moon Girls/Daughters.com
Algonquin Young Readers, 9781616205706, 288pp.
Publication Date: March 14, 2017
About the Author
Karen Rivers has written novels for adult, middle-grade, and young adult audiences. Her books have been nominated for a wide range of literary awards and have been published in multiple languages. When she's not writing, reading, or visiting schools, she can usually be found hiking in the forest that flourishes behind her tiny old house in Victoria, British Columbia, where she lives with her two kids, two dogs, and two birds. You can find her online at karenrivers.com or on Twitter: @karenrivers.