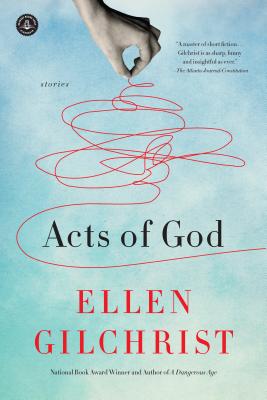 Acts of God (Paperback)
Algonquin Books, 9781616205720, 272pp.
Publication Date: November 3, 2015
* Individual store prices may vary.
Description
In her first story collection in over eight years, National Book Award winner Ellen Gilchrist presents readers with ten different scenarios in which people dealing with forces beyond their control somehow manage to survive, persevere, and triumph, even if it is only a triumph of the will. From the very young to the very old, in one way or another, they are fighters and believers, survivors who find the strength to go on when faced with the truth of their mortality. And they are given vivid life in these stories told with Ellen Gilchrist's clear-eyed optimism and salty sense of humor.

"Reading Ellen Gilchrist is addictive . . . Her new work is filled with good people who show fortitude and even heroism under duress . . . In this age of edgy irony, her warm-hearted view of humanity is refreshing." —NPR.org

"Gilchrist manages to cut through the loud tussle of the world to present truths made even more striking by how conventional they are . . . The stories in Acts of God are great postcards from the world of Ellen Gilchrist. It's a world of war and strife and surprises, and it is, yes, marvelous to behold." —The New York Times Book Review
 
"Refreshing, engaging, and inspiring." —Library Journal                                  
 
"Beautiful, smart, phenomenally rich."—Booklist, starred review
 
"Gilchrist is at her best when the wry and satirical mood strikes her, especially when she is pricking the balloons of pride that the white Southern upper middle class inflates in its own honor . . . The best of the stories in Acts of God rank with the best in her first collection and in her second, Victory Over Japan, for which she was awarded a richly deserved National Book Award." —The Washington Post 
 
"The salty wit of [her] characters will make you laugh; their bravery can be breathtaking."—Birmingham magazine

 
About the Author
Ellen Gilchrist, winner of the National Book Award for Victory Over Japan, is the author of more than twenty books, including novels, short stories, poetry, and a memoir. She lives in Fayetteville, Arkansas.
Praise For Acts of God…
"[Gilchrist's] style can be an acquired taste. If I were you, I'd acquire it . . . Gilchrist manages to cut through the loud tussle of the world to present truths made even more striking by how conventional they are . . . The stories in Acts of God are great postcards from the world of Ellen Gilchrist. It's a world of war and strife and surprises, and it is, yes, marvelous to behold." —The New York Times Book Review

"Admirers of her work, among whom I am most certainly to be counted, will find much herein that is familiar and pleasing . . . Gilchrist is at her best when the wry and satirical mood strikes her, especially when she is pricking the balloons of pride that the white Southern upper middle class inflates in its own honor. Now in her late 70s, she has lost none of the zing that brought In the Land of Dreamy Dreams to such wholly unexpected attention, and it's a pleasure to report that the best of the stories in Acts of God rank with the best in her first collection and in her second, Victory Over Japan, for which she was awarded a richly deserved National Book Award in 1984." —The Washington Post

"Flawlessly precise." —ReadersDigest.com

"Reading Ellen Gilchrist is addictive . . . Partly, it's the sassy voice that snares you, and partly it's her tight circle of recurrent characters--feisty, unabashedly sexed Southern women, many of whom are related by birth or marriage . . . Her new work is filled with good people who show fortitude and even heroism under duress . . . In this age of edgy irony, her warm-hearted view of humanity is refreshing." —NPR.org

"A joy to read. Her protagonists all feel very alive and real." —Bust

"[Gilchrist's] protagonists are generally beautiful and strong, sometimes shallow and often deeply flawed--but they're always interesting, especially when they're tested . . . In Acts of God, though, they learn a lesson that Gilchrist's characters often don't: that even the rich and the powerful, the quick-witted and the good-looking are vulnerable to storms and disasters, to illness and aging and death . . . These 10 new stories remind the reader we're all vulnerable to chance, whether it's a hurricane or a love affair. And these characters, the old ones and the new, settle seamlessly into Gilchrist's seductive Southern world." —Houston Chronicle

"The stories are laced through with good humor and hints of the miraculous . . . There is something--a magic that's difficult to clarify, that may be corny in someone else's eyes--to Gilchrist's work that doesn't come around often . . . Gilchrist still has the power to turn a simple line into a profound insight on what it's like to be human. Aging and death are the twin ghouls running throughout Acts of God, looming over the characters, and the result of looking into the void gives these stories wisdom and compassion, or to quote Gilchrist: 'Glad to be alive in the only world there is, alive and eating and still breathing and not afraid really of anything that might happen next.'" —Flavorpill.com 

"Gilchrist's deliciously wise and humorous voice abides best in the short story form, and her new collection of 10 stories will say to her fans that their reconnection to this openhearted writer from the South is a pure old-home-week experience . . . Beautiful, smart, phenomenally rich." —Booklist (starred review)