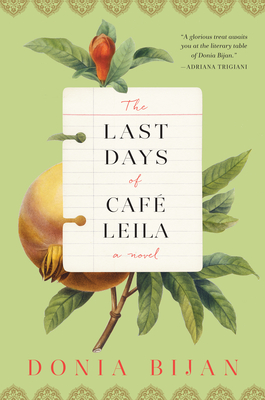 The Last Days of Café Leila (Hardcover)
A Novel
Algonquin Books, 9781616205850, 304pp.
Publication Date: April 18, 2017
Other Editions of This Title:
Paperback (4/17/2018)
Compact Disc (8/8/2017)
* Individual store prices may vary.
Description
"A glorious treat awaits you at the literary table of Donia Bijan." —Adriana Trigiani

Set against the backdrop of Iran's rich, turbulent history, this exquisite debut novel is a powerful story of food, family, and a bittersweet homecoming. When we first meet Noor, she is living in San Francisco, missing her beloved father, Zod, in Iran. Now, dragging her stubborn teenage daughter, Lily, with her, she returns to Tehran and to Café Leila, the restaurant her family has been running for three generations. Iran may have changed, but Café Leila, still run by Zod, has stayed blessedly the same—it is a refuge of laughter and solace for its makeshift family of staff and regulars.

As Noor revisits her Persian childhood, she must rethink who she is—a mother, a daughter, a woman estranged from her marriage and from her life in California. And together, she and Lily get swept up in the beauty and brutality of Tehran.

Bijan's vivid, layered story, at once tender and elegant, funny and sad, weaves together the complexities of history, domesticity, and loyalty and, best of all, transports readers to another culture, another time, and another emotional landscape.
 
About the Author
Donia Bijan is the author of the novel The Last Days of Café Leila and the memoir Maman's Homesick Pie. She graduated from UC Berkeley and Le Cordon Bleu. After presiding over many of San Francisco's acclaimed restaurants and earning awards for her French-inspired cuisine, in 1994 she opened her own restaurant, L'amie Donia, in Palo Alto. Since closing her restaurant, she divides her days between teaching and writing.
Praise For The Last Days of Café Leila: A Novel…
"A love letter to family, food, and culture, The Last Days of Café Leila is a beautiful narrative with an undeniable ache for belonging at its center."
—Refinery29
 
"A glorious treat awaits you at the literary table of Donia Bijan. This debut novel has it all, a comfpelling story of family, faith and love told with a longing heart and an appetite for life beyond the small Iranian village where Noor's roots are planted and her wings were born. This intergenerational story, of a mother and her daughter, dramatized in the moment where it lives is a feast for the reader's senses and soul. What a stunning novel! Inspiring, evocative and emotionally satisfying." 
—Adriana Trigiani, bestselling author of The Shoemaker's Wife
 
"This lyrical debut novel, an immigrant saga and coming-of-age story, provides a tantalizing look at Iran pre- and post-revolution. Poignant and absorbing, the book explores the pull not only of family, but of the place we first call home."
—Kirkus Reviews
 
"Bijan has crafted a richly layered story of the deep connections within a family, resilient links that survive tragedy and distance."
—Booklist
 
"Within the captivating setting of a postrevolutionary Iran, Donia Bijan brings to life a family torn apart by loss, tragedy, and distance, whose abiding connections refuse to die. A sensitively conceived, beautifully written story."
—Shilpi Somaya Gowda, New York Times bestselling author of Secret Daughter
 
"The novel is composed like an extravagant meal . . . Bijan invites her characters to break bread and share their stories. A-."
—The A.V. Club

"Bijan explores layers of identity and belonging in her debut novel . . . With its lush descriptions and multiple points of view, The Last Days of Café Leila is a sensory delight for readers."
—Huffington Post

"The story unfolds like the taste of a delicate dessert that needs to be savored . . . Is this really a book about the last days of a restaurant, or those of a legacy that spans generations? Readers will enjoy this novel filled the idea of homecoming and motherhood, and a rare glimpse into post-revolution Iran, and most importantly the food."
—New York Journal of Books
 
"Donia Bijan writes words that are quiet, rich and beautiful as she unfolds Noor's story, and the reader is drawn completely into the family's lives . . . a story that you'll be unable to put down. You'll be both entranced and surprised by this incredible novel, which introduces Persian life to readers who may not be familiar with it."
—Book Reporter
 
"The narrative nimbly leaps from one character to another and from past to present, revealing the much-appreciated backstory at just the right pace. Bijan, a native Iranian, writes of the beauty and customs of her homeland with fondness. She doesn't shy away from the intense political climate . . . and she perfectly captures the universal pleasure of cooking for others."
—BookPage
 
"In her debut novel, Iranian American chef and writer Donia Bijan stirs up a powerful, nourishing story of family, love and loss . . . a tribute to everyday resilience, love in the face of deep grief and the power of a good meal to nourish body and soul."
—Shelf Awareness
 
"Donia Bijan's exquisitely rendered tale reminds us that the bonds of food, family and most of all love make life worth living even at its darkest moments. A story worth savoring, sharing, and taking to heart."
—Jamie Brenner, author of The Wedding Sisters and The Forever Summer
 
"The Last Days at Café Leila is a novel that will engage all of your senses and then make away with your heart, as well.  This is the poignantly told story of a family – and of the brilliant and beautiful culture of Persia, diminished but not destroyed.  It is the triumphant story of a woman making her way from apology to full-throated song."
—Elizabeth J. Church, author of The Atomic Weight of Love
 
"Donia Bijan's moving portrayal of love and loss in the aftermath of The Iranian Revolution will break your heart into a million pieces then nurse it back to health word by word, recipe by recipe, story by story."
—Aline Ohanesian, author of Orhan's Inheritance

"A beautiful coming-of-age story set in pre-and post-revolution Iran that spans generations of one family."
—Birmingham Magazine

"A moving portrait of a character caught between two worlds . . . [Bijan] describes the dishes of Café Leila in delicious detail."
—San Jose Mercury News
 
"Finely written, lively, and at times nail-biting read — the work of a storyteller capable of evoking the colors, smells and flavor of an environment."
—Palo Alto Almanac
 
"Donia Bijan's The Last Days of Café Leila captures your heart. A powerful, out-of-the-ball-park, fall-in-love-with-every-main-character novel, [which] juxtaposes a deliciously rich narrative of Persian food with a family searching for answers, understanding and redemption. The former chef highlights the beauty of each character, replete with faults, flaws, talents and purpose along with succulent fresh foods and pastries."
—La Jolla Village News

"Through three generations of displacement, Bijan deftly, gorgeously explores identity, belonging, families (by blood, by choice), and the ties of unconditional love."
—Smithsonian BookDragon
or
Not Currently Available for Direct Purchase