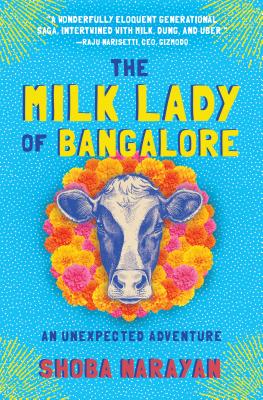 The Milk Lady of Bangalore
An Unexpected Adventure
Hardcover

* Individual store prices may vary.
Other Editions of This Title:
Digital Audiobook (1/22/2018)
Paperback (1/15/2019)
Description
The elevator door opens. A cow stands inside, angled diagonally to fit. It doesn't look uncomfortable, merely impatient. "It is for the housewarming ceremony on the third floor," explains the woman who stands behind the cow, holding it loosely with a rope. She has the sheepish look of a person caught in a strange situation who is trying to act as normal as possible. She introduces herself as Sarala and smiles reassuringly. The door closes. I shake my head and suppress a grin. It is good to be back.

When Shoba Narayan—who has just returned to India with her husband and two daughters after years in the United States—asks whether said cow might bless her apartment next, it is the beginning of a beautiful friendship between our author and Sarala, who also sells fresh milk right across the street from that thoroughly modern apartment building. The two women connect over not only cows but also family, food, and life. When Shoba agrees to buy Sarala a new cow, they set off looking for just the right heifer, and what was at first a simple economic transaction becomes something much deeper, though never without a hint of slapstick.

The Milk Lady of Bangalore immerses us in the culture, customs, myths, religion, sights, and sounds of a city in which the twenty-first century and the ancient past coexist like nowhere else in the world. It's a true story of bridging divides, of understanding other ways of looking at the world, and of human connections and animal connections, and it's an irresistible adventure of two strong women and the animals they love.
Praise For The Milk Lady of Bangalore: An Unexpected Adventure…
"Joyful . . . Although readers may find [Narayan's] analysis of Indian society illuminating and enjoy her breakdown of what makes a white, red, gold or smoke-colored cow worth appreciating, the real reason you'll love this book is the author herself: a woman so curious, funny and self-deprecating that she is able to show us—delightfully—how the past informs our future."
—Kerri Arsenault, Oprah.com

"An absolute joy to read. Through her close encounters with the bovine kind, Narayan shows how Indian traditions are incorporated into her contemporary way of life."
—Library Journal, starred review

"Sincere and laugh-out-loud funny . . . Narayan's rich and evocative writing transports readers to the busy streets of Bangalore and a fully formed picture of modern India."
—Kirkus Reviews

"Filled with the vivid colors, sights, and sounds of a vibrant and ancient culture, Narayan's in-depth treatment of cow mythology is a beautiful ode to her motherland."
—Booklist

"Udderly delight­ful . . . A herd of often funny and always fascinating bovine adven­tures . . . There's plenty of heart and soul in this book as Narayan takes readers on a unique tour of her In­dian neighborhood, where there's never a dull moment."
—BookPage

"Lovely, lighthearted . . . a journey through cultural mores and female friendship, as well as a look at the spiritual and historical part that cows play in India; an easy read that you can't help but love."
—Refinery29

"When a personal memoir like this one comes along, and it eschews high drama for gentle humor, dives deep into socio-cultural history, and presents slices of contemporary life as constant sources of everyday wonder, it's a refreshing welcome . . . Narayan's integrity of intention shines through so clearly and beautifully that it's all too easy to take this journey with her."
—PopMatters

"Dreadful Young Ladies and Other Stories is the kind of writing that does not rely on shock and awe, but rather on fascinating characters doing unusual things in evocative settings. It is certain to broaden Barnhill's fan base and should draw favorable comparisons to Neil Gaiman with ease. Prepare for a wholly unique reading experience with this collection, one to be savored with each luscious page."
—Locus

"Anyone with the slightest interest in India or cows will find Narayan's memoir, with its myriad insights, a delight."
—Shelf Awareness

"Charming . . . A satisfying personal narrative of assimilation . . . [An] engaging mixture of science and culture."
—Minneapolis Star Tribune

"The relationship that forms between Shoba Narayan and her milk lady is wildly funny, and completely real. It's so rare to find friendships like this that cut across class."
—Arun Venugopal, host of WNYC's Micropolis

"Narayan imparts well-researched, intriguing, and sometimes humorous facts about the complex role of cows in Indian culture."
—New York Journal of Books

"When the author returns to her native India after many years in the United States, she forms a friendship with Sarala, who grazes her cows — sacred in the Hindu religion — across the street. When Narayan offers to buy Sarala a new heifer, the memoir becomes a meditation on family, friendship, culture and belief."
—Newsday

"Shoba Narayan offers a surprisingly fresh understanding of everyday life in the land of the sacred cow, overflowing with the daily contradictions and ironies that India so richly offers up to the discerning eye, in a wonderfully eloquent generational saga, intertwined with milk, dung and Uber."  
—Raju Narisetti, CEO, Gizmodo, and former managing editor of The Washington Post  
Algonquin Books, 9781616206154, 272pp.
Publication Date: January 23, 2018
About the Author
Shoba Narayan writes about food, travel, fashion, art, and culture for many publications, including Conde Nast Traveler, the Financial Times, the New York Times, the Wall Street Journal, the Washington Post, Town & Country, Food & Wine, Saveur, Newsweek, and House Beautiful. She writes a weekly column for Mint Lounge, an Indian business daily, which is affiliated with the Wall Street Journal. Her commentaries have aired on NPR's All Things Considered. Narayan is the author of Monsoon Diary: A Memoir with Recipes, and her essay "The God of Small Feasts" won the James Beard Foundation's MFK Fisher Distinguished Writing Award.   
or
Not Currently Available for Direct Purchase