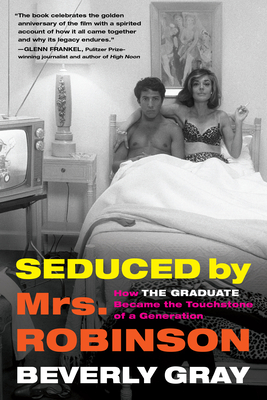 Seduced by Mrs. Robinson
How "The Graduate" Became the Touchstone of a Generation
Hardcover

* Individual store prices may vary.
Description
*An Amazon Best Book of the Month*

"[Gray] writes smartly and insightfully . . . The book as a whole offers a fascinating look at how this movie tells a timeless story." —The Washington Post

Mrs. Robinson, you're trying to seduce me. Aren't you?

When The Graduate premiered in December 1967, its filmmakers had only modest expectations for what seemed to be a small, sexy art-house comedy adapted from an obscure first novel by an eccentric twenty-four-year-old. There was little indication that this offbeat story—a young man just out of college has an affair with one of his parents' friends and then runs off with her daughter—would turn out to be a monster hit, with an extended run in theaters and seven Academy Award nominations.

The film catapulted an unknown actor, Dustin Hoffman, to stardom with a role that is now permanently engraved in our collective memory. While turning the word plastics into shorthand for soulless work and a corporate, consumer culture, The Graduate sparked a national debate about what was starting to be called "the generation gap."

Now, in time for this iconic film's fiftieth birthday, author Beverly Gray offers up a smart close reading of the film itself as well as vivid, never-before-revealed details from behind the scenes of the production—including all the drama and decision-making of the cast and crew. For movie buffs and pop culture fanatics, Seduced by Mrs. Robinson brings to light The Graduate's huge influence on the future of filmmaking. And it explores how this unconventional movie rocked the late-sixties world, both reflecting and changing the era's views of sex, work, and marriage.
Praise For Seduced by Mrs. Robinson: How "The Graduate" Became the Touchstone of a Generation…
"Seduced by Mrs. Robinson offers a fascinating discussion on the bedroom tale's origins."
—Andrea Mandell, USA Today

"[Gray] writes smartly and insightfully . . . The book as a whole offers a fascinating look at how this movie tells a timeless story: that life is always about making choices."
—The Washington Post

"Perhaps the greatest compliment I can bestow on this accomplished and compelling book is to say that Gray will send you rushing to Netflix to watch The Graduate again, and when you do, you will see a familiar movie in an entirely new way."
—Jewish Journal

"Absorbing . . . Well-researched and skillfully composed . . . Gray effectively shows how The Graduate worked as a subversive force in a period about to reassess its cinematic and cultural conventions."
—Kirkus Reviews

"There is plenty to enjoy in this fond remembrance of how we were all seduced by Mrs. Robinson."
—Booklist

"Gray, a film industry veteran and the author of books on directors Ron Howard and Roger Corman, is an especially sharp chronicler of the movie's social context and influence . . . Here's to you, Beverly Gray, for your completely baked appraisal of The Graduate."
—Shelf Awareness

"Readers discover how this seemingly unprepossessing movie, adapted from a decidedly not best-selling novella, became one of the top-grossing films of its day, helping to articulate the frantic youth movement that defined 1960s culture and made stars of its actors. Highly recommended for serious cineastes and fans."
—Library Journal, starred review

"The book is filled with facts, gossip, and trivia . . . The reader will really be happily in the know because of it."
—San Francisco Book Review

"An insightful look at the making of the movie . . . Prepare to be seduced by Gray's book."
—Newsday

"This is an enjoyable, quick read—ideal for a holiday weekend or vacation. The book is full of fun facts and trivia. It is also a serious review of important cultural changes during the last 50 years."
—The Missourian

"Although Gray offers a thorough and illuminating discourse on the film's themes, production and legacy, it's never long-winded or heavy-handed. On the contrary, Seduced by Mrs. Robinson is consistently entertaining, effortlessly engaging, and altogether satisfying as the first and last word on a film that remains, as the subtitle indicates, a touchstone for a generation."
—Yes! Magazine

"Has it really been fifty years since The Graduate snuck up and surprised us with its inventiveness, originality, desperate charm and wit? Beverly Gray's book celebrates the golden anniversary with a spirited and well-researched account of how it all came together and why its legacy endures."  
—Glenn Frankel, Pulitzer Prize-winning journalist and author of High Noon: The Hollywood Blacklist and the Making of an American Classic 
 
"Beverly Gray's fascinating and kaleidoscopic portrait makes a compelling case for The Graduate as the eternally appealing 'youth' movie, from its unlikely casting to its ambiguous ending."       
 —Molly Haskell, film critic and author of From Reverence to Rape: The Treatment of Women in the Movies.   
 
"Seduced by Mrs. Robinson is a fun and fast-paced behind-the-scenes account of the making of one of the most influential and beloved films in Hollywood history.  If you love The Graduate you'll love this book."      
—Debby Applegate, Pulitzer Prize-winning author of The Most Famous Man in America: The Biography of Henry Ward Beecher
 
"Most behind-the-scenes books about iconic movies tell us what we already knew. Not this one! Beverly Gray has written an often hilarious, always smart, sassy, and incisive story about The Graduate. Her research is impeccable, and her insights are keen."
—Jeanine Basinger, Founder, Film Studies Department, Wesleyan University, and author of I Do and I Don't: A History of Marriage in the Movies
 
"Terrifically entertaining and essential. Beverly Gray mixes intrepid reporting with searching, insightful analysis to finally bring this landmark movie into focus, telling an irresistible story of its origins, secrets and cultural meaning."
—Jason Zinoman, author of Letterman: The Last Giant of Late Night

"Told with an infectious blend of effervescent wit and scholarly substance, Beverly Gray's deeply personal and critical reappraisal of The Graduate is sure to dazzle diehard fans and, quite likely, to seduce a new generation of impassioned devotees."
—Noah Isenberg, author of We'll Always Have Casablanca: The Life, Legend, and Afterlife of Hollywood's Most Beloved Movie
 
"With passion, verve, authority, Beverly Gray details the perfect storm of events that culminated in the generation-defining film. A refresher and a reminder of the film's cultural impact and a joyous behind-the-scenes look at a pivotal moment in American cinema and why The Graduate still resonates."         
 —Brian Jay Jones, author of George Lucas: A Life
 
"A delightful and illuminating book. Beverly Gray offers insightful historical perspective with contemporary resonance."     
—Annette Insdorf, Columbia University Professor and Host of 92nd Street Y's "Reel Pieces" Film Series
 
"In Seduced by Mrs. Robinson, Beverly Gray creates a lively, layered recounting of the genesis, production, release in 1967 and unique cultural significance of this landmark movie. A baby boomer herself, she brings to the absorbing story the wit and poignance of a SoCal girl, born and bred, and the thorough expertise of a Hollywood insider." 
—Kate Buford, author of Native American Son: The Life and Sporting Legend of Jim Thorpe 
Algonquin Books, 9781616206161, 304pp.
Publication Date: November 7, 2017
About the Author
After earning her PhD in American literature at UCLA, Beverly Gray spent nearly a decade in the film industry, where she was Roger Corman's story editor at both New World Pictures and Concorde–New Horizons Pictures. She has covered the entertainment industry for the Hollywood Reporter and leads screenwriting workshops for UCLA Extension's Writers' Program. Gray is the author of Roger Corman: Blood-Sucking Vampires, Flesh-Eating Cockroaches, and Driller Killers and Ron Howard: From Mayberry to the Moon . . . and Beyond. She lives in Santa Monica, California. Her website is beverlygray.com.
or
Not Currently Available for Direct Purchase