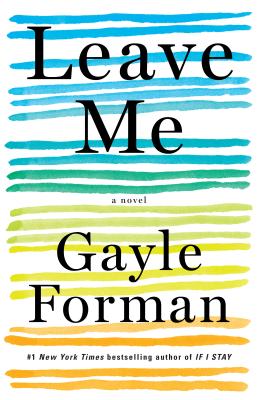 Leave Me
A Novel
Hardcover

* Individual store prices may vary.
Other Editions of This Title:
Digital Audiobook (7/19/2017)
Digital Audiobook (9/5/2016)
Compact Disc (9/6/2016)
Paperback (6/27/2017)
Description
A #1 September LibraryReads Selection
A September Indie Next Pick
An Amazon Best Book of the Month
A People Pick

Every woman who has ever fantasized about driving past her exit on the highway instead of going home to make dinner, and every woman who has ever dreamed of boarding a train to a place where no one needs constant attention--meet Maribeth Klein. A harried working mother who's so busy taking care of her husband and twins, she doesn't even realize she's had a heart attack.

Surprised to discover that her recuperation seems to be an imposition on those who rely on her, Maribeth does the unthinkable: she packs a bag and leaves. But, as is often the case, once we get where we're going we see our lives from a different perspective. Far from the demands of family and career and with the help of liberating new friendships, Maribeth is able to own up to secrets she has been keeping from herself and those she loves.

With bighearted characters--husbands, wives, friends, and lovers--who stumble and trip, grow and forgive, Leave Me is about facing the fears we're all running from. Gayle Forman is a dazzling observer of human nature. She has written an irresistible novel that confronts the ambivalence of modern motherhood head on and asks, what happens when a grown woman runs away from home?

 
Praise For Leave Me: A Novel…
"In an enthralling novel reminiscent of Anne Tyler's Ladder of Years, a woman who recently suffered a heart attack runs away to recover her equilibrium."
—O, The Oprah Magazine
 
"This surprising, compassionate story brings to life the secret, guilty fantasy of many overworked moms."
—People
 
"Gayle Forman is known for her dreamy but hard-hitting young adult novels, including the best-selling If I Stay.  With her first foray into grown-up fiction, Leave Me, she doesn't shy away from the tough questions in this deep-diving and highly entertaining read. It's hard not to relate to—and root for—Maribeth even as she does the unthinkable: abandons her children."
—Family Circle
 
"entertaining… Forman's novel is a gritty fairy tale. But as in every fairy tale, she taps into people's fears and dreams, and she imparts a little wisdom along the way."
—Minneapolis Star-Tribune
 
"Popular teen author Forman's adult debut examines just what it means to be a working mother—beholden to everyone, seemingly obligated to forget who you really are. Maribeth's search for her birth mother and the way she settles into her new—albeit temporary—life away from home will strike a chord with readers, especially those who enjoy Jennifer Weiner and Meg Wolitzer."
—Booklist, starred review
 
"You may already know Gayle Forman from her incredible YA novels, such as the classic If I Stay. [Leave Me] is her first adult novel, and it's (unsurprisingly) fantastic."
—Bustle.com
 
"Absorbing…LEAVE ME deftly explores the domestic struggles of 21st-century bourgeois life. This is an insightful ode to – and cautionary tale for – the overburdened working mother."
—BookPage
 
"Forman, known for bestselling YA drama If I Stay, shines in this exploration of some very grownup angst in her adult fiction debut. A nuanced take on the idea of wanting to "have it all"—and knowing when to give it all up."
—B&NReads.com
 
"Poignant, thoughtful and often hilarious, Leave Me is a fast-paced and heartwarming read about a woman needing to give up everything in order to have it all. In this thoughtful and funny novel, after suffering a heart attack, a harried young mother leaves home to regain health and balance while seeking out her birth mother."
—Shelf Awareness for Readers
 
"Leave Me is popular YA author Gayle Forman's first novel aimed at adult readers, and here's hoping it won't be her last."
—Bookreporter.com
 
"As a first foray into adult novel writing, Gayle Foreman's Leave Me is successful.... It will be interesting to see what she does next."
—NY Journal of Books
 
"YA author Forman's successful foray into adult fiction…With humor and pathos, Forman depicts Maribeth's complicated situation and her thoroughly satisfying arc, leaving readers feeling as though they've really accompanied Maribeth on her journey."
—Publishers Weekly
 
"Award-winning teen author Forman's (I Was Here, 2015, etc.) adult debut nails the frustrations of working motherhood…. An appealing fairy tale for the exhausted and underappreciated."
—Kirkus Reviews
 
"Subplots involving a hint of romance and a search for her biological mother, as well as a group of entertaining supporting characters, keep the plot moving…. All in all, Leave Me will leave readers introspective about their own lives and the compromises they make with themselves to stay with those they love."
—Nashville Scene

"At times funny, at times heartbreaking, Leave Me is a promising entrance into adult genres for the already-bestselling author."
—Foreword Reviews

"How do we reinvent ourselves when we can't even recognize the body we are in? Can you know where you're headed if you don't know where you came from? These are the questions faced by the prickly Maribeth, the complex and fascinating character at the center of Leave Me. In her first novel for adults, Forman reminds the reader that the answer to both questions involves getting to the heart of the matter."
—Jodi Picoult, author of Leaving Time

"Told with humor and heart, Leave Me reveals that sometimes you have to leave everything you treasure in order to find your way back home. A moving testament to the persistence of love and the healing power of forgiveness."
 —Tayari Jones, author of Silver Sparrow
 
"Here's to complicated women and the authors who write them! Whatever the age of her characters, Gayle Forman is a compassionate, gifted observer of women's lives."
—Gabrielle Zevin, author of The Storied Life of A.J. Fikry
 
"Forman's stinging portrayal of Maribeth's recovery process had me cringing with sympathy for her: her husband lets the housework pile up, refusing to take responsibility while she is sick, instead calling in Maribeth's own mother as reinforcement. Leave Me's real strength is in the development of its characters, and the web Forman weaves is complex and riveting, as each relationship thread is pulled taut."
—B&NReads.com

"Forman is a gifted storyteller whose characters are flawed and engaging."
—Charleston Post & Courier
 
Algonquin Books, 9781616206178, 352pp.
Publication Date: September 6, 2016
About the Author
Gayle Forman is a bestselling, award-winning author of young adult novels. Leave Me is her first novel for adults. Her novel If I Stay won the 2009 NAIBA Book of the Year Award and was a 2010 Indie Choice Honor Award winner. The film adaptation of If I Stay was released in 2014. Forman is also a journalist whose articles have appeared in numerous publications, including Seventeen, Cosmopolitan, and Elle. She has visited more than forty countries and wrote a nonfiction book about her travels titled You Can't Get There from Here: A Year on the Fringes of a Shrinking World. Forman lives in Brooklyn, New York, with her husband and two daughters.
or
Not Currently Available for Direct Purchase