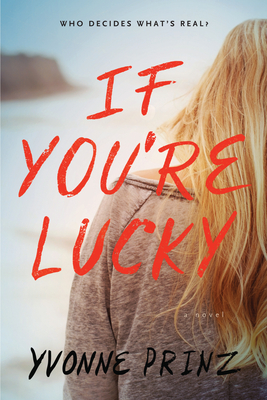 If You're Lucky (Paperback)
Algonquin Young Readers, 9781616206390, 288pp.
Publication Date: September 20, 2016
* Individual store prices may vary.
Description
"A hold-on-to-your-seat thriller." —Quill & Quire

When Georgia's brother drowns while surfing halfway around the world in Australia, she refuses to believe that Lucky's death was just bad luck. Then a stranger named Fin arrives in False Bay claiming to have been Lucky's best friend. Soon Fin is working for Lucky's father, charming Lucky's mother, dating Lucky's girlfriend. Georgia begins to wonder: Did Fin murder her brother in order to take over his whole life?

To uncover the truth about Lucky's death, Georgia secretly stops taking the medication that keeps away the voices in her head. But as her suspicion grows, her mental state becomes more and more precarious. Is Georgia's mind playing tricks on her, or is the entire town walking into the arms of a killer who has everyone but her fooled?
About the Author
YVONNE PRINZ is the award-winning author of The Vinyl Princess and All You Get Is Me. A Canadian living in the San Francisco Bay Area, she is the cofounder of Amoeba Music, the world's largest independent music store.
Praise For If You're Lucky…
"Smart, sarcastic, and wickedly insightful, If You're Lucky is a remarkable page-turner. The tense coils of its dangerously tightening clock spring keep readers wondering, twist by twist, if Georgia's universe will simply burst apart." —Andrew Smith, author of Grasshopper Jungle 
 
"A solid page turner."—Kirkus Reviews
 
"A hold-on-to-your-seat thriller . . . Prinz does an excellent job building suspense and bending reality as Georgia, haunted by ghosts and troubling dreams, slowly uncovers the truth. . . . As she tries to make sense of what is happening, Georgia's courage in the face of isolation from the people around her is poignant. Prinz has created a memorable character who must battle her demons, inside and out."—Quill & Quire
 
"Georgia's suspicious mind is a fascinating place to spend time . . . this moody mystery will keep readers hooked."—Publishers Weekly
 
"Well-developed characters, a charming ocean-front oyster village, and a remarkable expose into mental illness make for an unusual. . . YA murder mystery."—Booklist
 
 "The setting, with its overcast feel and chill in the air, is an apt metaphor for Georgia's state of mind. The protagonist ranks among the best of unreliable narrators in YA literature, leaving readers uncertain, confused, and utterly absorbed. . . Give this dark, broody novel to psychological drama fans and teens who enjoy books by Alex Flinn, David Klass, Pete Hautman, and Gail Gile."—School Library Journal
 
"Harrowing...a perfectly pitched blossoming thriller." —Lewis Buzbee, author of The Haunting of Charles Dickens

"If You're Lucky is a perfectly calibrated mystery that's heart-racing, emotionally precise and spellbindingly good. Prinz writes with true velocity and in this book of secrets every page that turns cranks up the tension and every sentence pulls the suspense tighter. The truth that's lurking in False Bay is gripping and disturbing and well worth the foggy ride into the darkness." —Stereo Embers Magazine