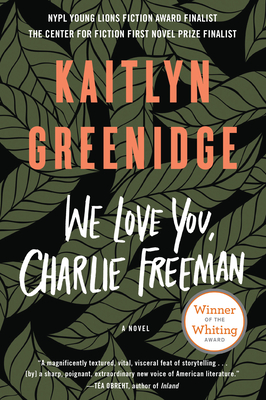 We Love You, Charlie Freeman
A Novel
Paperback

* Individual store prices may vary.
Other Editions of This Title:
Digital Audiobook (3/7/2016)
Hardcover, Large Print (9/21/2016)
Description
A FINALIST FOR THE 2016 CENTER FOR FICTION FIRST NOVEL PRIZE AND THE 2017 YOUNG LIONS AWARD

Don't miss Kaitlyn Greenidge's second novel, Libertie, which is available now!

"A terrifically auspicious debut." —Janet Maslin, The New York Times

"Smart, timely and powerful . . . A rich examination of America's treatment of race, and the ways we attempt to discuss and confront it today." —The Huffington Post

The Freeman family--Charles, Laurel, and their daughters, teenage Charlotte and nine-year-old Callie--have been invited to the Toneybee Institute to participate in a research experiment. They will live in an apartment on campus with Charlie, a young chimp abandoned by his mother. The Freemans were selected because they know sign language; they are supposed to teach it to Charlie and welcome him as a member of their family. But when Charlotte discovers the truth about the institute's history of questionable studies, the secrets of the past invade the present in devious ways.  

The power of this shattering novel resides in Greenidge's undeniable storytelling talents. What appears to be a story of mothers and daughters, of sisterhood put to the test, of adolescent love and grown-up misconduct, and of history's long reach, becomes a provocative and compelling exploration of America's failure to find a language to talk about race.

"A magnificently textured, vital, visceral feat of storytelling . . . [by] a sharp, poignant, extraordinary new voice of American literature." —Téa Obreht, author of The Tiger's Wife
 
Praise For We Love You, Charlie Freeman: A Novel…
"Terrifically auspicious . . . Ms. Greenidge has charted an ambitious course for a book that begins so mock-innocently. And she lets the suspicion and outrage mount as the Freemans' true situation unfolds. This author is also a historian, and she makes the '1929' on Toneybee plaque tell another, equally gripping story that strongly parallels the Freemans' 1990 experience." —Janet Maslin, The New York Times

"…witty and provocative… Greenidge deftly handles a host of complex themes and characters, exploring not just how (literally) institutionalized racism is, but the difficulty of an effective response to it. … Greenidge doesn't march to a pat answer; the power of the book is in her understanding of how clarity wriggles out of reach. For all the seriousness of its themes, though, Charlie Freeman is also caustically funny." —USA Today

"Kaitlyn Greenidge's masterful debut novel We Love You, Charlie Freeman is at heart an examination of race and language — an African-American family is hired by a New England research institute to raise and teach sign language to a chimpanzee, but the institute has a shockingly dark past. We Love You, Charlie Freeman skillfully tackles history and heavy subjects with both humor and thoughtfulness; this book proves Greenidge will be a literary force to be reckoned with." —Buzzfeed.com
 
"When you first step into the pages of Kaitlyn Greenidge's wonderfully audacious debut novel, We Love You, Charlie Freeman, you're not quite sure where she's going. Well, buckle up for an unforgettable journey." —Essence
 
"This fantastic debut novel tackles important subjects—race and culture, language and communication—frankly and with grace. Kaitlyn Greenidge's story follows an African-American family hired to teach sign language to a chimp, but a dark history follows the institute behind the experiment. Charlie Freeman has so many elements of a great read: thoughtful construction, precise prose, and a beating heart." —Elle.com

"[Greenidge] succeeds in large part because her voices are so dead-on. Whether it is Charlotte, swooning and conflicted over Adria or her sister, or Nymphadora trying to be clear-eyed about Gardner, these narratives are convincing and utterly engaging." —Boston Globe

"…Greenidge pulls together the multiple story lines and strong perspectives of Charlotte and Nymphadora with her descriptive powers, lively dialogue and a fluid, engaging style. With this ambitious, compelling novel, she brings an original and thoughtful voice to the exploration of the complexities and ambiguities of race and gender, what it means to be a family, the relationship between humans and wild animals in domestic settings and the failures of communication across cultures and species." —Minneapolis Star Tribune

"We Love You, Charlie Freeman is a gripping and gratifying read. Greenidge tackles the risky terrain of ethnicity and race relations with confidence and grace, and has proven herself a writer to watch." —Washington Independent Review of Books
 
"Greenridge's wondrous first novel pits the sins of the past against the desire for the future in a multifaceted narrative that challenges concepts of culture and communication." —Booklist, starred review
 
"Greenidge proves herself a master of dialogue, which helps her craft engaging, well-drawn characters. …with humor, irony, and wit, Greenidge tackles this sensitive subject and crafts a light but deeply respectful take on this heavy aspect of America's treatment of black people. This is a timely work, full of disturbing but necessary observations. A vivid and poignant coming-of-age story that is also an important exploration of family, race, and history." —Kirkus Reviews
 
"This sharp and powerful debut novel will floor you. The Freeman family moves to rural Massachusetts to participate in a research study in which they live with and teach sign-language to a chimpanzee. But in their new home, they find themselves isolated in a community of white people, both by their race and their experiment. As they struggle not to come undone, the pressure mounts as one family member begins to uncover the dark secrets of the Institute's past." —Bustle.com
Algonquin Books, 9781616206444, 352pp.
Publication Date: January 31, 2017
About the Author
Kaitlyn Greenidge's debut novel, We Love You, Charlie Freeman, was one of the New York Times Critics' Top 10 Books of 2016 and a finalist for the Center for Fiction First Novel Prize. She is a contributing writer for the New York Times and the features director at Harper's Bazaar, and her writing has also appeared in Vogue, Glamour, the Wall Street Journal, and elsewhere. She is the recipient of a Hodder Fellowship from Princeton University's Lewis Center for the Arts, as well as fellowships from the Guggenheim Foundation, the Whiting Foundation, the National Endowment for the Arts, Substack, and the Radcliffe Institute for Advanced Study. 
1. We Love You, Charlie Freeman is comprised of several storylines and plots. We move from the 1990s to the 1920s, from the Freemans to Nymphadora. Why do you think Greenidge chose to alternate between these varying points of view? How does it affect your reaction to Nymphadora? How does it affect your feelings about the Freemans?
2. Language, both how we use it and how it fails us, is an important theme in this book. Laurel learns to sign largely because of how she's treated when she speaks. Can you think of a moment in your life when you felt hindered by language? How did you overcome this?
3. Laurel does things that many consider shocking, from moving the family to the Toneybee Institute to allowing Charlie to attempt to breastfeed. What did you think of Laurel's actions? What insights into her character did they provide?
4. What did you think of Julia Toneybee-Leroy's letter? Were you surprised by it? How did you feel about its placement in the book?
5. This book is in many ways the story of Callie and Charlotte's relationship. Did you find yourself drawn to one over the other? If you have a sister, how does their relationship compare to yours?
6. Some have commented on the "big brother" feeling of the apartment and the institute's use of cameras. What do you think is Greenidge's intent here?
7. Julia Toneybee-Leroy writes that she admires Callie because she has managed to stay emotionally open and loving. Is this stance something that ultimately hurts or benefits Callie?
8. Is Charlie a force for good or ill? Or is he a neutral force in this book?
9. Why do you think Adia demonstrates such confusing actions toward Charlotte?
10. Laurel says to Charlotte that the Breitlings "live for the breaking down. They don't know anything about the building up" (page 183). She thinks that their activism and questioning are damaging. What are the benefits of speaking up in the face of wrongdoing? What are the drawbacks? In your personal experience, has speaking out against an injustice outweighed the drawbacks? How?
11. Dr. Gardner believes he "loves" African American people. What do you think he means when he uses that word? How do his actions prove or disprove his words?
12. Why do you believe Charles continues to love Laurel?