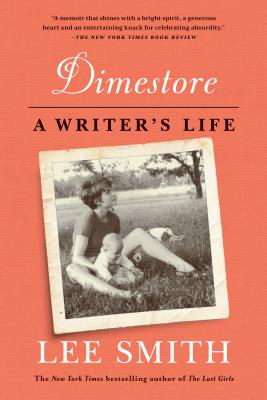 Dimestore
A Writer's Life
Paperback

* Individual store prices may vary.
Other Editions of This Title:
Digital Audiobook (3/21/2016)
Hardcover (3/22/2016)
Hardcover, Large Print (7/6/2016)
Description
"A memoir that shines with a bright spirit, a generous heart and an entertaining knack for celebrating absurdity."—The New York Times Book Review

"This is Smith at her finest."—Library Journal, starred review

Set deep in the mountains of Virginia, the Grundy of Lee Smith's youth was a place of coal miners, tent revivals, mountain music, drive-in theaters, and her daddy's dimestore. When she was sent off to college to gain some "culture," she understood that perhaps the richest culture she would ever know was the one she was leaving. Lee Smith's fiction has always lived and breathed with the rhythms and people of the Appalachian South. But never before has she written her own story. 
Dimestore's fifteen essays are crushingly honest, wise and perceptive, and superbly entertaining. Together, they create an inspiring story of the birth of a writer and a poignant look at a way of life that has all but vanished.
Praise For Dimestore: A Writer's Life…
"With restrained prose and charming humor, [Smith] illuminated a way of life that has all but disappeared and explores the impulse to bear witness that underpins the storyteller in all of us."
—People (Book of the Week)
 
"Smith delivers a memoir that shines with a bright spirit, a generous heart and an entertaining knack for celebrating absurdity. Although DIMESTORE is constructed as a series of personal essays, it presents as full a sense of a life as any traditional narrative."
—The New York Times Book Review
 
"…heartwarming… Dimestore shares the habits that may have saved Smith from her own tendency to get too "wrought up," one of which was to approach storytelling "the way other people write in their journals," in order to make it through the night. Fiction became her lifelong outlet, a means of sustaining and reaffirming the connection to her work, as well as a way to preserve the rich mountain culture she so loved as a child."
—Atlanta Journal-Constitution
 
"Dimestore may prove to be a work that connects wildly with readers. Because truth is often more powerful than fiction, and because the tale she has actually lived so far to tell is rendered keenly, irrepressibly and without self-pity. Lee Smith, the person, emerges as one of nonfiction's great protagonists."
—Raleigh News & Observer

"Now, at last, we have Dimestore: A Writer's Life, a seasoned, open-hearted memoir, taking us from her youth in the coal-mining town of Grundy, Va., through her education at private schools in Richmond and Roanoke, Va., to her life since 1974, first in Chapel Hill married to the poet James Seay, and since 1985, to columnist and literary critic Hal Crowther. Throughout, the memoir shows Smith's spunk and spirit….  Yes, Lee Smith is a writer, and without that, we probably would not have this engrossing memoir. But at heart, Lee Smith is a woman – openhearted, spirited, humble – and it is those qualities especially that inspire and make us glad as we read."
—Charlotte Observer
 
"…profoundly readable… Like her novels, Smith's memoir is intimate, as though writer and reader are sitting together on a front-porch swing. She writes in the rich vernacular of her youth. Smith's details are so piercingly remembered, so vividly set on the page, that I felt wrapped in a great blanket of familiarity. Her memoir is a warm, poignant read about a lost time and place, a love of books and a celebration of the quirks and oddities of home."
—Minneapolis Star Tribune

"This memoir is Smith at her finest. There is not one false note in the book. This wonderful memoir—filled with tenderness, compassion, love, and humor—is highly recommended for fans of Smith's fiction, lovers of Southern writing, and readers who are interested in the changes in small-town America."
—Library Journal (starred review)
 
"Candid and unsentimental, Smith's book sheds light on her beginnings as writer while revealing her resilience and personal transformations over the course of a remarkable lifetime. A warm, poignant memoir from a reliably smooth voice."
—Kirkus Reviews
 
"Dimestore…is a testament to the power of place. The author of thirteen novels and multiple short story collections, Smith has long brought Appalachia to life for readers, and the book chronicles her own childhood in the coal-mining town of Grundy, Virginia, where she worked as a young girl in her father's five-and dime, and her path to becoming a writer."
—Garden & Gun
 
Algonquin Books, 9781616206468, 224pp.
Publication Date: April 4, 2017
About the Author
Born in the small coal-mining town of Grundy, Virginia, Lee Smith began writing stories at the age of nine and selling them for a nickel apiece. Since then, she has written seventeen works of fiction, including Fair and Tender Ladies, Oral History, and, most recently, Guests on Earth. She has received many awards, including the North Carolina Award for Literature and an Academy Award in Fiction from the American Academy of Arts and Letters; her novel The Last Girls was a New York Times bestseller as well as winner of the Southern Book Critics Circle Award. She lives in Hillsborough, North Carolina, with her husband, the writer Hal Crowther. Visit her at www.leesmith.com.