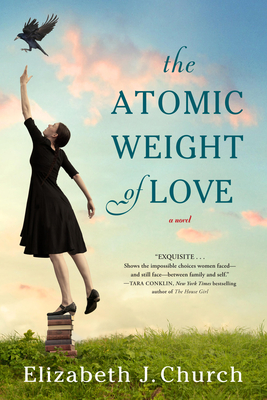 The Atomic Weight of Love (Paperback)
A Novel
Algonquin Books, 9781616206901, 368pp.
Publication Date: March 7, 2017
Other Editions of This Title:
Library Binding, Large Print (6/1/2016)
Hardcover (5/3/2016)
MP3 CD (11/29/2016)
* Individual store prices may vary.
May 2016 Indie Next List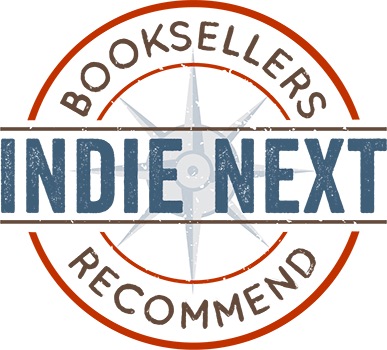 "Church deftly traces the life of Meridian Wallace, an intelligent young woman who is searching for who she is and what she wants to become. As America braces for entrance into WWII, Meri falls for the ambitious Alden Whetstone, a much older but brilliant scientist. Aspiring to be a 'good wife,' Meri abandons her own academic pursuits in ornithology to follow Alden to Los Alamos, but the years that follow are filled with dashed hopes and compromises. Over the decades of her marriage, Meri attempts to fill the void of unrealized dreams by making a home and reclaiming her sense of self. Filled with sharp, poignant prose, the novel mimics the birds Meri studies, following her as she struggles to find her wings, let go, and take flight. Church gives readers a thoughtful and thought-provoking examination of the sacrifices women make in life and the courage needed for them to soar on their own."
— Anderson McKean (W), Page & Palette, Fairhope, AL
View the List
Description
In her sweeping debut novel, Elizabeth J. Church takes us from the World War II years in Chicago to the vast sun-parched canyons of New Mexico in the 1970s as we follow the journey of a driven, spirited young woman, Meridian Wallace, whose scientific ambitions are subverted by the expectations of her era.

In 1941, at seventeen years old, Meridian begins her ornithology studies at the University of Chicago. She is soon drawn to Alden Whetstone, a brilliant, complicated physics professor who opens her eyes to the fundamentals and poetry of his field, the beauty of motion, space and time, the delicate balance of force and energy that allows a bird to fly.

Entranced and in love, Meridian defers her own career path and follows Alden west to Los Alamos, where he is engaged in a secret government project (later known to be the atomic bomb). In married life, though, she feels lost and left behind. She channels her academic ambitions into studying a particular family of crows, whose free life and companionship are the very things that seem beyond her reach. There in her canyons, years later at the dawn of the 1970s, with counterculture youth filling the streets and protests against the war rupturing college campuses across the country, Meridian meets Clay, a young geologist and veteran of the Vietnam War, and together they seek ways to mend what the world has broken.

Exquisitely capturing the claustrophobic eras of 1940s and 1950s America, The Atomic Weight of Love also examines the changing roles of women during the decades that followed. And in Meridian Wallace we find an unforgettable heroine whose metamorphosis shows how the women's movement opened up the world for a whole generation.
About the Author
Elizabeth J. Church was born in Los Alamos, New Mexico. Her father, a research chemist, was drafted out of Carnegie Mellon University, where he was pursuing his graduate studies, and was sent to join other scientists working in secret on the Manhattan Project. Church's mother, a biologist, eventually joined her husband in Los Alamos. While The Atomic Weight of Love is not their story, it is the story of many of the women who sacrificed their careers so that their husbands could pursue unique opportunities in scientific research. Along with other Los Alamos children, Church grew up in an environment that gave her ready access both to nature and to female teachers who had advanced degrees in mathematics, chemistry, physics, biology, and other disciplines. Church practiced law for over thirty years, focusing on mental health and constitutional law issues. After circumstances taught her the brevity of life, she walked away from the law to pursue her original dream of writing. She has written extensively for legal publications and scientific journals. Her short story "Skin Deep" won first prize in Literal Latté's 2001 fiction contest, and "Lying with Dogs" was published in Natural Bridge in 2002. This is her first novel.
Praise For The Atomic Weight of Love: A Novel…
"A tightly crafted novel." —The New York Times Book Review
  
"Church's absorbing debut novel shows the loneliness and pain that exists for the woman behind the famous man . . . We see it all through the prism of Meridian Wallace Whetstone, a woman ahead of her time." —Bookreporter.com
  
"Inspiring, empowering, and heartbreaking in turn." —The Roanoke Times

"Church's debut will likely strike a chord, especially with women who find that not much has changed in our patriarchal society since Meri's time, and that Meri's story might well be their own." —Booklist

"Church's debut novel explores the relationship between sacrifice and love . . . Each sentence drives the plot further, exploring love's limits and its spoils. But it's Church's exploration of Meridian's role in her relationships that is the most gracefully executed feat of the novel. Meridian's voice is poignant, a mixture of poetry and observation . . . An elegant glimpse into the evolution of love and womanhood." —Kirkus Reviews

"Church hits the mark in this emotionally driven debut that spans the chapters of a long life . . . What does love require of us? How does one strike a balance between compromise and self‑fulfillment? In her debut novel, Church writes to these issues in a style that is thoughtful and elegant." —Library Journal

"Oh, what an incandescent debut! Church follows one extraordinary woman, who is brave to enough to challenge the times, take defiant wing, and chart her own extraordinary flight path. So engrossing, I couldn't wait to read another page, and so alive, I never wanted the story to end." —Caroline Leavitt, author of Is This Tomorrow and Pictures of You

"This exquisite debut is the beautifully written story of a woman who must negotiate the tricky terrain of love, responsibility, ambition and sacrifice. In her impeccable portrayal of a long marriage, Elizabeth Church weaves together the historical and the personal and shows the impossible choices women faced--and still face--between family and self." —Tara Conklin, author of The House Girl
1. From a young age, Meridian has a dream, a driving desire to become an ornithologist. Her dream—involving the study of hard science—is unusual for a girl of her time. In what ways does her father's influence, both before and after his death, affect her dream?
2. Meridian's mother makes sacrifices to help her daughter reach the University of Chicago, where Meridian can pursue her studies. Yet, later in the book, she writes a letter to her daughter (pages 128–29) in which she seems to reverse her support of Meridian's ambition. What do you think about the marital advice she gives her daughter, and what motivations do you think underlie that advice?
3. Meridian makes a concerted effort to follow her father's advice, which is to "make do." She adapts. When is adaptation a reasonable response? When does adaptation cross the line and become self-abnegation? Is sacrifice noble? What is "noble," and what is inappropriate martyrdom?
4. Meridian falls for Alden's intellect and the challenge he provides for her eager, bright mind. He accepts her—at least at the start—as an intellectual equal, and he seems not to limit her because she is a woman. If love, as they say, is blind, how do we ever see the beloved accurately, beyond the images we create of the person we want to see?
5. At the party Meridian and Alden host for other physicists and their wives (pages 130–35), Meridian feels left out, marooned, as if she doesn't fit in—even in her own home. Have you ever felt stranded between the world of women and that of men? Do women and men fall into gender groups at social gatherings among your friends? What do you think drives this sort of self-segregation? Do you regularly socialize with people of the opposite sex?
6. What gifts and challenges does Belle's friendship bring to Meridian? How does Meridian's friendship with Belle differ from her later friendship with Emma? How do women's friendships illuminate their lives differently than the friendships between men?
7. Why do you think the author chose to take Belle from Meridian? How does Belle's death alter Meridian's life, teach her, or challenge her?
8. What do Meridian's observations of crows, of their relationships and communal behaviors, teach her about her own life? How do the crows both mirror characters' lives and provide an instructive contrast to them?
9. Clay is Meridian's catalyst. In what ways does he spur her to challenge her definitions of male-female relationships, the boundaries she has drawn in her life? What or who have been catalysts in your life? How did they change you or cause you to view things differently?
10. The women's movement helped to bring women accurate information about their bodies and their sexuality. How does Meridian's growing knowledge of herself as a sexual being change who she is, who she thinks she might become?
11. Compare and contrast the gifts Meridian receives from Alden and from Clay. What significance do those gifts have? What do they say about the giver, about his feelings toward Meridian and what he wants for her?
12. Did Alden love Meridian? Did Meridian love Alden? How do you know? Discuss Meridian's choice to let go of Clay and instead to stay with Alden. What does she mean when she says that leaving Alden "might change my definition of myself, were I to abandon the man who had, for most of my life, held my hand and set my course" (page 287)? Did she make the right decision?
13. What significance does Marvella's struggle to attend the college of her choice have in the novel? What does Marvella teach Meridian?
14. Meridian creates Wingspan, and in so doing she helps to shape the futures of scores of girls and young women. How can we find fulfillment later in life, when perhaps long-held dreams are no longer possible?
15. Meridian is resilient; she comes back from the blows of life and stands tall once again. How do we help our daughters to become resilient women, women who can endure the hard knocks of life and still thrive? Is this possible only through pain and loss?
16. What does the setting of Los Alamos add to the story? In what ways does the setting affect Meridian's choices, the direction of her life? What might her life have been had she stayed in Pennsylvania or Chicago? How does the setting of your own life affect choices you make?
17. Meridian is a careful, quiet observer of the natural world—of the changing of leaves, of hawks in snow, of birds, and of landscape. How has her way of being in the natural world affected you as a reader? Are you more aware of the animals that surround you each day, of the landscape in which you live your life? What have you seen today that you might not have seen before reading this novel?