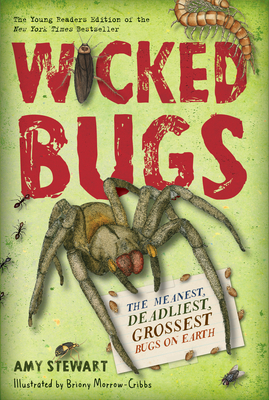 Wicked Bugs (Young Readers Edition)
The Meanest, Deadliest, Grossest Bugs on Earth
Paperback

* Individual store prices may vary.
Other Editions of This Title:
Digital Audiobook (5/24/2011)
Hardcover (5/3/2011)
Hardcover (8/8/2017)
MP3 CD (5/25/2011)
Compact Disc (5/25/2011)
Description
Did you know there are zombie bugs that not only eat other bugs but also inhabit and control their bodies? There's even a wasp that delivers a perfectly-placed sting in a cockroach's brain and then leads the roach around by its antennae — like a dog on a leash. Scorpions glow in ultraviolet light. Lots of bugs dine on corpses. And if you want to know how much it hurts to get stung by a bullet ant (hint: it really, really hurts), you can consult the Schmidt Sting Pain Index. It ranks the pain produced by ants and other stinging creatures. How does it work? Dr. Schmidt, the scientist who created it, voluntarily subjected himself to the stings of 150 species.
 
Organized into thematic categories (Everyday Dangers, Unwelcome Invaders, Destructive Pests, and Terrible Threats) and featuring full-color illustrations by Briony Morrow-Cribbs, Wicked Bugs is an educational and creepy-cool guide to the worst of the worst of insects, arachnids, and other arthropods. This is the young readers adaptation of Amy Stewart's bestselling book for adult readers.
Praise For Wicked Bugs (Young Readers Edition): The Meanest, Deadliest, Grossest Bugs on Earth…
"Amy Stewart's young readers edition of her New York Times bestseller is at once fascinating, entertaining, informative and horrifying."
—The Buffalo News

"Horrifyingly informative."
—Kirkus Reviews

"Sure to thrill budding entomologists . . . This accessible, middle-grade version of Wicked Bugs combines science, anthropology and history with a powerful yuck-factor. It's sure to be a hit with even the most reluctant readers—just be prepared for some serious goose bumps and skin tingles along the way."
—Shelf Awareness

"Budding entomologists and kids who marvel in the truly awe-inspiring, sometimes hair-raising, and gross natural world will be in heaven."
—School Library Journal

"Reluctant readers will be drawn in. The writing is lively and fun . . . A bug-lover's delight."
—San Francisco Book Review

"The organization is tidy and intuitive, the scope is impressive, the entry length is ideal, and the content is itchingly disturbing."
—The Bulletin of the Center for Children's Books

 
Algonquin Young Readers, 9781616206994, 192pp.
Publication Date: August 8, 2017
About the Author
Amy Stewart is the award-winning author of six books on the perils and pleasures of the natural world. She is the cofounder of the popular blog Garden Rant and is a contributing editor at Fine Gardening magazine. She and her husband live in Eureka, California, where they own an antiquarian bookstore called Eureka Books.