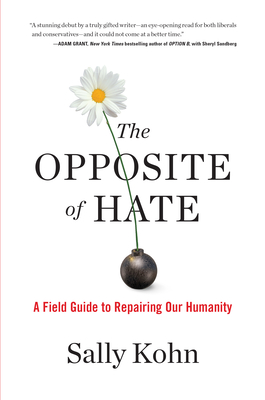 The Opposite of Hate
A Field Guide to Repairing Our Humanity
Hardcover

* Individual store prices may vary.
Other Editions of This Title:
Paperback (3/26/2019)
Compact Disc (4/10/2018)
Compact Disc (4/10/2018)
MP3 CD (4/10/2018)
Description
"A stunning debut by a truly gifted writer—an eye-opening read for both liberals and conservatives—and it could not come at a better time."—Adam Grant, New York Times bestselling author of Option B, with Sheryl Sandberg
 
What is the opposite of hate?
 
As a progressive commentator on Fox News and now CNN, Sally Kohn has made a career out of bridging intractable political differences and learning how to talk respectfully with people whose views she disagrees with passionately. Her viral TED Talk on the need to practice emotional—rather than political—correctness sparked a new way of considering how often we amplify our differences and diminish our connections.
 
But these days even famously "nice" Kohn finds herself wanting to breathe fire at her enemies. It was time, she decided, to look into the epidemic of hate all around us and learn how we can stop it. In The Opposite of Hate, Kohn talks to leading scientists and researchers and investigates the evolutionary and cultural roots of hate and how incivility can be a gateway to much worse. She travels to Rwanda, the Middle East, and across the United States, introducing us to former terrorists and white supremacists, and even some of her own Twitter trolls, drawing surprising lessons from dramatic and inspiring stories of those who left hate behind.

As Kohn confronts her own shameful moments, whether it was back when she bullied a classmate or today when she harbors deep partisan resentment, she discovers, "The opposite of hate is the beautiful and powerful reality of how we are all fundamentally linked and equal as human beings. The opposite of hate is connection."

Sally Kohn's engaging, fascinating, and often funny book will open your eyes and your heart.
               

              
Praise For The Opposite of Hate: A Field Guide to Repairing Our Humanity…
"Kohn is funny and warm as she shares the best ways to shift the hate and dissolve the barriers between those of us with divergent views." 
—Esquire

"A holistic guide toward building a world where we are all greater than fear and more powerful than anger."
 —Ms.
"Whether she's visiting reconciliation villages in Rwanda or recounting her own surprisingly productive interactions with abusive Twitter trolls, Kohn is a thoughtful, empathetic reporter whose insights aren't just timely – they feel necessary to our survival."
—Apple Books
"A stunning debut by a truly gifted writer—an eye-opening read for both liberals and conservatives—and it could not come at a better time." 
—
Adam Grant, New York Times bestselling author of Option B, with Sheryl Sandberg
"A must-read book for all of us at this moment in history. I'm grateful for Sally Kohn's clear voice and vision in showing us the way forward."
—
Elizabeth Gilbert
"Sally Kohn has really done it this time. Brilliant."
—
Sarah Silverman
"Sick of the anger, division and hate in our world? Sally Kohn's book is uplifting, funny, and full of inspiring solutions." 
—
Van Jones, host of The Van Jones Show and New York Times bestselling author of Beyond the Messy Truth
"Sally and I agree on very little politically, but somehow in spite of that, we have navigated a friendship that transcends everything else. This book explains it all!"
—
Sean Hannity
"A testament to the power of understanding others deeply, the book reminds us that even those we disagree with vehemently have a perspective and orientation in the world that we can learn from as we work to make the world better."
—
DeRay Mckesson, social activist and host of Pod Save the People
"[Kohn's] passionate appeal for empathy provides a proactive springboard for readers who find themselves unable to comprehend the xenophobia and lack of civility in others. An uplifting and inspiring plea to promote peace, kindness, and humanitarianism in the face of hate."
—
Kirkus Reviews
Algonquin Books, 9781616207281, 272pp.
Publication Date: April 10, 2018
About the Author
Sally Kohn is one of the leading progressive voices in America today. A CNN political commentatorandcolumnist, she was previously a Fox News contributor, and before that worked for over fifteen years as a community organizer. Kohn's writing has appeared in the Washington Post,the New York Times,RollingStone.com, Elle.com, USA Today, Time, and many other outlets. She is also a popular keynote speaker and frequently leads media and speaking-skills workshops for grassroots activists and corporate leaders. Kohn lives in Brooklyn with her partner, Sarah Hansen, and their daughter, Willa.
or
Not Currently Available for Direct Purchase