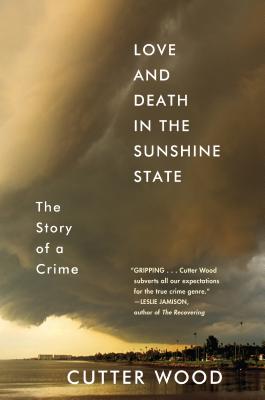 Love and Death in the Sunshine State
The Story of a Crime
Hardcover

* Individual store prices may vary.
Other Editions of This Title:
Digital Audiobook (4/16/2018)
Compact Disc (4/17/2018)
Compact Disc (4/17/2018)
Compact Disc (4/17/2018)
MP3 CD (4/17/2018)
Paperback (4/9/2019)
Description
"I was convinced that somewhere in this pile of anecdotes and photographs and recollections was the vital clue, the detail that would make everything slide into place, and as I began to assemble all the information I'd gathered into an idea of a woman, I imagined myself at the head of a troupe of deputies and detectives, leading us all inexorably in the direction of Sabine Musil-Buehler."

 

When a stolen car is recovered on the Gulf Coast of Florida, it sets off a search for a missing woman, local motel owner Sabine Musil-Buehler. Three men are named persons of interest—her husband, her boyfriend, and the man who stole the car. Then the motel is set on fire; her boyfriend flees the county; and detectives begin digging on the beach of Anna Maria Island.

Author Cutter Wood was a guest at Musil-Buehler's motel as the search for her gained momentum, and he was drawn steadily deeper into the case. Driven by his own need to understand how a relationship could spin to pieces in such a fatal fashion, he began to talk with many of the people living on Anna Maria, and then with the detectives, and finally with the man presumed to be the murderer. But there was only so much that interviews and transcripts could reveal.

In trying to understand how we treat those we love, this book, like Truman Capote's classic In Cold Blood, tells a story that exists outside documentary evidence. Wood carries the investigation of Sabine's murder beyond the facts of the case and into his own life, crafting a tale about the dark conflicts at the heart of every relationship.
Praise For Love and Death in the Sunshine State: The Story of a Crime…
"A murder on the Gulf's Coast's Anna Maria Island sets the stage for a fascinating exploration of love and loss, told amid swaying palm trees and seedy motels."
—Entertainment Weekly

"In Love and Death in the Sunshine State, this gripping exploration of an island murder and a heartland love, Cutter Wood subverts all our expectations for the true crime genre. He challenges what we mean by 'true,' by presenting us with feats of imagination alongside traditional reportage, and challenges how we understand 'crime' by asking us to consider the relationship between acts of extraordinary violence and the rhythms of our ordinary lives. Wood's voice is smart, curious, playful, and wholly engaging."
—Leslie Jamison, author of The Recovering

"Love and Death in the Sunshine State, the new debut by Cutter Wood, is an astonishing true-crime narrative that, in its lyricism and formal inventiveness, expands and defies our expectations of what literary nonfiction can be . . . In the spirit of William Maxwell's So Long, See You Tomorrow, Wood pushes beyond the facts of the case itself to explore larger questions of intimacy, destruction, and regret. This is a brilliant first book by an enormously talented young writer."
—LitHub

"Wood's mixture of fact and art yields a tale both gritty and introspective, with a real murder providing an entree to an examination of the nature of love. Wood's prose is detailed yet deft... This is a fine true-crime mystery and a touching journey into the human heart."
—Minneapolis Star-Tribune

"Love and Death in the Sunshine State is a memorable, thought-provoking work of true crime and imagination."
—Shelf Awareness

"Cutter Wood's book, Love and Death in the Sunshine State, is like the antidote to the typical true crime story. It's a sad, tough story, but Cutter Wood takes the reader to the heart of the matter. His is a respectful approach to human imperfection and frailty. I look forward to reading Wood's future works."
—Seattle Post-Intelligencer
 
"An exploration of motive and desire, a little bit of death and a whole lot more love. It's compelling and ethically sticky, and it will haunt you for a long time after you're done."
—CrimeReads.com

"Wood combines elements of true crime with the techniques of contemporary fiction in his bold debut . . . Readers of literary nonfiction will find a promising new writer."
—Publishers Weekly

"Those who appreciate style and creativity, which Wood has in abundance, will enjoy this."
—Booklist

" . . . written with psychological insight and literary flair."
—Kirkus Reviews

"There's a murder at the heart of Cutter Wood's remarkably tender and haunting new book, but in its soul, this is a story about coming of age and falling in love. Ultimately, the greatest achievements of Love and Death in the Sunshine State are its unflinching attention to both what must be reported and what can only be imagined, and its insistence that somewhere between the two lies the complexity of our lived experience."
—John D'Agata, author of About a Mountain
 
"If Elmore Leonard had narrated Michael Paterniti's Driving Mr. Albert, the result might be something like Cutter Wood's Love and Death in the Sunshine State: a smart, engrossing true-life noir that weaves in meditations on love and the literary life, all set amid the palm trees and seedy motels of Florida's steaming coastline."
—Alexandria Marzano-Lesnevich, author of The Fact of a Body

"A striking blend of reportage, memoir, and confession, Cutter Wood has created a story that is bold, rapturous, and heartbreaking. In this extraordinary work of nonfiction, Wood considers what it means to love and be loved and reckons with the co-existence of our everyday desires in the midst of incomprehensible terror. Like the the work of Sebald, the book's unexpected paths to self-reflection and grace are wonderfully disorienting and sure to leave you rethinking the world around you."
—Jennifer Percy, author of Demon Camp
Algonquin Books, 9781616207304, 240pp.
Publication Date: April 17, 2018
About the Author
Cutter Wood completed an MFA in creative nonfiction writing at the University of Iowa. His work has appeared in Harper's, American Short Fiction, the Paris Review, and other publications, and he has been awarded fellowships from the National Endowment for the Arts and Bread Loaf Writers' Conference. He lives in Brooklyn with his wife and daughter.
or
Not Currently Available for Direct Purchase